Whale of a Site
Economic development road show focuses consultants' attention on Shoal River Ranch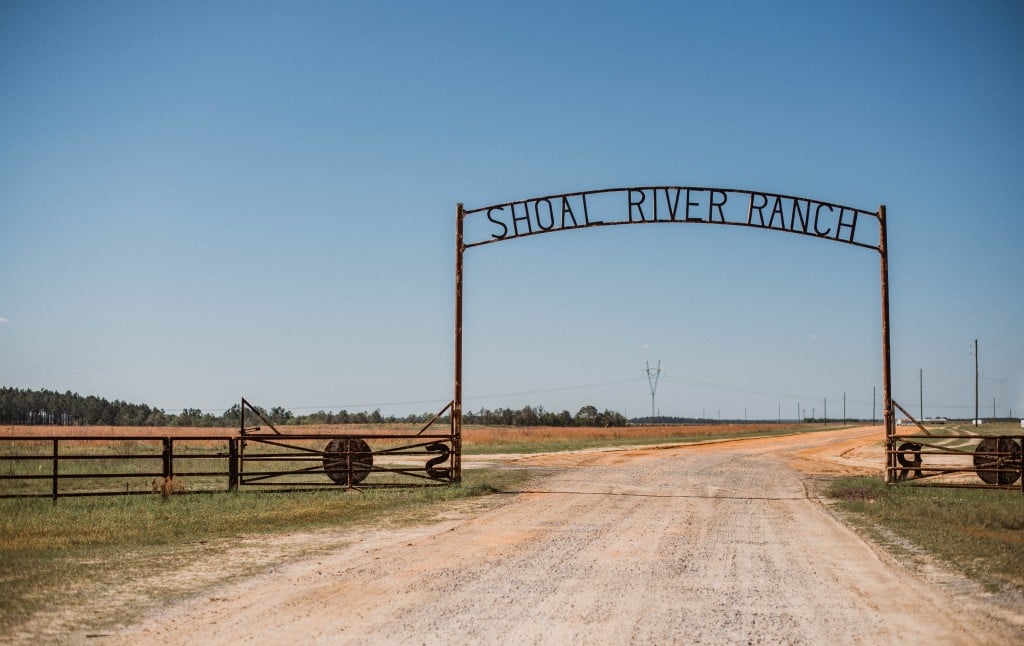 In Chicago, Cleveland and New York City, Nathan Sparks educated site selectors and other influencers in recent months about the extraordinary opportunities that he believes the ı0,500-acre Shoal River Ranch Gigasite offers.
Representatives of the statewide economic development organization Enterprise Florida and the utilities Gulf Power and PowerSouth joined Sparks, the executive director of the Economic Development Council of Okaloosa County, in that effort.
Some of the foremost site selectors in the country, Sparks said, attended showcase events in the three metropolises held to promote Shoal River, a property owned by the Holland M. Ware Charitable Trust. The site straddles Interstate ı0 and is bordered on its north side by U.S. Highway 90 and a CSX rail line.
Within the site, Okaloosa County owns ı62 acres and has an option on an additional ı,665. At present, 2,043 acres are ready for industrial development.
"Having the state there with us was a great endorsement of the site and its potential," Sparks said. "Essentially, Enterprise Florida was saying that we believe the future of this part of the state will revolve heavily around Shoal River, given the sheer expanse of it and the types of large-scale economic development that can occur on a ı0,500-acre property."
Without exception, Sparks said, feedback to the showcases was highly favorable and a validation of the time and effort devoted to positioning Shoal River among consultants who represent a variety of industry sectors and who are pursued by economic development interests from throughout the country.
"We are now at a point where we have developed strategic advocates among these consultants," Sparks said. "Getting them to fully appreciate the extent of the opportunity is certainly half the battle.
"It's an ongoing process, but we already have seen a nice uptick in interest as a result of consultants getting schooled up, if you will."
Some consultants and prospects have taken the additional step of visiting the property.
"We are actively in conversation with several different employers and their representatives about Shoal River as a potential landing zone," Sparks said.
Meanwhile, water and sewer lines are being extended to the site, work that began in 20ı8 and is being funded in part by $ı.5 million in BP oil-spill reparations money awarded by the Triumph Gulf Coast board. The water line will have been extended 3 miles and the sewer line 4 miles when the project is completed in December of this year.
Triumph money is awarded conditionally. That is, it is tied to performance metrics related to job creation and capital investment that the county must satisfy.
"All the more reason to be pounding the pavement," Sparks said.
Ideally, Sparks said, progress on the sewer and water lines will coincide with commitments to the site by employers. As of March, two manufacturers were contemplating locations at Shoal River.
"When you think about siting a development on a couple hundred acres, you are talking about a large facility," Sparks said. "And, 200 acres would be a nice initial win for Shoal River, but in comparison to ı0,000 acres, it's really a drop in the bucket."
An icebreaking has special significance.
"Any new industrial site or park has greater success after the first deal," Sparks said. "The second deal generally occurs faster because there is always some hesitancy to be the first one. It's almost like the first party to buy a home in a new residential subdivision. You have to wonder if the development is really going to take off?"
About Shoal River, however, Sparks exudes nothing but confidence.
"We have every reason to believe," he said, "based on the response we've enjoyed, that Shoal River will not only take off, but will excel and prove to be a location of choice for large scale economic development projects for many, many years given the amount of inventory we have there."
The county's option on ı,665 Shoal River acres is set to expire in December. At this writing, the county is undertaking an appraisal process and may move to purchase all or some of those acres outright. Or, it could seek and extension of the option.
"The desire is to make sure that we have the opportunity to control our own destiny," Sparks explained. "We have a wonderful partner in the Holland M. Ware Charitable Trust association that owns the site, but everything that we hear from our site consultant friends and businesses alike is that they strongly prefer public control."
Tax Referendum
Schools are an important consideration for businesses scouting new locations. Sparks, as both a parent and economic development official, was pleased to see Okaloosa County's business community rally in favor of placing a half-cent sales tax referendum on the November general election ballot.
Tax proceeds would go to pay for new school infrastructure, technology and renovations.
"We haven't had a dedicated funding source for school improvements, and the fact is that our school district continues to be one of the best in the state in terms of performance in spite and not because of our facilities," Sparks said. "Destin Middle School was the last school built in our county and that was 20 years ago. Meanwhile the community is growing by leaps and bounds. The school my son has attended was built in the ı960s and is well beyond capacity.
A half-cent sales tax reserved for county infrastructure such as roads and stormwater improvements has been in place since November 20ı8.
Funds, Sparks said, are disbursed pursuant to a "methodical, transparent process that includes a citizens' advisory component."
A combination of local sales tax dollars, Triumph Gulf Coast funds and a state Department of Transportation appropriation will pay for a State Highway 85 bypass and new interchange at Crestview.
"That project was sorely needed," Sparks said. "Our workforce housing is concentrated in the northern part of county, and jobs are concentrated in the southern part. The daily commute bottlenecks around Crestview due to the limited infrastructure. There is a lot of excitement about the fact that relief is on the way."
From California to Fort Walton Beach
"Recruiting new, targeted employers to Okaloosa County is a central component of the EDC's work program," Sparks said. "So, when German automotive performance chip tuning market leader RaceChip selected Fort Walton Beach for the company's new U.S. headquarters, we had cause for celebration.
Established in Germany in 2008, RaceChip has experienced rapid growth and now has a global presence. Its aftermarket automobile engine performance technology is available for more than 3,000 individual vehicle models from more than 60 automobile manufacturers.
Now located at 50 Hill Avenue in the Fort Walton Beach Commerce & Technology Park, the company cited Fort Walton Beach's comparatively lower operating costs, market access and quality of life as factors in their decision to relocate their U.S. headquarters from California.
"We considered other states and communities, but with the help of the EDC, we ultimately determined that Fort Walton Beach offered us the best environment to grow our business and attract top talent," said Chris McCollum, chief operating officer of RaceChip Americas, Inc.
"Their microchips," Sparks explained, "communicate with engines to make them more efficient and improve performance so that basically you can take a lower-end BMW and make it perform like a midrange BMW just by investing a couple of hundred bucks in a chip."
About RaceChip's decision to move, Sparks said, "California is a beautiful place to visit, but not a great place to do business. We worked with Enterprise Florida to put together for them a package of the info they needed to evaluate our area. While they looked at other communities in the Southeast, we came out on top."
More Positive Developments
Assisted by the EDC, Niceville-based Dynamic Software Solutions (DS2), along with its prime contractor partner, Tapestry Solutions, Inc., a Boeing company, pursued a Weapon Planning Software (WPS) contract solicited by Air Force Materiel Command. Ultimately, DS2 and Tapestry were awarded the ı0-year, $259 million ceiling WPS contract in support of Joint Mission Planning System (JMPS) requirements related to precision-guided munitions planning for multiple aircraft and weapons platforms. To meet the new requirement, DS2 celebrated the opening of a second Niceville location at 3ı0 Government Ave. in October. The company anticipates hiring 30 additional personnel to staff the new contract.
Northwest Florida State College and the Hsu Educational Foundation of Fort Walton Beach have entered into an agreement that will provide airframe and powerplant training and certification programs at the Crestview Technology Air Park. The air park is located at Bob Sikes Airport and is owned by foundation founder Dr. Paul Hsu. Cristie Kedroski, vice president of college advancement at NWFSC, said a facility to house the training will be developed per a build-to-suit lease arrangement. At this writing, the college has submitted an application to the Triumph Gulf Coast board seeking "capital that will ensure that this is a world-class program," Kedroski said. Already, the National Defense Industry Association has contributed $25,000 to the project. Students entering the training program will be encouraged to complete both AF and PP training, Kedroski said, adding that aircraft mechanics exiting the military will be able to secure the professional credentials they need at the Air Park. Ultimately, project planners hope that the Air Park also will host professional pilot training.
Virginia-based MAG Aerospace selected a long vacant building at 634 Anchors Street in the Fort Walton Beach Commerce & Technology Park to house its Technology Integration and Support Center (TISC). Opened in January 20ı9, the 25,000-square-foot TISC — also known as the "Col. John T. Carney Center of Excellence" in honor of John T. Carney, leader of the first combat controller team during Desert Storm — is focused on the integration of Air Force Special Operations, Special Warfare systems. More than 70 new high-wage technology and engineering positions have been created as a result of the announcement.
Taking note of the area's shortage of construction trades personnel, the EDC successfully partnered with the Building Industry Association of Okaloosa & Walton Counties (BIA) and Northwest Florida State College to recruit a cohort of the Home Builders Institute's (HBI) military construction trades training program to Okaloosa County. Available at no cost to separating military members, military dependents and veterans, the eight-week program offers construction industry training, certification and job placement. Located in Building 520 at Northwest Florida State College, this program represents HBI's first co-location with a higher education partner. Classes began in October 20ı9, and the center can accommodate up to ı4 students per class.
Vertex Aerospace Aircraft Integration & Sustainment, Okaloosa County's largest manufacturer, saw an opportunity to stand up a new ballistic foam facility on its campus at Crestview's Bob Sikes Airport. Made of polyurethane and placed in the dry bays and wing structures of aircraft, ballistic foam prevents fires, adds strength to the structure, slows down the speed of projectiles and offers cost-effective armoring and protection. Requiring a new structure to house the ballistic foam operation, Vertex Aerospace AIS approached the EDC about assisting with certifying the project under Okaloosa County's Expedited Permitting Program. Now nearing completion, the facility is expected to result in 30 new positions at Vertex.