Think Globally, Grow Regionally
Florida's Great Northwest collects success stories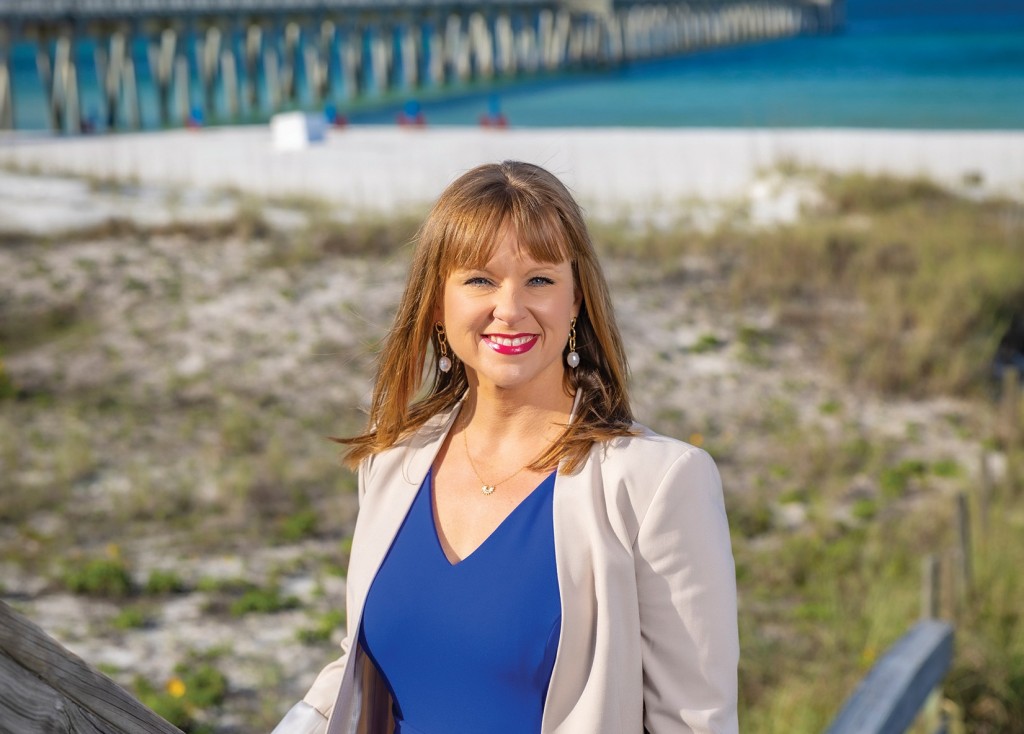 Jennifer Conoley well remembers her first day as the newly selected president and CEO of Florida's Great Northwest (FGNW). She was about to become the leader of a 20-year-old, regional economic development organization representing ı2 counties across the Florida Panhandle. There was that. But her Day ı was also the first day in which the COVID-ı9 pandemic began to alter the course of life in Florida.
"March 23, 2020 was my first day," she recounts. "I had just returned from spring break with my family. At the time, my two boys were in pre-K and 3rd grade. And my first day was the first time the school said, 'Keep your kids home.' That was lots of fun."
Fun and recreation have long been parts of Northwest Florida life, and tourism is a major component in the regional economy. FGNW's mission, however, is to advocate for a broader mix of economic development — a need that became all the more apparent when the pandemic shuttered many of the area's traditional tourist venues.
"We were set up to make sure that people are aware that Northwest Florida has more to offer and that we are, indeed, a top location for business," Conoley said. "Our main focus is on industries that can operate anywhere. So, we are working to attract manufacturers, cybersecurity firms, logistics and distribution companies and more."
Conoley reports, somewhat counterintuitively, that COVID-ı9 didn't reduce FGNW's workload and activity level.
"In fact, we found the opposite," she said. "I can't tell you how many Zoom meetings we did with site selection consultants or company prospects. We got in front of these CEOs and company decision-makers that we targeted through our proprietary business intelligence lead platform, and they knew Florida was open for business."
The prospects were located primarily in Northeastern states or on the West Coast and were tired of being closed. Florida was an opportunity to maintain continuity in their business operations.
"So, we were very busy," Conoley said.
FGNW is a 50ı(c)(6) nonprofit corporation funded solely by private sector investors, such as banks, law offices and accounting firms that believe in a regional mission. It works hand-in-hand with other local economic development organizations, such as chambers of commerce, tourism councils, Main Street programs, job and career groups, as well as representatives from individual counties.
"We meet on a regular basis to support one another, and we stay laser-focused on our mission: marketing and brand awareness," Conoley said.
Born and raised in Northwest Florida and having lived in several parts of the region from Port St. Joe
to Pensacola to Panama City, Conoley readily describes FGNW's approach in language that any native can understand.
"I think of it like a fisherman," she observed. "We are casting the net out into the water trying to gather fish. Our goal is to get as many as we can in the FGNW net, get them closer to the boat and then one of our counties brings them over the side."
Over the last two years, that process has landed two very big catches. One was Probes Unlimited, a manufacturer of precision temperature sensors based in Landsdale, Pennsylvania.
"We found this company through our business intelligence work and saw that they were a shop that had an opportunity to grow," Conoley said. "Through our marketing efforts, we reached out to the CEO, and we talked about doing business in Northwest Florida. His main concern was labor. He was headquartered in Pennsylvania and was having a mighty hard time getting people to come to work. So, based on the things that he needed for his business, we worked with our local counties and got him to come to some locations in Northwest Florida on a site visit. He was able to tour those places and ended up in Bonifay.
"The Holmes County Economic Development Commission had recently purchased the old Bonifay middle school building," Conoley said. "And they made a commitment that if Probes Unlimited expanded their operations to that middle school site, which they wanted to make into an advanced manufacturing campus, they could meet his timeline. That
was in March/April 202ı. On July ı4, 202ı, Probes Unlimited opened its doors in the fifth grade wing of Bonifay Middle School. They started with ı8 employees, and the CEO has been so impressed with the people in Northwest Florida, they're moving more work to the Florida location. Now, they're up to 50 employees — all local people."
Bay County has benefited by FGNW's efforts, too.
"Central Moloney Inc. (a manufacturer of transformers) just announced 200 jobs coming to Bay County," Conoley said in March. "That's a lot of jobs, and that all started with FGNW. The CEO wanted to grow, but he wasn't necessarily doing a formal search. He had just gotten back from a site visit in Texas when he decided to answer one of our emails. After he came and visited various communities in Northwest Florida, he ended up settling on the former GKN Aerospace building adjacent to the Florida Northwest Beaches International Airport. That's a great example of two companies that would not have had Northwest Florida on their radar had it not been for FGNW knocking at the door."
As for the future, in what one hopes is a post-pandemic world, Conoley said, "We are gaining momentum, and we're making an impact on the quality of our place. Our goal, moving forward, is sharing those successes because that's a key to future success, too. We have to share the success of companies that are taking a chance on Northwest Florida with other folks. And I promise you, they're already getting curious. When companies make any type of investment like this in a new location, people are watching. So, we're going to do everything we can to support their continued success and then tout that."▪