Meet Peter Bos, The Developer of Sandestin
Growth along Emerald Coast has exceeded his vision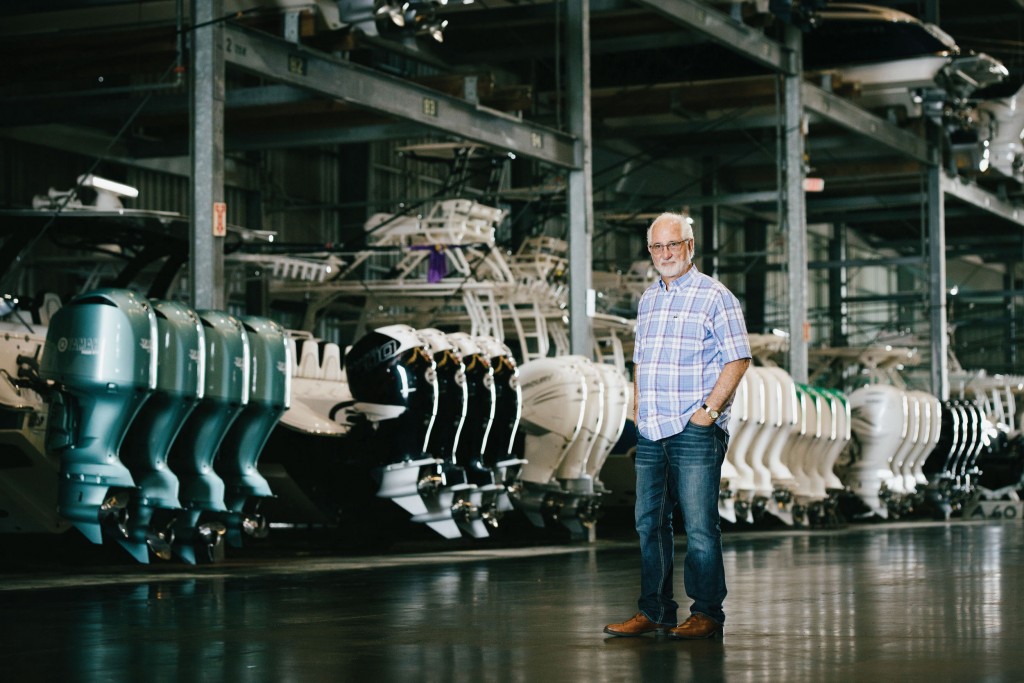 Photography by John Harrington
The genius of the Sandestin Golf and Beach Resort, as a place to live or to visit, is its completeness. There is so much by way of recreational activity, eateries, shopping and other conveniences on or in close proximity to the property that a guest may feel little need to depart the resort in the course of a stay.
That concept is no less appealing than it was when Peter Bos undertook the creation of Sandestin in ı979. To the contrary, it is surely even more desirable given the intensity and the density of visitation and development and the resulting traffic congestion along the Emerald Coast today.
The region can feel good about some of the reasons for its popularity.
"Our area of Florida in particular has gotten a lot of good publicity because it is generally a friendly area," Bos said. "It's a God-fearing, churchgoing and welcoming place versus other parts of the country."
COVID-ı9 notwithstanding, Bos' opinions about the region's growth potential and anticipated trajectory have not changed.
"I have been working here since ı972 and I anticipated the area's growth, but I will tell you that it has accelerated at an amazing rate, outstripping the available labor resource," Bos said. "The cost of supplies is going up everywhere, but here labor, especially, is in extremely short supply. The results of that include price increases and long lines. The labor supply may catch up, but right now we are experiencing extremely rapid growth."
More working people would move to the Emerald Coast, Bos said, but there are few affordable places for them to live.
Bos, who made time for an interview while driving to his next appointment, took note of the license plate in front of him in traffic.
"I'm looking at a Massachusetts car," he said. "A lot of people who have never been here before are literally driving the coast of Florida looking for a place to live. If they are interested in the northern Gulf coast, they may start in Pensacola and head east to Panama City or beyond."
Bos resides in Destin and is satisfied that, for him, there could be no better place to be. But he recognizes that it has "several unique problems" along with its spectacular natural assets, the Gulf of Mexico chief among them.
"It's an isthmus, a very narrow one between the Choctawhatchee Bay and the Gulf," Bos said. "Most communities can grow with a series of parallel roads. We can't. We have one road — Highway 98. The highway has been improved and it is under construction, but traffic over the bridge in Fort Walton reached capacity in ı986 and it is basically carrying twice what it should be carrying. And, so, we are facing massive traffic jams."
Development has accelerated, too, in the interior of the Florida Panhandle.
"Crestview is the second-fastest-growing city in the state, and it is growing despite the fact that to get there, people have to fight their way through an hourglass of an exchange with I-ı0," Bos said. "Every morning, it takes an hour-plus just to get through that intersection."
State Road 85 is the only highway running north from the coast to Crestview.
"That's because the entire area south of Crestview is Eglin Air Force Base, and the reservation cannot be chopped up into pieces with roads because that would destroy their mission," Bos noted. "Eglin caused the interstate to be located way far north from the coast and limits possibilities for north-south connectors."
But, said Bos, Crestview nonetheless serves as a bedroom community with relatively affordable housing. And it is located in a portion of Okaloosa County that is home to 95% of the remaining developable — and not previously developed — land in the county.
Once northern Okaloosa County is more fully made ready, Bos said, he expects that it will become home to employers offering high-tech, high-wage jobs in fields including aircraft repair and maintenance, even auto manufacturing.
"Everybody loves to live here, and there is a huge pool of highly trained military personnel who are retiring and want to stay here or to move here and start their second careers," Bos said. "But right now, the county is trapped until it can arrive at another north-south road over or under I-ı0."
Circumstances in Walton County are markedly different.
"It is not bifurcated by an Air Force base," Bos said. "They have four-laned U.S. Highway 33ı and they receive a lot of attention because, 40 years ago, they switched to limited-height development and a New Urbanism concept," which characterizes South Walton county, an area known more familiarly as "30A."
Bos is amused and slightly amazed that one of the toniest communities in North Florida is named after a county road.
He is substantially amazed that prices in South Walton have reached $4,000 a square foot for homes, many of them second homes, on or near the Gulf beach.
"It's staggering," Bos said of home prices. "We have seen a 35% price increase in the last ı2 months."
As an aside, he noted that lots of those second homes are becoming primary residences as more people are coming to have the option of working remotely and living anywhere in the country.
"We are going to become far less seasonal, far more year-round and that is good for business," Bos said. "We used to have two, three months a year when we lost money. It's hard to build a community when people have to give up their jobs for multiple months a year."
The property tax revenue associated with the real estate boom is enabling Walton County to stay ahead of the need for schools and public services.
"But what they don't have is enough roads," Bos said. "They have no mass transit, no delivery system to the beach. You are limited to your own two feet or a bicycle and a basket. Still, it has a national reputation, and it is continuing to move."
So, where does the Emerald Coast go from here?
"We're going to have more traffic jams," Bos said with certainty. "That's unavoidable." For a place like well-appointed Sandestin that goes from bay to beach, that won't necessarily be a problem, but "properties that have no amenities of their own and you have to get in your car to do everything, that is going to be frustrating for people."
As a result, Bos predicts, smaller properties will be consolidated and there will be more "fully contained" resorts, "and they will fare best over the long haul."
Eggs in various baskets
"We're in the hotel business, the shopping center business, marinas and boating," Bos ran down an incomplete list of his enterprises that also includes consulting, homebuilding and senior living. "Boating and marinas are probably the two best industries you can be in. And RVs, they are doing well."
Bos is up to 79 boat dealerships in ı4 states carrying 72 brands of boats. His Legendary Marine merged with Singleton Marine six years ago to become a billion-dollar company, OneWater Marine.
Building upon the success of the Legendary Marina and dry boat storage in Destin, Bos is underway building four more such facilities in Gulf Shores, Alabama; Stuart, Florida; and two in the Bahamas.
The islands, Bos said, will benefit as more people move to Florida and buy big boats capable of easily making trips there.
"The only place you can be with your grandchildren, your children and your children's friends and have a chance to get to know them all is in a boat," Bos said in accounting for the exploding popularity of boating. "Because nobody can leave. There is nothing more family oriented than boating — and to look at the water is one thing, but to get on the water is much better."
There is plenty of room aboard Bos' pride and joy, a ı20-foot North Coast yacht that he keeps docked in Jupiter so he can run back and forth to the Bahamas easily.
But what of that fully contained resort concept that Bos helped pioneer in the ı970s? Might he take a second run at it?
"I have another destination concept in mind," Bos said. "It will be a major attraction for the Destin area."
He will not be content to see the area become a retirement community.
"Look at what happened to Fort Lauderdale. And Clearwater. What keeps our area vibrant is its tourism," Bos said. "And you have to keep moving forward and upgrading. We are going to bring a new residential environment and tourist attraction that will be very, very well received by everybody."
Bos is 74 and feeling fine.
"I look my age, but I don't think I act it," he said. "I've got more going on now than I have had in my entire life. I feel like a whirling dervish."