Infusing Children with a Desire for Good Food
Little's Lunches encourages investment in nutrition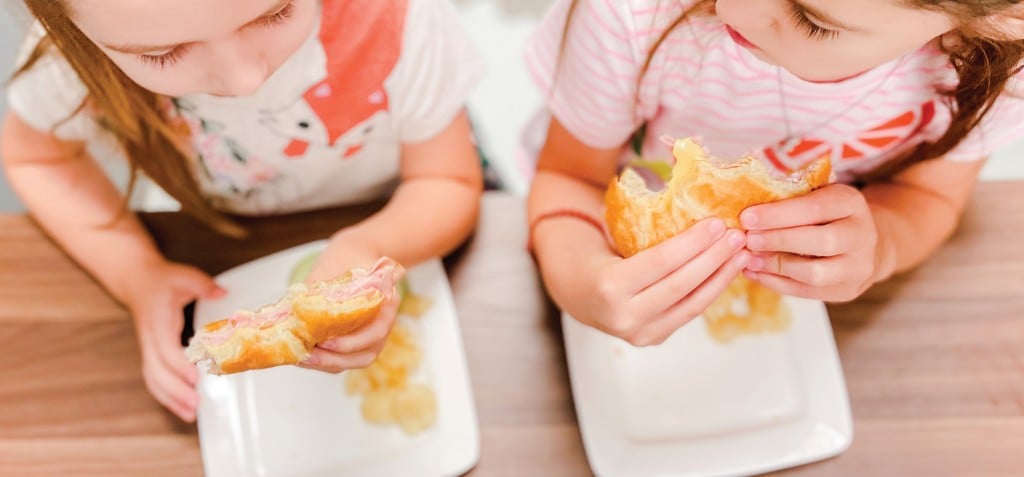 When then foster parents Jennifer and Glenn Huggins became responsible for two brothers, they found that the boys would eat nothing but McDonald's fare. They were used to only that.
A food fight was on.
"We placed peas and chicken Alfredo in front of them and sat at the table all night until they ate it," Glenn recalled one in a series of standoffs. "We fought with them and fought with them."
Mind you, Glenn is not accustomed to having to coax people into eating what he serves. He is a graduate of the Le Cordon Bleu College of Culinary Arts in Austin, Texas, where he gained certification as an executive chef.
It took time, but Jennifer and Glenn eventually succeeded in expanding the boys' food palates by steadily offering them healthy foods and avoiding unhealthy snacks that she dismisses as "fillers."
Today, the Hugginses are the adoptive parents of three brothers — Mason, 9; Max, 5; and Miles, who is going on 3.
"Our oldest kid will eat raw oysters, he'll eat olives — anything you put in front of him that's good, he will eat," Glenn said. "We got our youngest at three months, and we just feed him anything that we are eating; he will stuff raw spinach in his mouth and eat it."
Max is picky, for now. His palate shrank when the pandemic arrived, and his Head Start program began requiring that children eat only lunches prepared at the school. That meant pizza, chicken nuggets and more of the same.
Good eating habits are easily broken, but Max's diet is under repair.
Jennifer and Glenn operate Little's Lunches & Kitchen at 30Avenue in Inlet Beach in Walton County and at a second location in Texas. The business represents a merging of his culinary talents and her experience and training in child psychology and development. Its operations revolve around a stance line, "Investing in Family Nutrition."
That investment takes several forms.
Little's Lunches prepares and delivers some 500 meals a week under contract to four private Walton County schools: Gateway Academy, which Mason attends; Ohana Institute; South Walton Academy; and Compass Rose Academy. Jennifer said five more schools will be added in August. The business supplies box lunches to summer camps and sells private label products, including sauces, butters and olives.
In addition, Little's Lunches offers daily lunch specials on-site, take-home chef's dinners, cooking classes for children and adults, and chef's table dinners at which Glenn provides both a fine dining experience and a cooking lesson.
But its focus for starters was little people.
Jennifer and Glenn met when both were working jobs at Baytowne Wharf following their high school graduations. They moved together to Texas where Glenn studied French cuisine and Jennifer attended Texas State University in San Marcos.
Their schooling complete, Glenn accepted an offer to become the executive chef at Messina Hof, a vineyard in Bryan College Station, and Jennifer went to work as the director of a church-affiliated preschool.
Jennifer completed what amounted to graduate studies in child nutrition provided by the Texas Agriculture Commission and the Texas A&M AgriLife Extension Office, and then implemented a farm-to-table concept at the preschool.
Soon, personnel at other private schools became curious about what Jennifer was doing. She thought about establishing a consultancy.
"Instead, we said to ourselves, 'Why don't we just make the meals and deliver them to the schools, and then they don't have to worry about them?'" Glenn said. "Jennifer started the business while I was at the vineyard, and then one summer, it just took off."
Little's Lunches supplements meal deliveries with an outreach program designed to encourage parents to employ healthy eating practices at home.
"We put together newsletters with tips and recipes," Jennifer said. "Every year we roll out a program called Table Talk. We send talking points to all of the families who follow us and get our food and encourage parents to talk to their children about what they are eating and get their opinions about it. It's important to involve even small children in making choices."
Jennifer said parents don't often think about how best to describe and model the behaviors that they want their children to adopt.
"A dinner table is a great place to do that," she said.
What's the best way to introduce children to broccoli? Gradually.
"At the beginning of a school year, we serve loaded mac 'n' cheese with little bits of broccoli in it," Jennifer said. "Then we introduce bigger chunks, and at the end of the year, we serve orange chicken with full pieces of broccoli as a side. If kids see a food consistently, they will start trying it and start to build a want for it."
In such a way, broccoli is like an advertising message. Multiple exposures are required before it registers.
Glenn, in the course of a day, finds himself preparing food for both developing and refined tastes.
And you know what? Put a bite of that snapper in front of Miles, and he will wolf it down