World class ambulance service calls Northwest Florida home
John and Deborah Roche bought Lifeguard Ambulance in 1990, when they lived in Tampa. Then they moved the company back home to Santa Rosa County and now employ hundreds throughout Northwest Florida.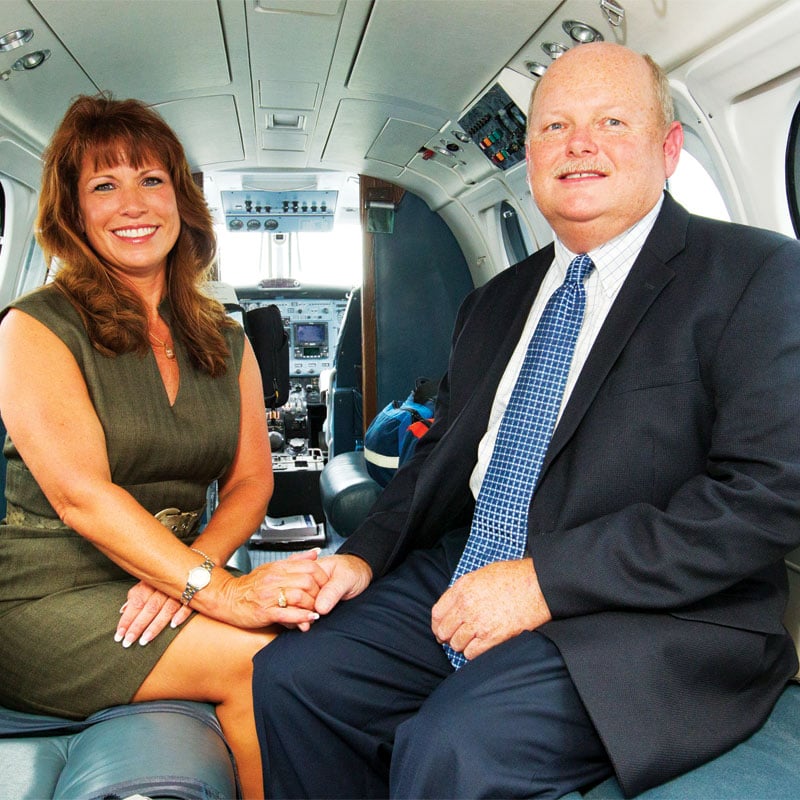 Painted outside the door to Lifeguard Ambulance is a line, thick and red on the concrete.
As staff step across it, they are reminded why they come to work each morning — to represent a company that began 22 years ago with two employees, one generous loan and a mission to become "the best part of somebody's worst day."
John Roche grew up running medical calls with his father, a fire chief in Navarre, Fla. At age 17, he went to EMT school.
After training, he decided he wanted to be a forest ranger. Lucky for Northwest Florida and the nine other locations Lifeguard serves, Roche became a paramedic instead.
Roche's first employer was Santa Rosa County, which owned the Emergency Medical Services (EMS) system at the time. Today, he owns the company that runs all emergency and non-emergency calls in the county.
In the mid-1980s, Santa Rosa sold its ambulance service to Hospital Corporation of America (HCA), and tasked Roche with developing an air ambulance operation. He signed a lease on an aircraft with Pensacola Aviation before being transferred by HCA to manage ground operations in Clearwater, Fla. — home of the first public utility EMS system. No sooner was Roche back on the air ambulance wing than a Japanese company purchased the operation he had worked so hard to create.
For Secomerica, profitability took priority over potential. But Roche and his wife Deborah saw the future of the air ambulance service and asked for the opportunity to buy it. There was only one problem — they had no money.
John's parents had such faith in the idea they cashed in their life insurance policies, took out a second mortgage on their home and gave the 28-year-old couple every penny they had. In February of 1990, the Roches' dreams took flight.
A Wing and a Prayer
John and Deborah Roche were Employee No. 1 and No. 2 of Lifeguard Ambulance. Working out of a 10 feet by 10 feet office, they ran the air ambulance service for seven years before another chance occurrence changed the course of their company.
After a dear friend was laid off, Roche figured it was as good a time as any to expand his operation. The way he saw it, his friend would have a job and could feed his family, and he would have the opportunity to get back into the ground ambulance business.
They hit the ground running with the purchase of their first ambulance for $2,500. The next logical question was where to put it. Florida was not an option, because of strict Certificate of Need and Necessity laws, but Roche had a gut instinct.
"I'm a huge foodie … I love to eat," he says. "So I thought, let's go to New Orleans! That will give me an excuse to go there once a week and eat." His wife adds: "He's not kidding."
Within a year of opening in New Orleans, Lifeguard became the largest ambulance company in the city. Next came Birmingham, then Pensacola, Nashville and Dallas. Roche muses, "We open up wherever there's something fun to do and good to eat."
No joke, however, is the breadth of Lifeguard's service out of its small Pensacola hangar, a port of entry for customs clearance. There are many days Lifeguard aircraft leave Northwest Florida and fly directly to Costa Rica, Venezuela, Haiti and beyond.
"Pensacola just declared itself an international airport. We do a lot of international flying," John Roche says. "Because Lifeguard is an international air transport company, I believe we were a factor in labeling this airport."
Now serving nine locations throughout the Southeast and one in Costa Rica (yes, he likes the food), Lifeguard Ambulance Service has grown from two employees to more than 700.
Success Starts With Service
Perhaps greater than Roche's love of food is his love of helping others. As the company's tag line promises, "Around the corner or around the world, Lifeguard is always at your service."
Deborah Roche recalls a conversation with a colleague who told her, "We need to be the Walmart of ambulance services." She said, "No, we don't. We need to be the corner drug store, the hometown ambulance service."
Lifeguard does not provide 9-1-1 service in all locations, but the company with regional and international ties strives to make a home everywhere it lands. For John and Deborah, home is Northwest Florida, where Lifeguard Ambulance is headquartered in Milton.
"When we bought the business, we couldn't wait to get home, so we brought it home," Deborah Roche says. "Politeness and honor and your word — those things still count here, and that's why we've made this our foundation, the quality of life."
Lifeguard's footprint in the 850 area code continues to grow. When the Roches established headquarters in Santa Rosa County, they signed an exclusive contract with Santa Rosa County to provide the 9-1-1 service. In Escambia County, they hold a Certificate of Need and Necessity to provide all non-emergency services. The Bay County Commission recently voted 5-0 to enter into an agreement with Lifeguard for all non-emergency business.
"Our contract with Santa Rosa County says we'll be on scene in 10 minutes or less 90 percent of the time," John Roche says. "What you hope is you or your family are not in that 10 percent variable."
As he points out, many companies entering into a high performance EMS contract view each percentage point as it equates to dollars. If you want to run a business as a business, you meet the requirements of the contract, But for every point over 90, you have too many resources, too many ambulances on the road, too much manpower. A company concerned strictly with its bottom line would perform at the bare minimum to maintain the agreement.
Not Lifeguard.
"We don't want your family member, our family member, anyone to be in that variable, so we strive every month to hit 100 percent," Roche says. "That's part of our commitment to the communities we serve."
Normally the services Lifeguard provides are funded by the public sector. But more communities are recognizing the benefits of private EMS service. It's a good public-private partnership. It's also the future of Lifeguard Ambulance.
According to John Roche, there are many municipalities, cities and counties that can no longer afford their EMS systems. In Columbia County, for example, the EMS was run by the county Fire Department, and the county could not afford to subsidize the service. Lifeguard drew up an RFP and won the contract.
"We came in at zero subsidy and saved the county $1.2 million, and the response times are so much better than before," he says. "We have put more ambulances on the streets, retained 100 percent of employees and we have a happy community. It's a win-win, and we're seeing more counties in Florida contacting us about similar projects."
9-1-1 in the 8-5-0
Since establishing its Milton headquarters in 2007, Lifeguard Ambulance has created new jobs, growing its staff from 70 to 150 employees, and increased patient transport volume by 100 percent, from 900 to 1,800 calls per month in just five years.
Regional Director of Operations Jason Kimbrell believes the secret to success begins with investing in the place you call home.
"Our sustainability comes from our unwavering commitment to this community," he says. "You see the growth from 2007 to now, not because we dream up these ideas and implement these strategies, but when you have the community behind you to accomplish a goal and fulfill vision, you're only going to be able to celebrate successes."
Lifeguard celebrates a legacy of community service dating back to the very people who gave the Roches the loan that started it all. John Roche's father was the first Santa Rosa County director of Emergency Services. Roche himself stays active in the state EMS community, while Deborah Roche sits on three local boards. Jason Kimbrell has been part of Team Santa Rosa, a regional economic development council. From its leadership down, Lifeguard employees know the importance of giving back to the community.
Equally important is the community itself, says Kimbrell. Not only is Northwest Florida a wonderful place to live, it's a wonderful place to do business.
"The 850 area is committed to supporting businesses that have a true vision, that will bring in jobs and opportunities, and will do what they say they are going to do," Kimbrell says. "From Tallahassee to Pensacola, the support structure for businesses willing to recognize the most important things to the community, that invest in the right people in the right places to get the right results … this has certainly been the place to allow our business to grow."
Lifeguard's growth comes with the burden of success, which the team is more than happy to shoulder.
"I can't walk into a grocery store or the movie theatre without somebody saying, 'Your guys picked us up,' because they hold us personally responsible for what happens to their families," Deborah Roche says. "Your mother, your father, they're mine, too. They belong to the community, and the community belongs to us. You can't not invest — not only money but your time, your heart and your energies into the people that surround you and give you a place to do business."
---
At a Glance: Lifeguard Ambulance
Number of Employees 700–800
Number of Ground Ambulances 135
Number of Air Ambulances 6
Service Locations
Birmingham, Ala.
Chattanooga, Tenn.
Costa Rica
Houston, Tex.
Milton, Fla.
Lake City, Fla.
Mobile, Ala.
Nashville, Tenn.
Pensacola, Fla.
Panama City, Fla.
Awards
Santa Rosa County Business of the Year (2011)
State EMS Medical Director of the Year (2011–2012)
Phone (850) 983-3000
Web www.lifeguardambulance.com