Sue Straughn
News Anchor/Senior Editor, WEAR-TV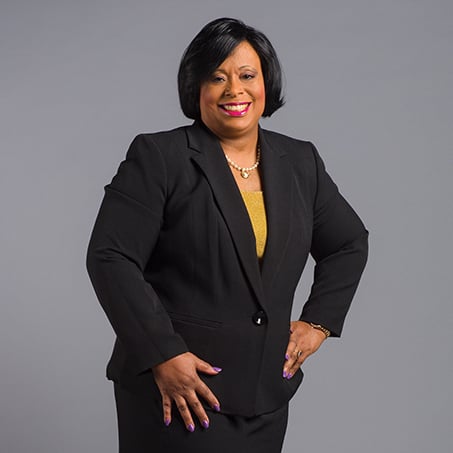 There was a time when Sue Straughn was disappointed in herself for going into the television news business. She had wanted to be a social worker, but accepted an entry-level clerk-typist position at WEAR while a student and, she says, the promotions kept coming.
"I lamented not following my inclination to become a social worker," Straughn says, "but over time I came to realize that I could do more social work, more work to benefit society, in my role at the TV station than I could as a case worker for a government agency."
While a news anchor and editor, Straughn continues to do reporting for the station. She is responsible for two recurring features on WEAR: "Angels in Our Midst" profiles unselfish people doing outstanding things to benefit the community, and "Nobody's Child" profiles children who have been in foster care for extended periods in an effort to find them permanent homes.
"Any time I can do something to have a positive impact on somebody's life, well, that's my mission every day," Straughn says. "I have been blessed to have been able to help some children along the way and to see them make it. I am slow to quit on people. And people were slow to quit on me. I had a lot of help myself."
Straughn's passion for others was inspired by her parents, Zenobia and Joe Knight. He served 30 years in the Army, in World War II, in Korea and in Vietnam. Zenobia was a full-time homemaker who raised six children. Her parents were among the most compassionate and helpful people Straughn has known.
"I don't care how many sets of feet were beneath our table," Straughn recalls. "Everyone was welcome and everyone got fed."
The most enduring piece of advice Straughn ever received came from her grandmother, Susie, who impressed upon her that "pretty ways make pretty girls. It's not the exterior that matters. It's how you treat people."
Thirty-nine years ago, Sue became the first on-air person of color in the Pensacola market. She would become the first female news anchor in the region.
Still, there are those startling days in the newsroom that change in an instant from predictable to pandemonium. Like the time earlier this year when WEAR was ready to lead the 5 p.m. newscast with a County Commission meeting and then report a few school-based events.
At 4:55, a triple-murder suspect from Alabama who had been the subject of a multi-state manhunt committed suicide outside Navy Federal Credit Union headquarters in Escambia County.
Sometimes, social work means providing people with information they need to know.