Preserving Potential
The Seaside Institute promotes 'smart' development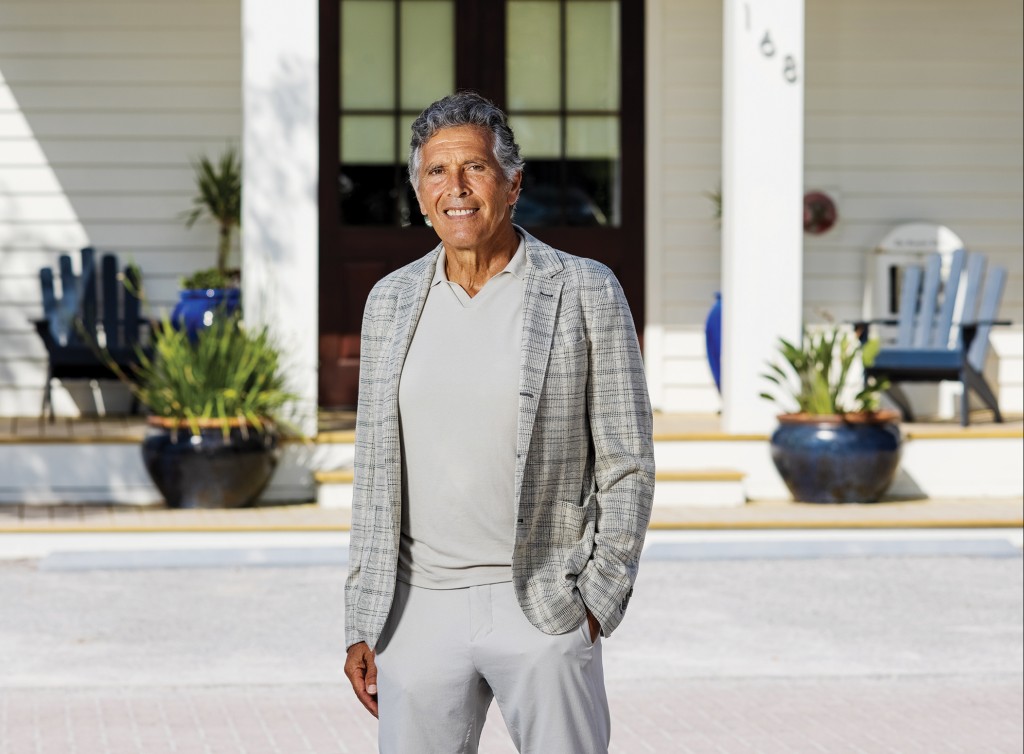 As executive director of the Seaside Institute, Thomas Cordi is engaged in learning how best to meet contemporary challenges.
The nonprofit institute is committed to creating sustainable, connected and adaptable communities based on the core tenets of New Urbanism — an outlook that discourages sprawling, single-use neighborhoods and champions walkable, diverse developments.
Maintaining a sustainable community is not without its challenges, however, and the Seaside Institute is relying on New Urbanist experts for advice on how to best proceed.
"One of the problems we're facing now is that there's been a balance tipped in favor of tourism over residents," Cordi said. "We love tourism, but we want to readdress this balance, increase the number of people who live here and enhance their quality of life."
One of the Seaside Institute's chief initiatives this year is making Walton County the next big "Zoom town." Cordi said the area already is feeling the effects of the "remote work revolution" that resulted when the COVID-ı9 pandemic spawned a new work-from-home era.
"This is an alternative form of economic development," Cordi said. "Rather than trying to lure big companies like Amazon to our county, let's lure talented young people, investors and those who want to live here because it's beautiful and full of incentives."
The Seaside Institute has invited representatives from the country's three most successful Zoom towns — Tulsa, Oklahoma; Bentonville, Arkansas; and Tucson, Arizona — to share their success stories at a future seminar.
"Walton County is one of the fastest-growing counties in the United States, and people are moving here in droves," Cordi said. "Studies have shown that in Zoom towns, there's a multiplier effect." For every move-in, multiple jobs result.
For example, Cordi said a Seaside Institute board member, Carl Tricoli, moved to Walton County from Houston. Tricoli purchased property and is currently developing ı0 homes on the beach. He has hired advertising firms, Realtors and construction companies.
But to attract a bigger talent pool and become the next big Zoom town, Walton County must reevaluate its infrastructure, Cordi said, and take "affirmative steps." That could mean the addition of more shared workspaces, strong fiber internet, new cultural entertainment venues and affordable housing.
"We don't have a lot of affordable housing here on 30A, which can be a problem," Cordi said. "We want to build an affordable town here based on New Urbanist principles. It's a plan we started in the '90s and never implemented. We're still working on it, but right now, there's plenty of room up north in Freeport and DeFuniak Springs. The entire county can become a magnet."
One of the problems faced by coastal Walton County, Cordi acknowledged, is its "tremendous" mobility issue. Traffic is a nightmare come tourist season, there is no public transit and parking is rarely available along Scenic Highway 30A.
With a population influx, things could get worse.
"We've been doing mobility studies since 20ı5, and we are trying to work with the county to deal with them," Cordi said. "One of the tenants of New Urbanism is the high cost of free parking. We want to get people out of their cars. We have a transit hub developing in Grayton Beach where people are going to be able to park their cars and get on an electric bike or an electric shuttle that may even be autonomous."
There are traffic problems, too, along U.S. Highway 98, where a project to add more lanes has been underway for four years. That's not the best move, Cordi said. "If you have a weight problem, you can loosen your belt a few notches, but you still have a weight problem."
The Seaside Institute's annual Seaside Prize Weekend this spring was dedicated to walkable cities and streets. The institute hosted numerous New Urbanist speakers and welcomed city planner, author and lecturer Jeff Speck, who spoke to Walton County stakeholders, planners and residents about pedestrian-friendly communities.
Speck, along with Seaside, Rosemary Beach and Alys Beach planners Andres Duany and Elizabeth Plater-Zyberk, wrote Suburban Nation: The Rise of Sprawl and the Decline of the American Dream, a text Cordi calls the "bible" of New Urbanism. In it, urban sprawl emerges as the devil.
"Sprawl creates these transportation problems because if you live on 98, you have to get in your car just to go buy a quart of milk," Cordi said. "I think people are becoming disenchanted with sprawl. It's giving rise to a new New Urbanism. They're rethinking, redesigning urban neighborhoods toward mixed-use developments."
Communities evolve and face new challenges. That's why adaptability is one of the Seaside Institute's core tenants, Cordi said.
Denser, less environmentally destructive developments also relate to the institute's mission of sustainability, a movement for which Cordi has long advocated.
Cordi is a former political science professor and executive director of the Associated Students of the University of California Auxiliary. His student union was the first in the country to invest in solar power. Cordi also presided over the nonprofit organization Sustainable Tallahassee, where he successfully implemented recycling programs and promoted solar power and electric vehicles.
He is relying on that experience to change the ecology of Walton County and is calling for a sustainability plan comprising tree ordinances, recycling programs and an emphasis on ecotourism. The institute previously engaged local business leaders with their "Go Emerald Green" symposium series on YouTube, where they explored sustainable business practices.
The Seaside Institute's architects and planners can carry them only so far, and cooperation from the community and the county will be essential in shaping the future.
"If we keep developing the way we are, we're going to kill the goose that lays the golden egg," Cordi said. "We'd like a redesign of the comprehensive conservation development plan. We were involved in that in ı994, and we made predictions about what consequences would happen if actions weren't taken. They're coming true now.
"We don't want to put moratoriums on development, but we want smart development. We want growth to be smart growth, where we build the infrastructure as we develop. Our county has a lot of potential, and we don't want to squander it."