Reaping What They Sew
Possibilities are opening up for Paradigm Parachute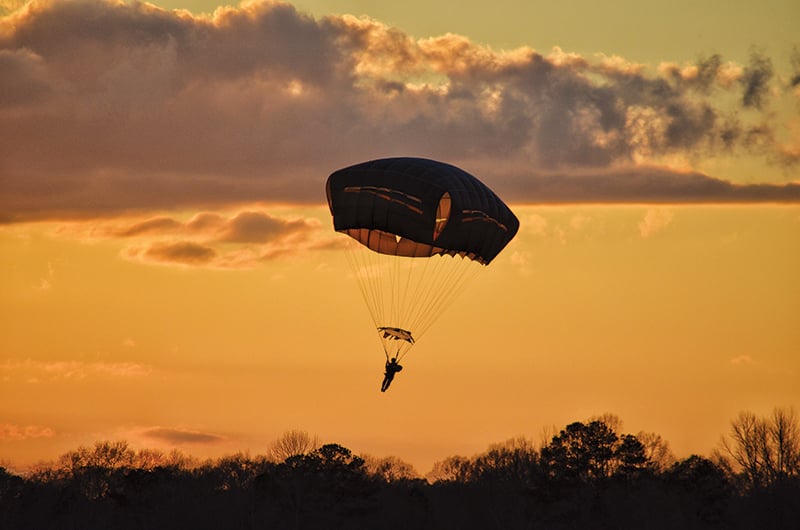 Precision is paramount in war. Stakes are high, and departures from perfection can result in failed missions or casualties. That reality applies to weapons systems, military hardware, troop movements — and to the painstaking manufacture of parachutes.
Co-founded by disabled military veterans Aaron Nazaruk and Alexander Alvarado, Paradigm Parachute & Defense, Inc., supplies gear for maneuvers, including jumps by paratroopers and the deceleration of aircraft and munitions. The Pensacola-based business has clients worldwide, including commercial enterprises, humanitarian organizations and space exploration interests.
"Our training process is pretty intense," said Alvarado, a retired U.S. Army parachute rigger, Federal Aviation Administration master rigger, military free-fall instructor and oxygen technician. "It takes three days to train, and then they begin sewing on live equipment."
Alvarado said he has worked even with beginning employees with no experience and quickly moved them into production roles. Typically, he added, members of the sewing team work 30–60 days before reaching optimal efficiency levels.
Paradigm obtains nylon from a local supplier; it is then shipped to New England for processing and inspection and returned to Pensacola. The business's operations, Alvarado said, are subject to "a lot of government and military oversight to ensure safety."
Founded in 2019, Paradigm has deep roots in Northwest Florida.
It was in Pensacola that the late Samuel George Miller once sewed U.S. Navy Blue Angels uniforms. His business, previously named Feminine Flair and now the Sewing Box, is still going. Just a month before Miller's death in July 2022 at age 84, he witnessed a milestone that he had long hoped to see: U.S. Navy Lt. Amanda Lee became the first female F-18 fighter pilot to join the Blue Angels.
"The military history, especially with regard to sewing, was a big reason we wanted our business to be based in Pensacola," said Nazaruk, who served in the U.S. Army for seven years and earned a Bronze Star.
Alvarado had some experience with sewing before launching Paradigm.
"In my early career, I was like, 'What? Sewing? You want me to sew?'" he said. "And then I tried it and liked it. You lock in and go."
When Paradigm was much smaller than it is today, the founders worked the sewing line. Today, it employs more than 50 people and is expecting continued growth. Paradigm has pledged to add at least 28 full-time jobs with a grant awarded by the Industry Resilience and Diversification Fund program administered by the University of West Florida.
"One of the things we're most proud of is providing stable jobs," Nazaruk said. "We're also teaching our employees a new skill and giving opportunities to engineers from the University of West Florida. Currently, we have four engineering interns."
Alvarado said Paradigm will figure in upcoming space missions but wasn't at liberty to share particulars.
"We're excited about the future," Alvarado said. "We've got a solid core of employees, and it's encouraging when they express how much they love working here. We all work as a team with transparency and integrity to support the government and military operations."
Brian Howell joined Paradigm as an employee in March 2021.
"I was fortunate enough to see a parachute that we built being tested," he said. "To watch that parachute work flawlessly was an amazing sight to behold. Working at Paradigm means a lot to me. From the people to the vision — I want to come to work because it matters."
---
---