Military Service
Women-owned business aids war fighter readiness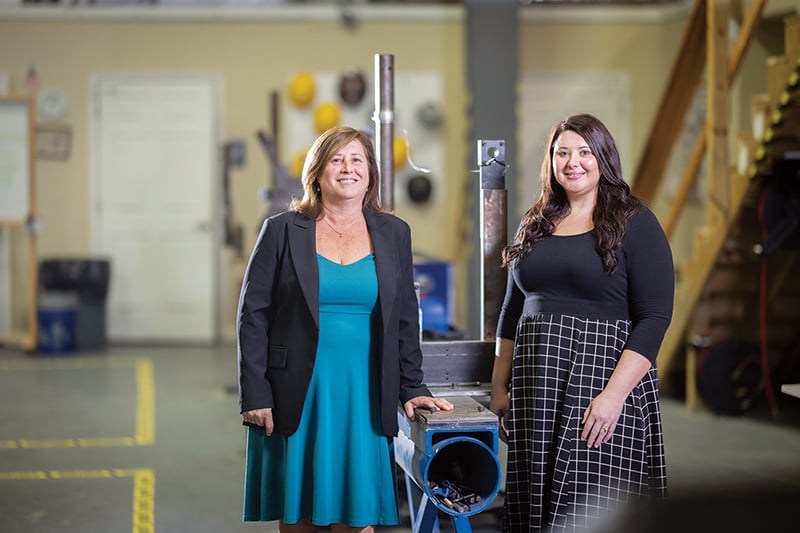 When her husband suddenly died in 2012, Mary Carmichael couldn't let the business he'd spent over a decade building founder.
In 1998, Marcus Carmichael and his business partner, David Hoskins, received an order to plan, test and evaluate support for an upgraded Doppler sonar on a SEAL delivery vehicle. Subsequently, their business, DMR Consulting, continued to offer engineering support and technical services to defense logistics agencies and Northwest Florida's military bases.
"We had 42 employees at the time of my husband's passing, and I couldn't let them down," said DMR president and CEO Mary Carmichael. "Despite not being an engineer, I decided I was going to step in, and we were going to continue providing our services."
With over 30 years of executive leadership experience overseeing the development of public facilities for municipal, state and federal government agencies, Carmichael felt prepared to handle the "business side" of DMR. She knew what was expected from a contractor and had a feel for the military.
"My father was in the Air Force, so I knew how important it was to support the war fighter," Carmichael said.
She relied on the support of her daughter, Rachael Carmichael, who became vice president and CFO and officially cemented DMR as a women-owned small business.
When she was 15, Rachael Carmichael, "the technical brains of the operations," her mother joked, began working summers at DMR as a student intern. She earned an associate degree at Gulf Coast State College and a bachelor's degree in management information systems at the University of South Florida.
"We are women in a man's world," Carmichael acknowledged. "But we make a good team. Rachael is great at what she does, and I can handle the bigger picture and long-term planning."
Planning is essential when you're awarded a five-year, $48 million contract with the U.S. Navy, DMR's biggest project to date and one related to the Navy's MK-105 airborne mine countermeasures (AMCM) system. That system involves helicopters that carry hydrofoil sleds capable of detecting explosive mines.
DMR initially specialized in surface mine countermeasures and, according to Carmichael, was one of the first companies to establish an off-base repair depot for such systems. That depot is currently equipped to support all military needs, but DMR began leasing another repair depot dedicated to AMCM systems.
"It's a system that saves lives, and we're so proud to be a part of it," Carmichael said. "We like to say we carry a project from the womb to the tomb because it's about the life cycle of a system. Every aspect of the military has aging legacy systems where you either have to figure out a way to make them work, or you have to design a new one. Then, new systems need to be tested. Our services allow these legacy systems to continue to function until the new ones are ready to implement, so there is no gap in time for the soldier or airman who's out there performing their duty."
Carmichael said many components of these legacy systems have become obsolescent. Parts are outdated and no longer commercially available. For that reason, DMR is equipped with a fabrication facility capable of manufacturing custom parts for the military. It recently became a certified welding agency.
"We do projects for the Naval Experimental Diving Unit that involve SEAL delivery vehicles (small, crewed submarines) where we have redesigned and fabricated parts for the equipment they're working with right away," Carmichael said. "As a small company, we feel like we can really jump in there with a technical solution. We're very responsive to our clients' repair needs and try to get equipment fixed and back to them as soon as possible."
That rapid response time, as well as a resourceful and experienced staff, accounts for the success of DMR, which was among the top 500 companies in the Inc. 5,000 list of the most successful companies in America for 2022. It ranked No. 2 among engineering companies.
"I think it's because we focus on the resources we have," Carmichael said of the award. "Many of our staff are veterans we hire straight out of the military fleets or squadrons and match them with subject matter experts and young engineers, so it's really a team effort. It pays to have former users of these systems who get it."
Carmichael said ratings from Inc. were based on a three-year period, during which time DMR experienced growth of 1,683%, much of it attributable to the Mk-105 contract procured in 2021.
"What's most important is to not just focus on a single contract but all areas of our services," Carmichael said. "Going forward, we'd love to spread our wings and fly high with the Air Force. We are very excited to support them in 2023 as the squadrons return to Tyndall and would love to get a bigger contract with them to help out."
DMR recently began supporting the U.S. Navy through the Defense Logistics Agency (DLA). It is furnishing the DLA with custom parts to ensure systems are mission ready.
"Our region is so strong with the military that we want to support all aspects of it," Carmichael said. "To us, it's personal and we are proud of our country. We want to continue to grow and serve."
---