Second Northwest Florida Economic Summit will be held Nov. 28–29
Successful inaugural summit prompts plans for a renewal of the event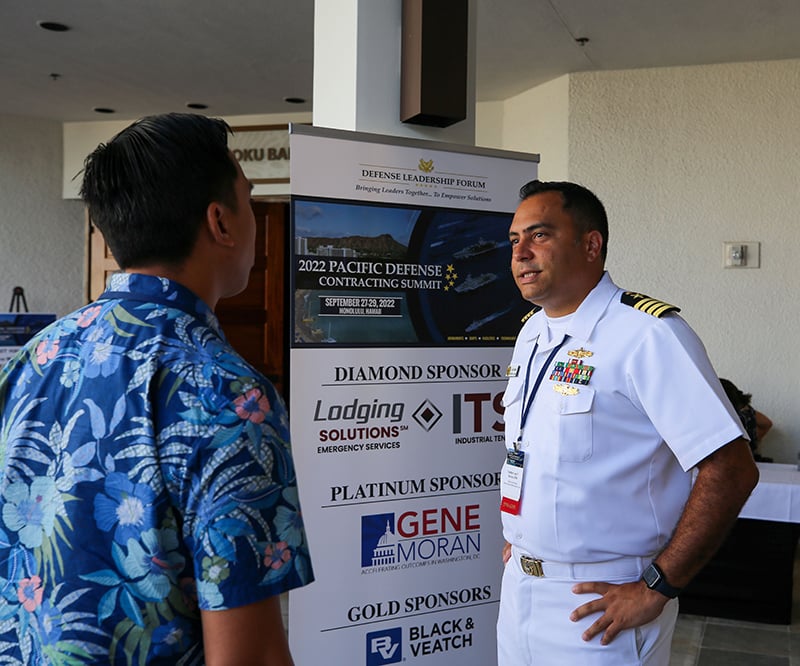 In Northwest Florida, the Defense Leadership Forum (DLF) is known for organizing the Air Force Contracting Summit, which has been a high-profile event for the past 10 years. DLF, a public service organization, is also active throughout the United States, holding summits nationwide throughout 2023.
The Southwest Defense Contracting Summit was held in Tucson, Arizona, on April 24–25. The fourth annual summit provided the latest information on military contracting opportunities throughout the Southwest U.S., from Texas to California, and focused on contracting with military installations.
The summit featured presentations from military officials representing U.S. Army Garrison Fort Huachuca in Arizona, U.S. Army Garrison Fort Hunter Liggett in California, China Lake Naval Air Weapons Station in California and Naval Air Station Corpus Christi.
Held at the Native American-owned Casino Del Sol, the summit featured an important session on teaming opportunities with Tribal/Native American 8(a) corporations.
Three general sessions focused on subcontracting opportunities with prime defense contractors Raytheon, SAIC, CGI Federal, and Jones Lang LaSalle. The Pentagon sent senior officials to discuss acquisitions and contracting, military-community partnerships and small business contracting priorities and opportunities.
The ninth annual Navy Contracting Summit, held in Virginia Beach on June 8–9, featured participation by 10 Navy commands, bases and offices; presentations by the Marine Corps Installations Command, U.S. Army Corps of Engineers and GSA; and the latest on massive new shipbuilding subcontracts at the nation's top military shipyards.
The Pacific Defense Contracting Summit is scheduled for Oct. 17–19 in Honolulu, Hawaii.
It has become increasingly important because top congressional and Department of Defense Leaders consider the Indo-Pacific to be our most important long-term military theater.
Billions of new dollars are being allocated for new contracts because of the rapidly escalating threat of Chinese military aggression, along with an unstable North Korea.
To round out the year, the Northwest Florida Economic Summit will be held Nov. 28–29 in Panama City.
It will focus on ways to broaden Northwest Florida's defense and infrastructure projects. Following the theme of the other summits, it will address how small and mid-sized companies can be awarded contracts in Northwest Florida.
---
Want to Go?
Find out about more Defense Leadership Forum initiatives, as well as all upcoming summit and networking events, by visiting usdlf.org. For details on the 2023 Northwest Florida Economic Summit, visit NorthwestFloridaLeadershipForum.org.
---
Northwest Florida Military Report
More than 700 military and government officials, business associations and defense contractors participated in the 10th annual Air Force Contracting Summit on Feb. 7–8, 2023, at the Hilton Sandestin Beach Golf Resort & Spa.
Almost 30 military and industry speakers filled the two-day program, organized by the Defense Leadership Forum, a public service organization. U.S. Rep. Neal Dunn (FL-2) provided the Summit Keynote Address.
Air Force presentations were provided by a host of installations, directorates and commands. Additional government presentations were provided by NASA SEWP and NITAAC.
Industry presentations were provided by AT&T Defense & National Security; Bank of America; Capitol Integration; Horsley Construction Group; Lockheed Martin; Mohawk Valley Materials; National Energy U.S.A.; Raytheon Intelligence & Space; Schneider Electric; and Unanet.
Congressman Dunn, who serves on the House China Select Committee, said that with rising tensions and risks, especially from China, the nation needs private-sector contractors and experts working in concert with uniformed military.
"My experience in Congress has taught me that if you can get the state and local partners, such as the people at this summit, the tools to understand and strengthen supply chains in their regions — and then get out of their way — they become better partners for providing for our national security," Dunn said.
Of special interest to the audience was a presentation on the multi-billion dollar reconstruction program for Tyndall AFB provided by Col. Patrick Combs, Deputy District Commander, Mobile District, U.S. Army Corps of Engineers.
Lt. Col. (USAF Ret), Steve Loken, deputy base civil engineer at Hurlburt Field, provided an update on the latest Air Force energy resilience contracts. Wayland Patterson, chief of the Air Force Contract Augmentation Program (AFCAP), provided insight into Air Force contingency contracting. And Claire Reynolds, representing the U.S. Army Partnership Program in the Pentagon, provided details on the latest military base/community partnerships.
The 11th Annual Air Force Contracting Summit will take place in February 2024. See usdlf.org for particulars.
---