Pinnacle Awards Program Celebrates Honorees for 2019
Honoring powerful and trailblazing women of Northwest Florida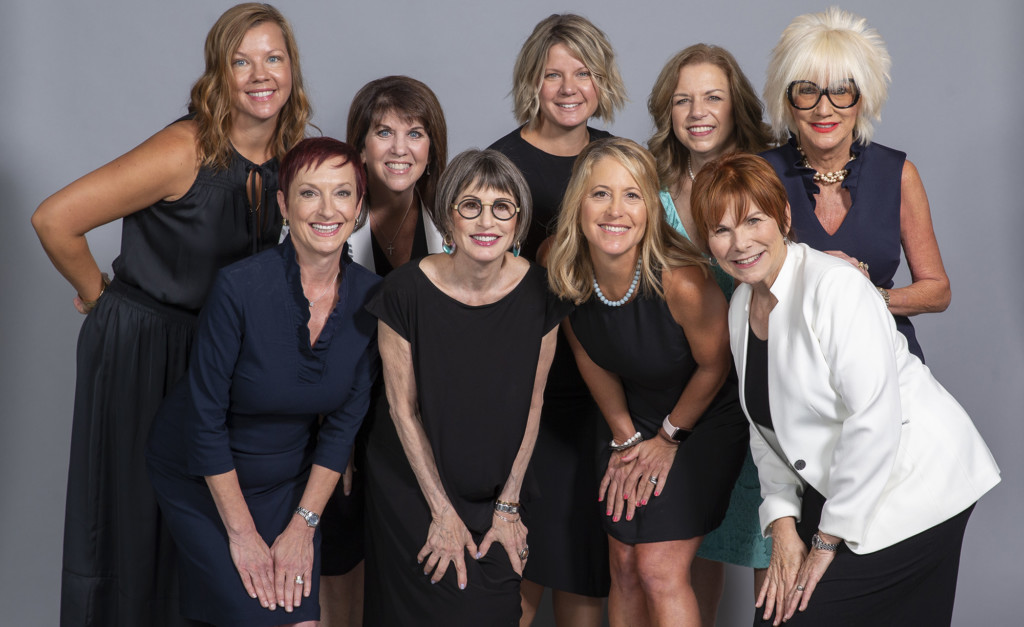 Rowland Publishing and 850 Business Magazine celebrated 11 prominent, highly successful — and, each in her own way — formidable women at the sixth annual Pinnacle Awards luncheon, held Wednesday at Florida State University-Panama City.
The Pinnacle Awards program, which was suggested at its inception by Gulf Power Co., recognizes women who have distinguished themselves professionally and in service to communities.
Steve Bornhoft, the editor of 850 Business Magazine, noted that another common denominator unites the honorees: leadership.
"Populate a chessboard with pawns only, and there is no opportunity to think strategically, no opportunity to achieve goals," Bornhoft said.
"All you have is a scrum. Fill a room with brilliant minds and challenge them to fix the housing shortage created by Hurricane Michael in Bay and surrounding counties and it's likely that no progress will be made until someone emerges as a leader.
"The history of the world is the history of leadership. The history of Northwest Florida is substantially the history of women in leadership roles."
Bornhoft introduced the members of the Pinnacle Awards, Class of 2019, beginning with Kris Knab, a steadfast believer in justice for all who died in July 2018 after leading Legal Services of North Florida for nearly 40 years.
Erin Kenney of Tallahassee was on hand to accept the Pinnacle Award in her mother's memory.
The Class of 2019 also includes:
Mona A. Amodeo, PhD, Founder/President, idgroup
Cindi Bonner, Director, Rally Pensacola
Stacey Brady, Marketing and Communications Director, Grand Boulevard
Daryl Rose Davis, Co-Founder, Seaside, Florida
Marsha Doll, Owner, Marsha Doll Models
Amy Hoyt, Senior Evening News Co-Anchor, WMBB-TV
Kimberly Krupa, Executive Director, Achieve Escambia
Tiffanie Nelson, Founder/CEO, Food for Thought
Sandy Sims, Director of External Relations, Gulf Power Co.
Michelle Ubben, President/Partner, Sachs Media Group
Daryl Davis, remarkably, traveled to Panama City from Houston, where her husband Robert is undergoing cancer treatment, to participate in the awards luncheon.
She presumably spoke for all when she said, "It is an honor to be chosen to receive a Pinnacle Award. Of course, I know many of the women who were recognized here today. People at the forefront of things tend to bump into one another."
McKenzie Burleigh, Rowland Publishing's vice president for corporate development, got the event started with opening remarks that included acknowledgement of presenting sponsor Bank of America Merrill Lynch and the event's additional sponsors: Sacred Heart Health Systems; Gulf Power Co.; Counts Real Estate; CareerSource Gulf Coast; Florida State University-Panama City; ResortQuest by Wyndham Vacation Rentals, which supplied a weekend vacation as a door prize; Vivid Bridge Studios video production, which recorded interviews with the honorees; and Project:style salon, which provided hair and makeup services, ensuring that honorees looked their best when they took the stage to receive their awards.
At the conclusion of the event, Burleigh and past Pinnacle winner Virginia Glass kicked off a conversation among Pinnacle winners from 2019 and previous years concerning ways in which they might collaborate to make important differences in the life of Northwest Florida.
Specifically, they talked about the acute need for affordable housing in the Hurricane Michael devastation zone.
Over coming days, the group will work on a letter that will appeal to Gov. Ron DeSantis to appoint a full-time recovery czar who would be tasked with moving the region's recovery forward.
Earlier, Burleigh introduced keynote speaker Karen Moore, a Pinnacle Award winner in 2017 and the founder and CEO of Moore, Inc., a Tallahassee-based communication and integrated marketing firm that has been named to prestigious lists including Florida Trend Best Places to Work and the Inc. 5000 Honor Roll.
Moore, drawing in part upon lessons contained in her 2016 bestselling book, Behind the Red Door: Unlock Your Advocacy Influence and Success, encouraged the members of the audience for Wednesday's sold-out event to serve as their own champions while complimenting others for their work and contributions.
"Conduct your own brand assessment," she advised. "What one word do you think comes to mind when people hear your name? What word would you have them think of first?"
Too, Moore encouraged women to take risks. "When you hear that voice that tells you to go for it, go for it," she said.
Moore went for it in 1992, leaving behind "the best job in the world at Florida State University" to launch her own business at a time when she was by herself as the only female CEO in Tallahassee.
She adopted "virtual mentors," she said, to guide her progress: Thomas Edison, Walt Disney and Mother Teresa.
For Moore, the trio represents persistence despite failures, marketing genius and selflessness.
Precisely the kind of qualities that the Pinnacle Awards are all about.
See more photos from the event below: