Respecting Tradition
New owners of iconic oyster bar will leave its flavor unchanged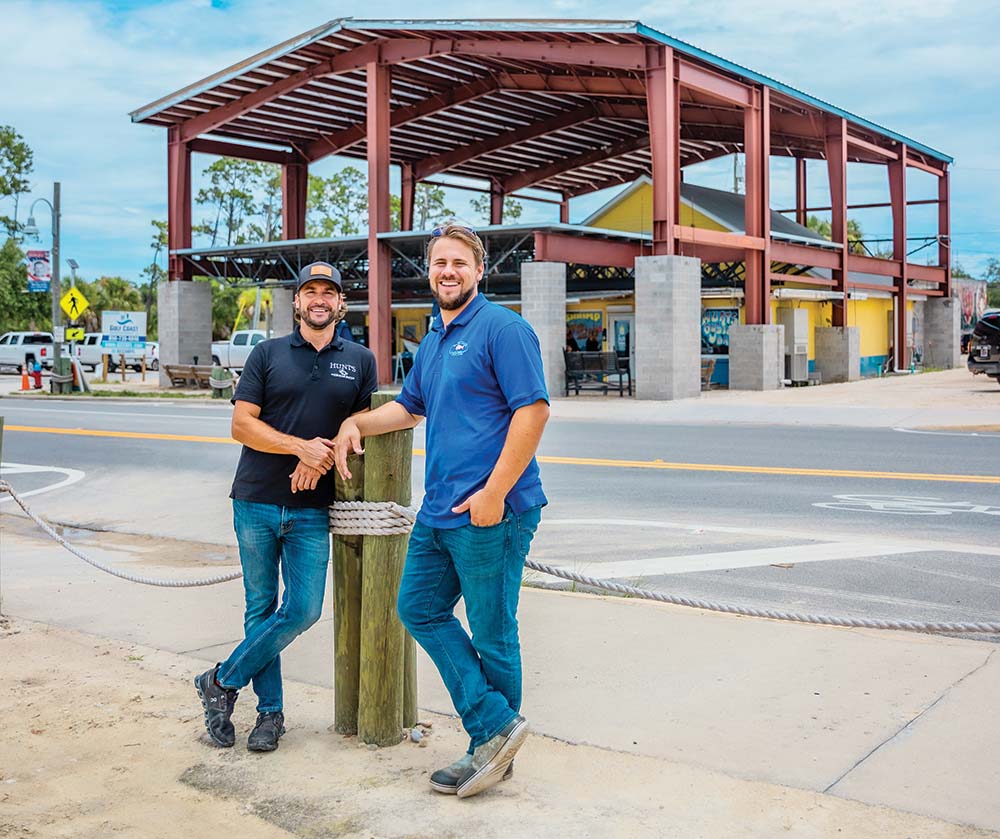 A summertime visit to Hunt's Oyster Bar & Seafood restaurant will prove, at a glance, that there are lots of people who do not feel bound by the rule dictating that wild oysters only be eaten during months containing an "R."
The popular dive attracts standing-room-only crowds that fill its patio and spill onto the sidewalk at any time of day, any time of year.
Today, Hunt's is closely surrounded by construction that will enlarge and add a second floor to the restaurant. Still, the people come, most of them unaware that ownership of the business has changed.
The Abrams family of Panama City — think Greg Abrams Seafood and the Tarpon Dock Seafood Market — acquired Hunt's following the retirement of Randy Hunt, the business's founder. Greg Abrams et al. know him from seafood. They supply fresh catches to restaurants from Capt. Anderson's Restaurant in Panama City Beach to the top fine-dining establishments in Philadelphia and New York City.
"If you're looking for fun, fresh and domestic seafood, Hunt's Oyster Bar is it," said Collins Abrams, who recognizes that Hunt's, given its longevity, figures in a lot of family traditions.
"Randy Hunt built a brand and did a great job here, and we stepped in and have been able to maintain it with some improvements," Abrams said. "In large part, our staff is the same — people like to see known faces. We've never considered changing the name or anything; we knew what we had here."
The restaurant is a modest, bright yellow-sided building that would appear to be no match for even a Category 2 hurricane, but that is about to change. A new steel framework sits atop Old Yeller and outlines the future of Hunt's. The project in progress will include a second-story deck with open-air dining, a move designed to expand seating and reduce wait times.
"The whole key to doing this is to make sure we preserve what Hunt's Oyster Bar is all about," Abrams said. "When the construction is complete, you'll come in the door and it will look like it did 10 years ago. We know what works, so we're going to try to stay as close to that as possible and spice it up a bit."
New owners Greg Abrams, who is the owner of the Tarpon Dock Seafood Market and the president of Greg Abrams Seafood, Collins Abrams and Austin Abrams, who is the operations manager at the seafood market, are committed to keeping the original decor at Hunt's. Tables, walls, flooring and everything else on the first floor will be preserved to ensure that longtime patrons feel at home — but without the two-hour wait.
However, one unintentional change, brought about by the new owners, has already proven to be a crowd-pleaser.
The Miss Adley, a boat named after Austin Abrams' daughter, took on water and hit bottom just six months after it was placed into service. The bow and hull were salvaged and now serve as an outside bar at Hunt's.
Visitors often ask if the boat is real.
"We like to joke that it's the most expensive bar in Bay County," Collins Abrams said with a laugh.
The new owners anticipate that there will be longtime customers who will choose to wait for a particular table that they have favored for years, knowing that they will be waited on by their favorite server.
"There're going to be groups who have been coming in here for 40 years, and they have their spot," Collins Abrams said. "We had all of this in mind when we started the construction. That's why we took the extra time — it's a relationship business."
Indeed, servers regard familiar customers as friends. A sense of community permeates the business.
"It's just a down-to-earth family restaurant," Austin Abrams said. "You can come with your family and they can be loud, and you don't have to worry about bothering anyone — it's not for everybody every time, but it's a fun place to eat. — Austin Abrams, Co-owner
"We're doing our best to listen to the community and to run a successful business."
The expansion is expected to be complete by December 2023. The business remains open during construction.