Rethink Video Marketing With Vivid Bridge Studios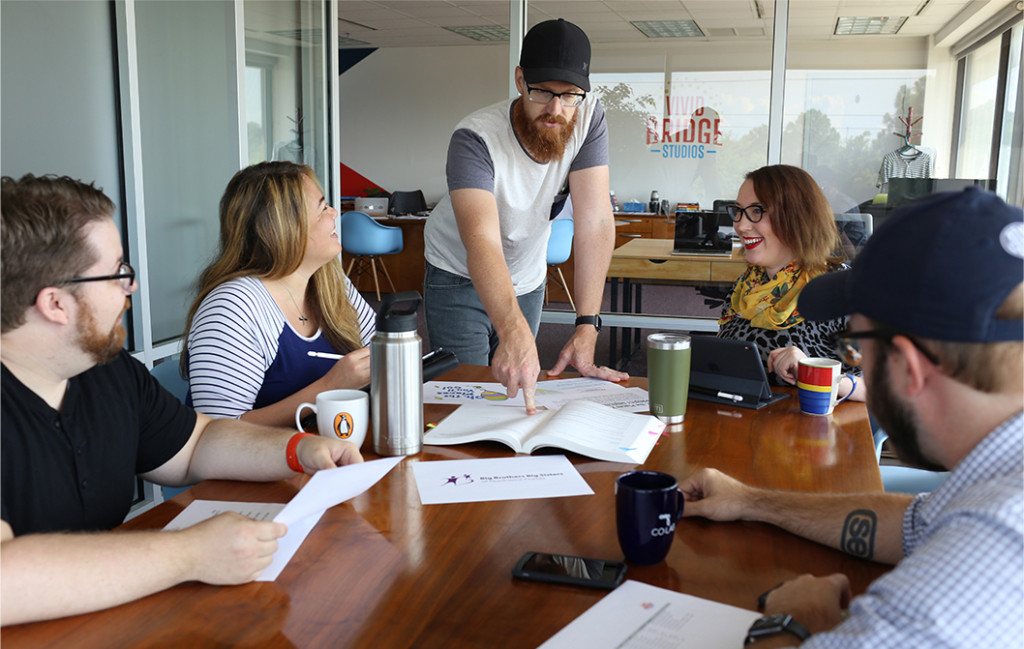 VIVID BRIDGE STUDIOS has been a deep evolution process for its five partners.
Opening their doors in January, the quintet of freelancers put their individual businesses to rest to evolve into something bigger: a strategy-driven video and photography production company in Pensacola.
Yet an even more significant evolution was their reimagining of what a video production company is and how to orient their mission around results and measurable business growth for their clients.
Vivid Bridge Studios realized that to truly offer a unique service to the Gulf Coast and beyond, they needed to stop thinking like freelancers working together under the same roof.
Instead, there was far greater strength in working as a team to leverage each member's decades of experience to provide something to the business community that hasn't previously been offered: answers.
"We kept hearing people say, 'We know we need to be using video, but we don't know where to begin,' at networking events, in meetings, everywhere," said VBS co-founder Cherylyn Murphy.
"We wanted to create a solution to this, a way to elevate the businesses in our community through powerful storytelling that is built on a foundation of solid research and strategy, a way that no other video production company in our region is pursuing."
While their client base remains diverse — including independent businesses, brands, other production companies and agencies — the team has worked tirelessly during their first year to develop The Vivid Process, a consulting product comprised of deep research, focus and analysis into the needs of their clients to identify and present solutions for how video can be leveraged to accelerate growth, infuse corporate culture and values and establish/evolve marketplace positioning.
VBS's passion for video as a messaging, marketing, and storytelling device is apparent from their performance at the local 2018 Addy Awards, where the partners took home more than 50 individual awards for their work in 2017 with clients including Florida West, the Andrews Institute, United Way and many more.
Engaged with enriching their community, Vivid Bridge has forged partnerships with organizations like Studer Community Institute, Big Brothers Big Sisters, Onbikes Pensacola and the Greater Pensacola Chamber of Commerce to tell stories of community organization, mobilization and growth beyond their corporate and brand work.
"We want to use the same tools we've developed for our large-scale commercial projects to tell stories we're passionate about," said partner Jon Deckert.
"This philosophy goes deep for us; in my role as Education Director, I'm working on partnerships and projects to help the marketing community understand how to use the resources available to them to do the best work for their employers."
At its core, Vivid Bridge is evolving the notion of what a video and photography production company can be.
They're working to do more than make great looking videos; they're working to give their clients results.
418 W. Garden Street, Suite 310, Pensacola | (850) 332-3022 | vividbridge.com