A Q & A With The Governor And First Lady Of Florida
Ron and Casey DeSantis discuss everything from charity and initiatives to decorating and horseback riding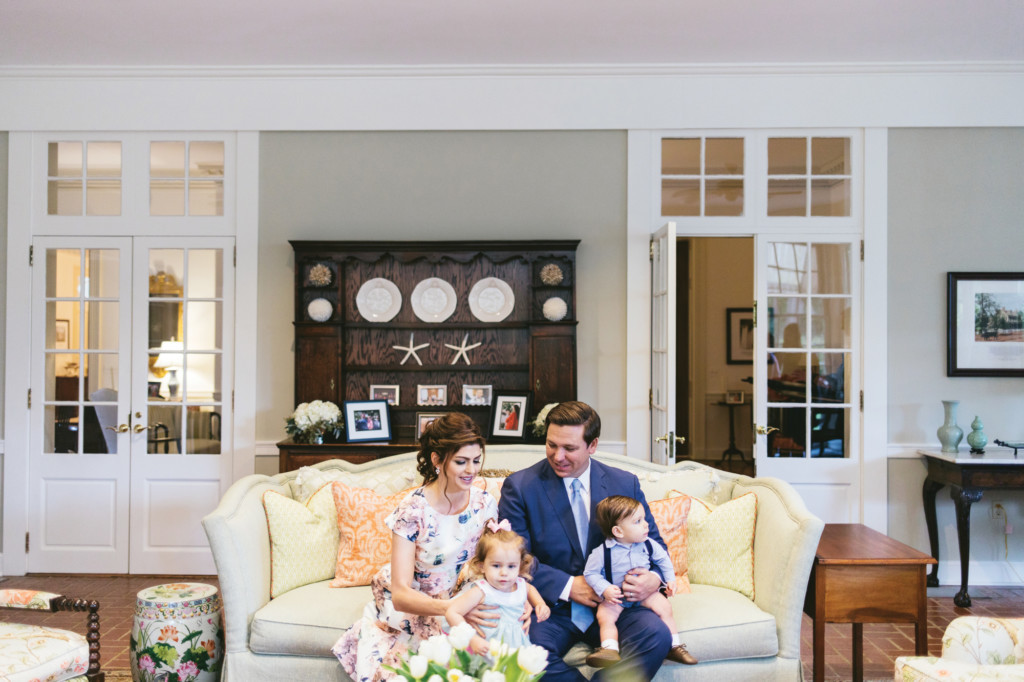 Here are other topics that the governor and first lady discussed during 850 Magazine's February visit to the Governor's Mansion. The responses are edited for length and clarity.
The first lady on the First Family's new security detail:
A: "A neat story when we were in Jacksonville: It was my daughter's second birthday, so they had the FDLE out there, and it happened to fall on Thanksgiving. We had some leftover cake, so Madison, along with Ron and myself, decided to bring some out, and I think we had about five or six agents who were graciously spending their Thanksgiving with us. And we greatly appreciated it, and they all sang Happy Birthday to her, on the front lawn, on Thanksgiving, which was very special."
The first lady on the adventures of the First Couple's eldest toddler:
A: "Madison is testing everything. She was going through (the Governor's Mansion) and she was pulling through drawers the other day, and she happened to open one drawer and inside the drawer was … you remember VHS tapes? We all know VHS tapes. But she found the little labels that were on there, and she was playing with those stickers, and I'm thinking, that was back, what, the 1980s or early '90s? It was neat that she uncovered that, that nobody even probably knew was it there and was probably sitting dormant for 30 years." The governor added that his daughter's playful discovery was from circa "the Bob Martinez administration."
The first lady on decorating plans for the Governor's Mansion:
A: "Oh, decorate. Our goal right now is to make sure we don't destroy all the wonderful things that the former First Families have done right. This beautiful room (the sunroom known as the Florida Room) was created by the Grahams. Each first family puts their mark on the mansion in some way, shape or form. Jeb Bush and his wife put together the library and did a great job. So we're just trying to make sure that everything that every family has done to make this place beautiful, that we preserve that, and we're getting there." The first lady and governor mentioned Ann Scott, wife of former Gov. Rick Scott. "I think it's a house that the people of Florida can be proud of, and I think her touch was a big reason why," Gov. DeSantis said.
The first lady on Governor's Mansion initiatives:
A: "First and foremost, Ron and I have a sense that we want to serve the people of Florida. We understand that this is not our house. This is the People's House, and we want to be very open and welcoming to as many people as we can that they get the experience, whether it's school groups or inviting people in to be able to experience it, just as we've had the good fortune to be able to do. As far as initiatives, I'm still listening. When I approach this role, I approach it really with a lot of humility and grace, to say that I don't know everything in the beginning. And I really want to listen to see what people say would be in the best interest of the first lady to be able to help serve the people of Florida. I always find myself and my heart going back to children in some capacity, (in addition to) initiatives with the environment. I'm passionate about our water quality."
The governor on charitable initiatives:
A: "I'm going to try to find something to help kids probably in the local area, maybe with some scholarships. I figure that unless you're Rick Scott and become governor of Florida, you've got to raise a lot of money. I'm pretty good at that now, so we might as well put that to good use and do that, and another charitable thing we're going to do is borrowed from when I was in Washington: We would always do a congressional golf Ryder Cup to raise money for The First Tee program. That's headquartered in Florida, and there's a lot of good programs, so we're going to do a Governor's Cup. Instead of it being Republicans vs. Democrats like we did in the Congress, I think we're going to do executive branch vs. the legislative branch, so I've talked to (state Senate) President (Bill) Galvano and (House Speaker Jose) Oliva, and they're on board to do it."
The governor on a note he found from predecessor Rick Scott:
A: "When I showed up the first day and sat behind the desk, the only thing that was in there was a note, just basically wishing me well and giving me advice. He was reflecting on eight years, and I think basically was like, look, there are a lot of things that can happen. There's going to be a lot of things that you just can't control; just focus on the things that you can do to be the best governor that you can. I think that's good advice."
The governor on how he met the first lady:
A: "I was in the Navy. I was stationed in Naval Station Mayport in Northeast Florida. She was working as a TV reporter, and we both just happened to go to hit golf balls one day. Just randomly, we were hitting next to each other on the driving range, and someone had left a half-hit bucket of balls. So we're looking, wondering who's going to take the extra bucket of balls. We decided to split them. We started talking and went out after that, and we started dating. We didn't get introduced or anything. We just happened to be at the driving range at the same time."
The first lady on having been a national-champion equestrian rider (And on a playful question about whether she could keep horses at the Governor's Mansion):
A: "No. I hung up those stirrups a long time ago. It was fun to do while growing up, but now I'm of the mind that when much is given, much is expected, so I go back to that role of service and doing what I can to support the people of this state. There's some time here, and I want to maximize that. So no horses in the backyard for now."