First Comes an Idea
Entrepreneurship students in Milton learn the steps to starting a business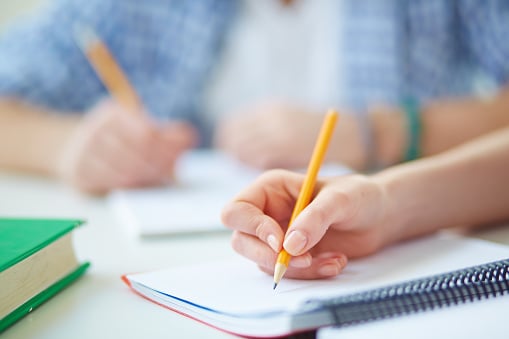 The contemporary fascination with entrepreneurship has spawned a reality television show, business incubators, a large body of scholarly work and academic programs at collegiate and even high-school levels.
Economic developers, with an eye toward growing businesses in addition to attracting them, see great value in programs likely to inspire students to found enterprises in their hometowns.
Milton High School provides a case in point. There, Randy Parazine teaches an entrepreneurship class open to students in grades 9 through 12.
Parazine also teaches a class in digital design and one in digital information technology, but he was well suited to teach entrepreneurship, having started a business himself and having come through the instructive experience of seeing it fail.
A native of Escambia County who attended the University of South Alabama, he had worked for 22 years in the wholesale plumbing business when he decided to secure a residential contractor's license. He launched a homebuilding business, but his timing proved unfortunate. The market he sought to get a piece of was overbuilt for a period of years following Hurricane Ivan.
Parazine estimates that no more than 25 percent of the students in his entrepreneurship class are the sons or daughters of entrepreneurs or business owners. Most take the class, he said, because they have independently come by an interest in business.
"We teach them everything involved in starting a business," Parazine said. "Students begin with an idea, either a new idea or one that is already out there that they work to improve upon. We go through the process of writing a business plan and get involved with more detailed tasks like creating business cards and logos."
Parazine uses a textbook containing case studies that detail what businesses did at various stages in their development. Toward the end of the course, students work to impress "sharks," two women from the Pen Air Federal Credit Union who react to pitches.
"They work on a Shark Tank-type presentation," Parazine said. "They create a commercial, and they have to make a presentation just like they were trying to secure a loan from a bank. They have to dress up, and we film the presentations and play them back."
In such a way, students find themselves in friendly competition.
The sharks from Pen Air also visit the class monthly and offer lessons on business finance. Via role-playing exercises, Parazine introduces students to what it's like to interview prospective employees. Interviewed in March, Parazine was teaching students the differences among various types of corporations.
"I have had some experience with all of that, and I can tell them what not to do," Parazine said good-naturedly.
Given their creative energy and fresh ways of looking at the world, it makes sense to introduce students to entrepreneurship at a young age.
Dr. Thomas B. Ward, a professor emeritus of psychology at the University of Alabama, has written about links among cognition, creativity and entrepreneurship.
In an article published in the Journal of Business Investing, Ward writes, "Successful (business) ideas are often a balance between novelty and familiarity: new and different enough to capture consumers' attention, but familiar enough to not be misunderstood or rejected out of hand as too radically different."     
The successful entrepreneur, as Ward points out, is not just a skilled idea generator, but also often excels at the art of persuasion.
"Novel and useful ideas are the lifeblood of entrepreneurship," Ward writes. "To be successful, entrepreneurs must generate valuable ideas for goods and services that will appeal to some identifiable market, and having identified those potential opportunities, they must figure out how to bring the project to fruition. And, depending on the need for capital to develop the new venture, entrepreneurs may even need to craft ideas to convince others of the value of the project."
Parazine's class gives students their first experience at convincing others of the viability and value of a business idea. It's the stuff of boardrooms, loan offices and meetings with venture capitalists.
Inessa Thibault completed Parazine's class earlier this year as a freshman.
"I have always wanted to have my own business, because I'd love to set my own hours and have my own employees and be successful," Thibault said.
She already had some experience with Parazine  — she had taken digital information technology from him — when she became aware of the entrepreneurship class and decided it was a good fit for her.
A cousin who owns a business in Navarre has influenced Thibault's entrepreneurial aspirations. Too, she has taken note of an approach taken by a business, The Joint Chiropractic in Pace, where patients choose from plans that entitle them to a specified number of visits per month.
She would like one day to apply that model to a counseling practice.
Thibault plans to study counseling in college — preferably the University of Western Kentucky in Bowling Green, where she has family — and obtain credentials that do not require a degree from a medical school.
"Mr. Parazine is a really good teacher," Thibault said. "He really knows what he's talking about, and I think that's because he has had experience in business. I knew that starting a business was complicated, but the way he explains it, he breaks down the steps, and it's a lot easier.
"It surprised me that anyone can do it. No matter where you come from, you can do it."
Parazine is optimistic that some among his entrepreneurship students will start businesses in Santa Rosa County.
"Most kids, when you ask them what they want to do when they graduate, the first thing they say is 'I want to get out of Milton.' I am trying to show them that you can be successful here. We're building a new courthouse in Milton, and we will be seeing new businesses on Avalon Boulevard because of it."