A Proud Legacy Assured
Don Salter changed the course of events in Santa Rosa County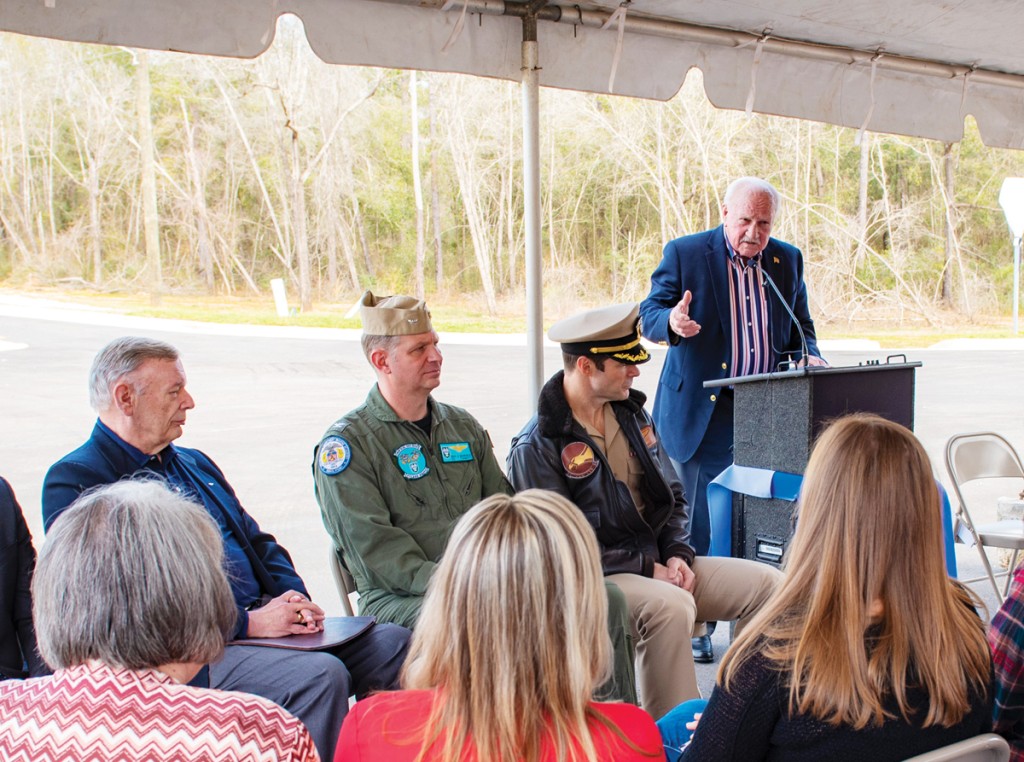 Fittingly, Don Salter Boulevard leads to the new Whiting Aviation Park, which adjoins Naval Air Station Whiting Field near Milton in Santa Rosa County.
The park's first tenant, Leonardo Helicopters, will occupy a support center measuring ı00,000 square feet while employing as many as 50 workers. Currently under construction, the Leonardo facility is projected to be ready in the middle of 2023.
"My understanding is they're going to create other facilities in the next few years that would create up to 300 jobs," said Salter, for whom the realization of the aviation park was a crowning achievement in his career as a public official.
"There are very few communities in the world where someone can say a single individual changed the course of events for their area, and Don Salter is one of those individuals," said Shannon Ogletree, Santa Rosa County's director of economic development.
"Don Salter exemplifies character, morals and integrity that we should all strive for to build a more positive place to live and work," Ogletree added. "He made a positive difference in the lives of thousands of people who didn't even know his name; he never asked for a 'thank you' or a pat on the back. He wanted to do what he felt was right for Santa Rosa County and its residents."
Don Salter was born in Jay, in the north end of Santa Rosa County in ı947.
"My dad (Cuyler Salter) was a farmer and raised peanuts, but he gave up farming and moved us to Cantonment in Escambia County when he went to work for the St. Regis Paper Company," Salter recalled.
Salter attended J.M. Tate High School, where as a freshman he played baseball with a senior named Don Sutton. Sutton went on to earn a place in Major League Baseball's Hall of Fame.
Salter's two older brothers joined the Marine Corps, and one of them was killed in Vietnam. Salter and his remaining two brothers each became U.S. Army paratroopers.
Salter served stateside with the ı0ıst Airborne Division and went to Vietnam with the ı73rd Airborne Brigade as a combat platoon sergeant. He was awarded the Bronze Star for his service there.
After leaving the Army in ı968, Salter went to work for Gulf Power Co. That meant living in Pensacola for a time, but in ı973, Salter took on a job with the utility that allowed him to live in Milton.
"I worked my way up through construction crews and went to school at night," Salter said. He earned a bachelor's degree from Troy University in ı983, followed by a master's degree in ı985. In ı990, he became Gulf Power's Santa Rosa County district manager.
Salter retired from Gulf Power after 32 years of service in 2000, the year in which he was first elected as a Santa Rosa County commissioner.
That was just the beginning.
Salter would be re-elected four times and serve as the commission's chairman in 2004, 2009, 20ı4 and 2020.
After his Gulf Power career, Salter "wanted to continue community support and worked closely with all the bases, especially NAS Whiting Field, to bring about land acquisition," he said.
"We were able to acquire about ı0,000 acres around Whiting to buffer that base from residential encroachment, and that started about 2002."
One of the first purchases was 269 acres next to the back gate at the base's eastern fence line.
"From there we started creating the Whiting Aviation Park," Salter said. The first phase of the park's development comprises 60 acres.
"It took seven years of me working with leaders at Whiting Field, Jacksonville and people at the Pentagon in Washington to get a limited access use agreement" which entitles the aviation park the use of runways at the base, Salter said. "This led to some excellent work. One thing I'm proud of is Santa Rosa County being a lot better off now than it was then."
Salter was also proud to have lowered the county's millage rate while a commissioner.
"I fought hard for revenue equity to make sure we took pressure off property taxpayers with things like the sales tax and gas tax," Salter said.
What does he see for the future?
"I think Santa Rosa County will continue to see the high growth rate it has seen over the last 20 years," Salter said. "People want to move here because of low taxes, quality of life, the military installations and the school system. As long as those things stay good, we will continue to see people moving here."
---
All in the Family
→ For 52 years, Don Salter has been married to his wife, Kay. "She was a Navy brat, and I met her in Pensacola in 1964 when I was in the Army," Salter said. "We got engaged in 1965 and got married in 1970." The couple has a son, Donnie. He and his wife, Mandy, have a son Ethan, 9, and a daughter, Evelyn, 6. "They live about a mile from my house," Salter said.