Making the Land Better
Coldwater Gardens lures visitors to its ecological makeover project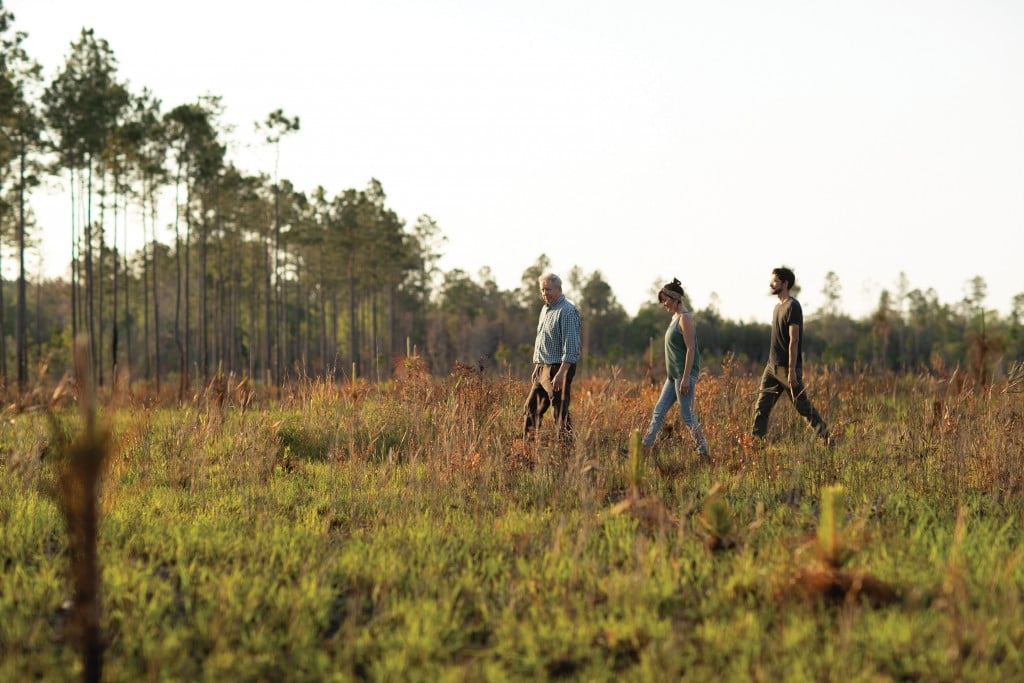 Out front of the lodge, a tall man in rubber boots contented himself pressure washing a concrete pathway.
The maintenance man, I supposed.
"Nick's inside," he said. "Right through there."
I had met Nick Phoenix, a co-manager at Coldwater Gardens near Milton, a day earlier at an ecotourism summit hosted by Florida State University Panama City. Phoenix was among the presenters at the meeting, and I was intrigued especially by his description of an aquaponics operation at his place of work and efforts there to create a longleaf pine forest.
In 2012, Phoenix completed a bicycle tour of organic farms in Florida and settled upon Coldwater as a place to WWOOF.
The San Francisco-based Worldwide Opportunities on Organic Farms, USA (WWOOF USA) is part of a worldwide effort to link volunteers with organic farmers and, in so doing, build a global community conscious of ecological farming practices.
Phoenix, over the course of a couple of years, would graduate from volunteer to paid employee and from primitive tent to tiny house.
The 350-acre Coldwater Gardens has graduated, too. First envisioned as a produce farm and modest glampground, it is now home to glamping (glamorous camping) tents, yes, and also cottages, including one situated in a tree, primitive campsites and the aforementioned lodge, which often serves as an event venue.
Last year, 36 percent of the business's revenue came from event hosting and almost all of the remainder from accommodations rentals. Most visitors come from within a 2-mile radius. Coldwater is gaining popularity as a getaway for coastal residents overwhelmed with tourist traffic.
"In the early days, we sold produce at the Palafox Market and to the Global Grill restaurant in Pensacola," Phoenix recalled. "That activity helped make people aware of Coldwater Gardens, and people started staying with us."
But the produce operation proved unsustainable. The business model was flawed, you see — Coldwater's cost to get its vegetables to market was twice what it could sell them for.
It was time for a change.
From Miami to Milton
In 2007, Rusty Erdman, whose parents had died, had an inheritance to invest. He was living in Miami, where he continues to own and operate a time-lapse photography business that is popular among builders. The Discovery Channel hired him to capture the construction of the World Trade Center complex that replaced the Twin Towers in New York City.
An employee of the business introduced Erdman — the man with the pressure washer — to inland Northwest Florida. And, influenced by The Omnivore's Dilemma, authored by Michael Pollan, Erdman decided to buy a parcel along Santa Rosa County's Coldwater Creek and try to make it better.
"It was idealistic, a little bit," he admits.
Erdman bought the land, a portion of which borders Blackwater River State Forest, from International Paper at a top-of-the-market price. A year later, the real estate bubble burst, and the value of the property fell 50 percent.
Nonetheless, the gardens and glampground gradually took shape. Erdman estimates that some 150 volunteers, Phoenix included, performed land-clearing, planting and other unskilled labors.
The produce operation commenced and Coldwater, managed by the employee who had turned Erdman onto the Panhandle, began to entertain visitors.
Five years into the investment, however, Erdman was growing uneasy. He began to visit the business, which had added eight employees, more frequently. As of 2014, he had seen enough. He dismissed the manager, took over, crafted a new business plan and committed to building the lodge and cottages.
And, he had factionalism in the ranks to deal with.
"Half of them were hippies and the other half were rednecks," Erdman said. "It was an ugly scene. They wouldn't even talk to each other."
Erdman fired all the rednecks. Of course, he did. He's a Pollan fan.
Phoenix was safe.
He'll answer to Hermit
Phoenix grew up in Watkins Glen, New York — that's right, boomer, the site of the 1973 Summer Jam headlined by the Allman Brothers, The Band and the Grateful Dead.
He studied media marketing and graphic design and never thought he would make a living in the woods, but he has proved to be a good student of the ecosystem in which he has immersed himself.
Along with co-manager Sarah Flaningam, he discharges caretaking duties and conducts tours. Some six miles of trails transect the property. Given his schooling, he serves as the business's webmaster. (See coldwatergardens.com.)
The co-managers and Erdman all live on-site. Flaningam and Erdman tend to take meals together, while Phoenix keeps to his tiny house, which is equipped with a kitchen.
"He's a hermit," Erdman nodded toward Phoenix.
"Yup, that's a good word for me," he replied.
The business also employs a horticulturist, Ashley Moore.
Phoenix led me on a personal tour of Coldwater Gardens including places reserved for chickens, shiitake mushroom culture, and the cultivation of native Florida plants and household plants like aloe vera that people often purchase as souvenirs of their stays.
Koi goldfish are the engine that drives the aquaponics system. The fish ingest duckweed or pelletized food and produce excrement that is delivered to plants via a circulatory system made up of PVC pipe. The fish waste nourishes the plants, and the system returns clean water to the fish.
The mellow Phoenix discussed with his characteristic reserve the 7-year-old longleaf pine project at Coldwater, but it's clear he finds it cool.
There was a time when longleaf pine forests stretched from South Carolina to Texas. Because their wood is remarkably dense and strong, the trees were valued by the timber industry. Countless board feet were exported to shipbuilders in London and transported to the builders of factories in Chicago. They were used for flooring in structures that still stand in Northwest Florida.
Today, the longleaf footprint is just 3 percent of what it used to be.
Erdman et al have worked closely with the Longleaf Alliance, headquartered in Andalusia, Alabama, to establish a longleaf forest on the Coldwater acreage.
The longleaf pine doesn't like to fight and likes lots of light. It naturally occupies burned over areas where it doesn't have to compete with other tree species.
At Coldwater, Erdman doesn't wait for lightning to start a forest fire. He hires crews to create longleaf habitat with controlled burns, and brings them back periodically to conduct maintenance work that prevents unwanted growth from making inroads and preventing longleaf pine from becoming dominant.
The "burn blocks" thus created are planted with longleaf seedlings called plugs. Erdman saw to the planting of 22,000 of them on his property in 2013. The trees now measure 4 to 9 feet in height and are entering the so-called rocket stage when they experience accelerated growth.
Longleaf habitat attracts other light-loving plants, including carnivorous pitcher and sundew plants; French orchids; and also milkweed, a plant that is an essential part of the life cycle of the monarch butterfly.
Fox squirrels, too, like uncluttered canopies. But the most celebrated inhabitant of the longleaf woods is the endangered, cavity-dwelling red cockaded woodpecker.
It is possible to spy one at the nearby state forest, but the arrival of the first RCW at Coldwater must await the maturation of its still young planted pines.
Phoenix is young, too. Maybe he'll be around to see that development and permit himself a cheer.