Employability is Job No. 1
Santa Rosa County schools groom paths to work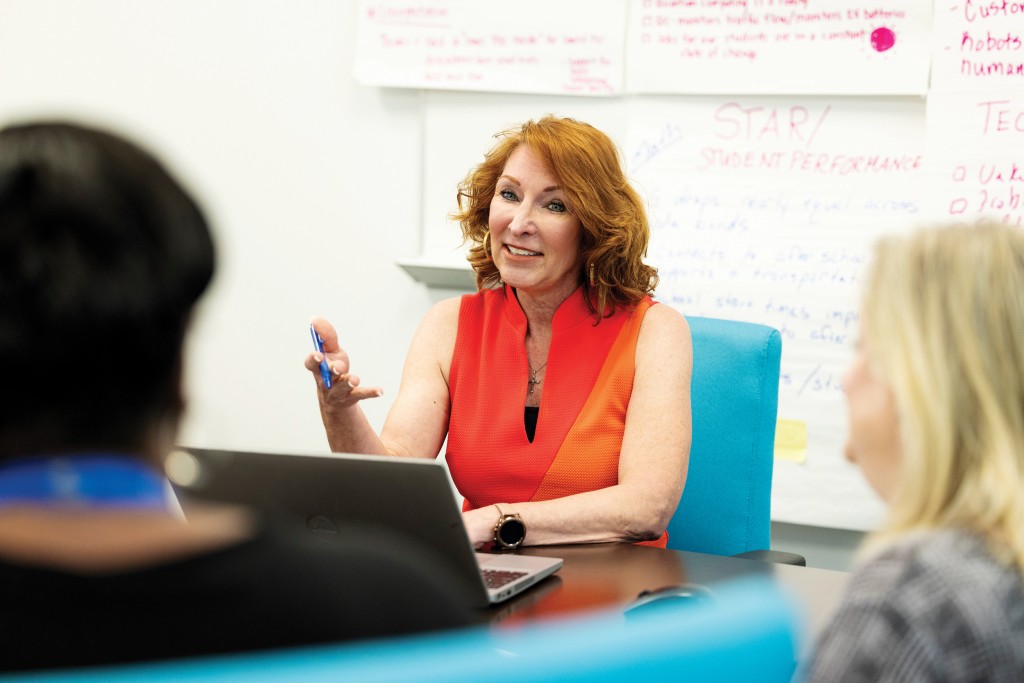 Santa Rosa County District Schools Superintendent Dr. Karen Barber makes career-building programs a priority.
"If we are just successful in getting students their diploma, and we haven't helped prepare them for life after high school, then we haven't done our job," she said.
Teaching came naturally for Barber, leaving no question about her career path.
"I have known what I wanted to do since I was ı0," Barber said. Growing up in a family with six children, she often found herself helping her siblings with school work.
After earning a bachelor's degree in special education in ı982 and a master's degree in educational administration in ı994, Barber achieved a doctorate in curriculum and instruction from the University of West Florida in 200ı.
In total, she has been an educator for 35 years and became a principal for the first time at age 34.
Following the retirement of Tim Wyrosdick and with 25 years of experience on her resume, Barber decided to pursue the job of superintendent, which in Santa Rosa County is an elective office.
Winning election in August 2020, she became the county's first female superintendent.
Prior to becoming superintendent, Barber spent ı2 years as the director of programs for Santa Rosa County District Schools. In that role, she worked on programs focused on increasing graduation rates, including a housing program for families with school-aged children and a support program for youths in the juvenile justice system.
One program that followed her into the superintendent's office was a federally funded STEAM program. Barber wrote the grant application that made Santa Rosa County one of the first counties in the country to adopt the project-based learning program centered on science, technology, engineering, arts and math.
"Our focus is really on removing barriers to educational opportunities for all of our students so that we can make sure they graduate on time and are prepared to transition into college and career," Barber said.
The district has now established a STEAM Leadership Council that includes representatives from schools as well as businesses in the community. The council also hosts STEAM family nights at schools and partners with businesses and industry leaders on field trips and internships for students and teachers.
"Here we are seven years into the program; STEAM is alive and well," Barber said.
She is aiming to establish a STEAM Learning Ecosystem, which would connect the district with tools, resources and assessments to further their progress with the STEAM approach.
The district currently offers 30 middle school, 46 high school and ı9 postsecondary technical college career training programs that help prepare students for skilled occupations in high demand.
In just the past year, middle and high school students earned 2,083 nationally recognized industry certifications; 282 high school students participated in dual enrollment courses; and ı94 students from the district's Locklin Technical College graduated with industry-valued credentials.
A committee of teachers, administrators and guidance counselors closely monitors those subgroups of students that tend not to meet graduation requirements. Its efforts are supplemented by those of 25 new guidance counselors hired with funding from the American Rescue Plan.
The district is at work on a 2022-2027 strategic plan after surveying 33,000 stakeholders, conducting six town-hall meetings and interviewing students, teachers and community members. Barber said the collected responses reflect the needs for more educational opportunities, closer relationships with guidance counselors and an increase in project-based learning.
Effective with the 2022-2023 school year, high school students will be using a dashboard tool that highlights graduation requirements and is similar to degree-auditing platforms used in universities.
Barber also emphasizes the importance of extracurricular activities related to career paths and development of leadership skills.
She sees extracurricular programs as "ways in which we can make sure that our students engage beyond the classroom in not only relationships, but opportunities." The programs help students "feel like they belong at school and feel that they have value."
Santa Rosa County is at an above-average 90.3% graduation rate.
"We're happy with that, but we're not satisfied," Barber said. Always looking for ways to improve, she recognizes that "if we have a healthy school district, then we're going to have a healthy community."
Santa Rosa County
Community Profile