Desirable Trend Line
Per capita spending by visitors to South Walton is rising sharply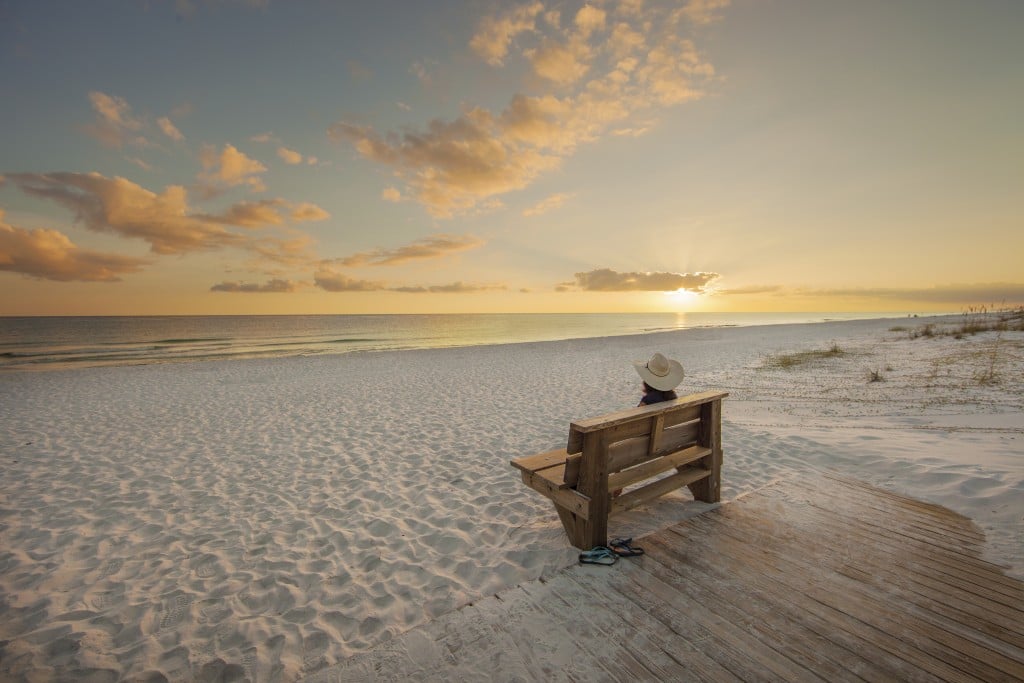 David Demarest, the marketing and communications director at the tourism promotion agency Visit South Walton, only said he was going to vacation out of cell phone range in a remote area of Bolivia.
Truth is, Demarest escaped instead to Grayton Beach, a drive of less than an hour from his home in western Panama City Beach.
Demarest grew up in Bay County, and as a cynical teenager, was disinclined to believe anything good about his hometown.
"But the more I saw other beaches in America and elsewhere, the more I began to lend credibility to the claim that the Emerald Coast is home to the most beautiful beaches in the world," Demarest said. "We have 26 miles of beach in Walton County, and if you want to have a stretch of it to yourself, you can. Once people see our beaches, it's hard not to come back."
Indeed. Among all visitors to South Walton County in 20ı9, 96 percent said they would return. Sixteen percent of last year's visitors were first-timers, according to Downs & St. Germain Research, but 4ı percent had visited more than ı0 times.
And, they come for more than sun, surf and sand.
Demarest noted that the number of visits made to South Walton by Texans continues to trend upward.
"Many of them drive, and that's a big compliment to us," he said. "To get here, they have to pass by ı00 miles of really fine beaches. So, it's not just the beach that is attracting them to South Walton."
While visitors come from across the country, 69 percent of them in 20ı9 were from the Southeast (including Texas). Twenty-two percent came from the Midwest and 3 percent each came from the West and the Northeast. International visitors accounted for the remaining 3 percent.
Fully ı0 percent arrived from Atlanta. Dallas-Fort Worth and Nashville each accounted for 6 percent.
Events, many of them held during what historically were off-seasons, are draws. They include festivals organized around gumbo, wine, projection art, songwriting and films.
"When I meet someone who is unfamiliar with our area, and all they know about Florida is Disney World, I tell them that when you do Disney for a week, you are buying a fantasy that involves talking mice and magic and princesses and castles," Demarest said.
"And when you go on a vacation in South Walton, you are buying a fantasy then, too. For people renting a place in Seaside, the fantasy is that this is my home and I live here and I am the type of person who rides his bicycle down to the beach first thing in the morning and grabs a cup of coffee on the way back. And I live in the type of neighborhood where I can let my kids roam free and not worry about them."
Vacations have always been about a departure from the norm — trading one reality for another.
"You commute five days a week to your job in Atlanta or Houston or Dallas and you sit in that traffic, and then for a week or two or maybe a season, you commute to that coffee shop on the beach by foot on cute sidewalks or by bicycle," Demarest provided a contrast.
South Walton's appeal also has a lot to do with giving people the chance to spend time on vacation with others who have similar interests and likes.
"It's about going to a place where you feel comfortable, whatever that means for you," Demarest said. "And, if you come down for an event and you see three people down here from your neighborhood back home, it doesn't necessarily mean that it's not a vacation."
Said Demarest, "Our numbers are up in all the important categories, and some of the best news for people in our area is that spending by visitors is up by a percentage that is greater than the percentage growth in the number of visitors. A big part of our job is to attract a manageable number of people who are going to spend a lot of money while they are here. That part of the mission has been achieved."
For Visit South Walton, attracting the most desirable people is a function of targeted marketing.
"Instead of throwing up a billboard that everyone is going to see, you can spend your advertising dollars more efficiently by targeting only those people who can afford the vacations you are promoting," Demarest said. "We are still involved in print to a pretty good extent. But many of the print dollars will be going to social media and Google AdWords and interactive platforms that find the type of user who is looking for what we offer. In that sense, it's not much different than how you would market any other luxury item."
Remarkably, 40 percent of the land in South Walton County is in preservation areas protected from development.
"That is truly a gigantic number, and it is hugely important. It's something we will never lose," Demarest said. "Think about what that means. If you are standing on the beach and draw a circle, half of that circle is natural because it is the Gulf of Mexico and 40 percent of the land in the circle is preserved. It is an experience that few other areas can offer, certainly not along the coast."
Demarest is cognizant, always, that South Walton's economy is highly dependent upon tourism.
"That's where the pressure is," Demarest said. "You don't want people to lose their livelihoods in that industry. There is a sentiment among some locals that we don't need all these tourists. But restaurants and small businesses could go away pretty quickly if we were to lose ı0 percent of our visitors; they deal with thin margins. We have to make sure that we are walking that fine line between the right kind of tourists and enough tourists and getting them in here at the right times to keep the economy going year-round."
South Walton, for all of its assets, is not without concerns. Congestion, if unaddressed, threatens to diminish the quality of the South Walton experience. And, always, there is a chance that a hurricane may make landfall in the area.
"For Panama City Beach, Destin and South Walton, mobility is a key and whoever gets there first is going to have an advantage. You want to be able to take the car out of the vacation and make it possible for people to retain the ability to move about and explore their destination. One of our key advantages is that you can walk or ride your bike from Rosemary Beach to Alys Beach and on to Seaside and enjoy distinct experiences along the way. It's like going from Spain to Greece without a passport."
Demarest said he is fascinated by the approach taken in Seaside because it runs contrary to typical American thinking of the last 50 years.
"For decades, the response to traffic has been to build another lane. If you have a shortage of parking, you build another parking lot. Whereas in Seaside, they decided to put all the buildings close to the road, and that's how they were going to slow people down. They want parking to be difficult and they want driving to be difficult, because they don't want you driving at all. They want you to park your car and walk around and ride your bike, and the community's design encourages you to do that."
Given the threat of hurricanes, Demarest said, all coastal communities with a bed tax-supported tourist development council maintain emergency funds.
"If we were to have to rebuild all of the beach accesses, renourish beaches and try to keep people employed when there are no places for guests to come, that would take enormous reserves. And we know that if Hurricane Michael had hit here, we would have been just as vulnerable as the communities that were in its path."