Baseball and Beyond
Rishy Studer has served Pensacola as a clean-up hitter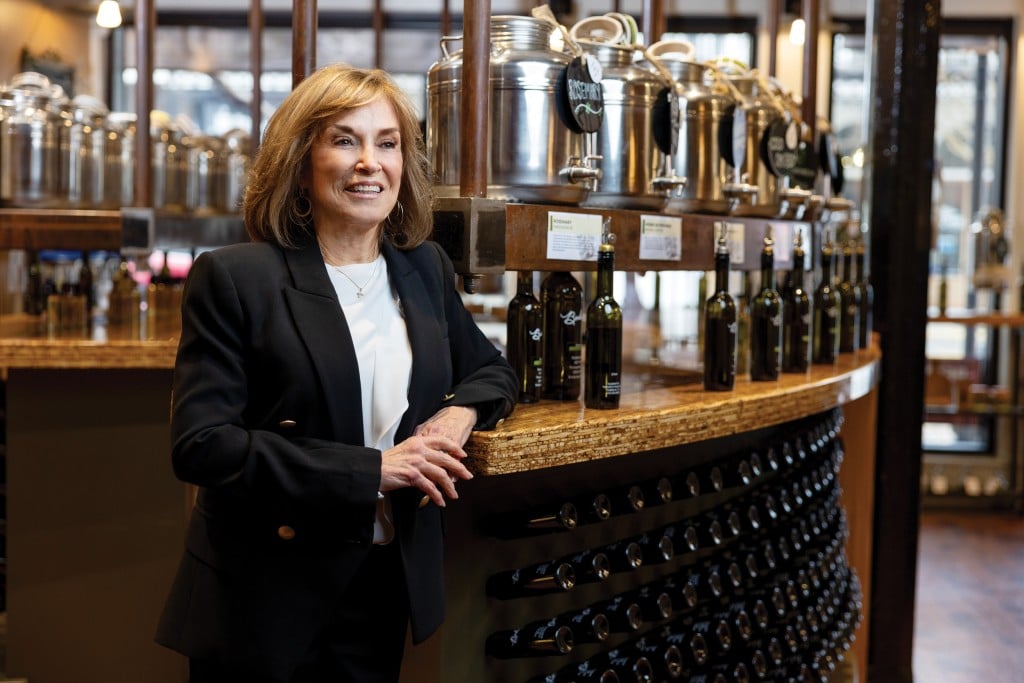 Downtown Pensacola has long been a place rich in potential. Increasingly, that potential has been tapped as ripples of revitalization have gathered to become a wave.
New businesses have been established, taking their places in newly renovated spaces whose faces have long been parts of the landscape downtown. There's been new construction, too. Established businesses have benefitted from growing interest among locals and tourists alike and have watched in wonder as downtown has become the place to be, to live, to work and to play.
For Rishy Studer and her husband Quint, Downtown Pensacola was a long-underutilized asset. Revitalizing it would be like mining diamonds from a coalface. Both visionaries, the Studers utilized their considerable influence and resources to give the city the gift of rebirth — and it all started with something as traditional and pastoral as the nation's pastime.
"Interestingly enough, baseball was the impetus of this entire journey," said Studer, who moved to Pensacola in ı996 when her husband was recruited by Baptist Hospital. "There was a group of people, including the mayor, who wanted to improve downtown, redo Maritime Park and build a baseball stadium directly on the water. The University of West Florida also wanted to have buildings downtown that they conduct classes in. We decided to join the team, and it all took place at once."
At the time, Pensacola was still feeling the effects of major hurricane damage.
"Downtown had suffered tremendous damage from Ivan, and it was never rebuilt after that," Studer said. "We hired a planner to come in and assess the area and give us feedback on what to do first. He said that Palafox and Main were the center of our downtown, but all of the buildings there were boarded up. He suggested buying and renovating the buildings at that intersection and opening businesses. People driving to games at the stadium to see the Blue Wahoos play would see a vibrant downtown with lots of activity instead of abandoned buildings."
The Studers began phasing in the restoration of what they hoped would become a vibrant downtown district.
"We started with one building on Palafox and Main, the anchor, because the planner felt it was center of the city and would be good for our community," Studer said. "We started buying others to make sure we had more retail and restaurants. In any building we bought, we would only allow living spaces to be upstairs. We wanted more places to shop and eat to draw families to the downtown area. This is what started it all. More people were starting to come downtown and invest in our community."
As downtown came to life, Studer's pet project became Bodacious Olive, a specialty olive oil shop boasting olive oils of every flavor profile imaginable.
"We remodeled this building and we needed retail, so after I met with a gentleman in Pinehurst, North Carolina, I knew I'd found the perfect concept," Studer said. "He was the owner of the olive oil store there. Our meeting was very educational, and I learned a lot about the health benefits that olive oil had. I wanted to bring all of that to our community and share it along with educating people on the health benefits, teach healthy eating and offer cooking classes. I just thought it was a good fit for Pensacola."
Today, Bodacious Olive isn't just a shop — it's an experience.
"We have a giant tasting room for olive oil, and you can come in and try all of our oils and balsamics and interact with our expert staff," Studer said. "They teach all of our guests when they come in. We also stress healthy eating, so our cooking classes revolve around health and educating our clients. Bodacious Olive is an interactive place, and you can spend the whole day there."
While spending the day at Bodacious Olive may be tempting, there is much more to do downtown, thanks largely to the Studers. That first concept has given rise to others under the Bodacious umbrella: Bodacious Brew, So Chopped and So Gourmet.
"We needed a downtown coffee shop, and we wanted to be able to offer that for our guests," Studer said. "Our café has the best coffee in town, and we roast our beans in house. You can come and see the process happen in our roasting room downstairs. Our oils and balsamics were so good that we started So Chopped for our guests to get healthy lunches. It just seemed like a natural progression for us."
Transplants though they may be, the Studers have fallen in love with the city's heart — and for that reason, the Studer name has become almost synonymous with Pensacola.
"We loved the downtown community so much that we continued with a bookstore and café, Bubba's Sweet Spot, The Bodacious Brew Thru, the SCI building, Oyster Bay Hotel, Southtowne, 5Eleven, 5 Sisters and Savoy Place," Studer said. "They have a special place in my heart. All of these businesses — and this entire project — has been important to us because Pensacola needed a jumpstart after Ivan. We wanted to get people to look at it differently. We wanted them to be able see all of the potential that we saw in the city that we love so much."