Campuses Become Students of Change
Pandemic speeded trend toward remote learning at PSC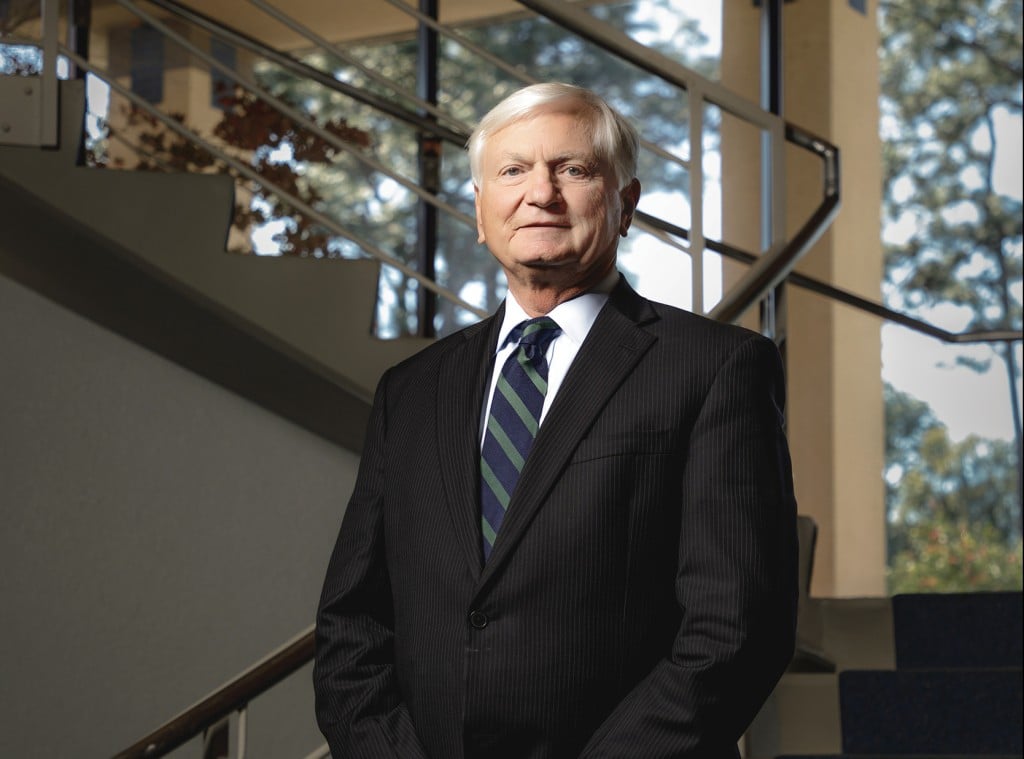 Dr. C. Edward Meadows, the president of Pensacola State College, has long navigated trends in higher education, but the pace of change has increased dramatically due to rapidly evolving technological advances and a global pandemic.
Meadows, the PSC president since 2008, is dealing with declining enrollment and revenue and changes in the way instruction is delivered.
Distance learning isn't new to colleges and universities as an option, but the pandemic made it indispensable. Faculty members without experience in remote instruction were quickly brought up to speed — making for greater flexibility for students and their professors.
Distance learning figures to be an enduring part of a new normal.
Students at PSC can choose to take an asynchronous class completely online without required virtual meeting times with their professors; a synchronous class completely online but with required virtual class times; or a hybrid class, which is asynchronous online combined with on-campus class times.
In addition to growth in online course offerings, PSC has taken steps to make it possible for students to virtually attend labs and workshops. Grant funding enabled the college to employ new technology when circumstances demanded it.
The Health Sciences Department now has an immersive program, and other departments are offering virtual training. Students in a truck driver course master driving a big rig using a simulator. Meadows, himself, tested the simulator out.
"I didn't crash the vehicle, but I ran over a curb or two," he said.
Even with a plethora of online course offerings and programs, PSC, like schools across the country, could not prevent a drop in enrollment due to the pandemic.
"The pandemic is an anomaly in that not only do we have high unemployment rates, but we have fewer people coming back to college to get new employability skills," Meadows said. In the year after the pandemic arrived, enrollment dropped by 40 percent.
Meanwhile, the percentage of students favoring online instruction has increased. Meadows believes that "the pandemic has created an environment where people who never thought they would have to rely on technological advancements for higher education are doing so, not just as a necessity with the pandemic, but now as a preference."
Prior to the pandemic, about 20 percent of full-time equivalent students were utilizing some form of distance learning. At this writing, that figure has jumped to 4ı percent.
Meadows said the next couple of years "are going to be a lot more critical for community colleges from a financial perspective in continuing to expand offerings related to the emerging technologies that are impacting the workforce." He added that such expansion will involve costs that PSC will be unable to meet without a higher tuition rate.
Thanks to funding from the Cares Act, the school was able to largely maintain the integrity of its budget. But with enrollment declining, Meadows said, "Institutions and community colleges in particular are having to become more entrepreneurial in finding additional sources of funding."
Meadows foresees that enrollment will begin to rise. It must, he said, if employment numbers are to return to normal.
"Building back your enrollment to what it was pre-pandemic is not for the purpose of seeking additional revenue, it's for the purpose of trying to get our workforce back to pre-pandemic levels," Meadows said.
Meadows said loyalty doesn't necessarily equate to longevity in today's workplaces.
"Employers are looking more for education in the advancing technologies," Meadows said. That means that employees may need to go back to school to obtain additional certifications to supplement their experience.
Meadows pointed to carpentry and construction as examples.
"Technology has had a profound effect on the way in which we now build things," Meadows said. "A person who knows how to hammer and cut a straight line, that's not enough anymore to become a carpenter."
Many people looking to return to the workforce will likely have to return to the classroom first.
One way that PSC hopes to increase enrollment is by creating career ladders. In the area of medicine, for example, a student might earn a nursing assistant certification, then further his or her career through education to become a licensed practical nurse, a registered nurse and so on.
Meadows recognizes that despite the pandemic's undulating waves, its impact on people and their families has become less intense.
"The morale in our community, in particular, is a lot better," Meadows said. "There is a brighter outlook in general about the future and what the future holds for American citizens to be prosperous and to have a good environment to live in." ▪