A Legacy Gift
Major donation stands to transform Cultural Center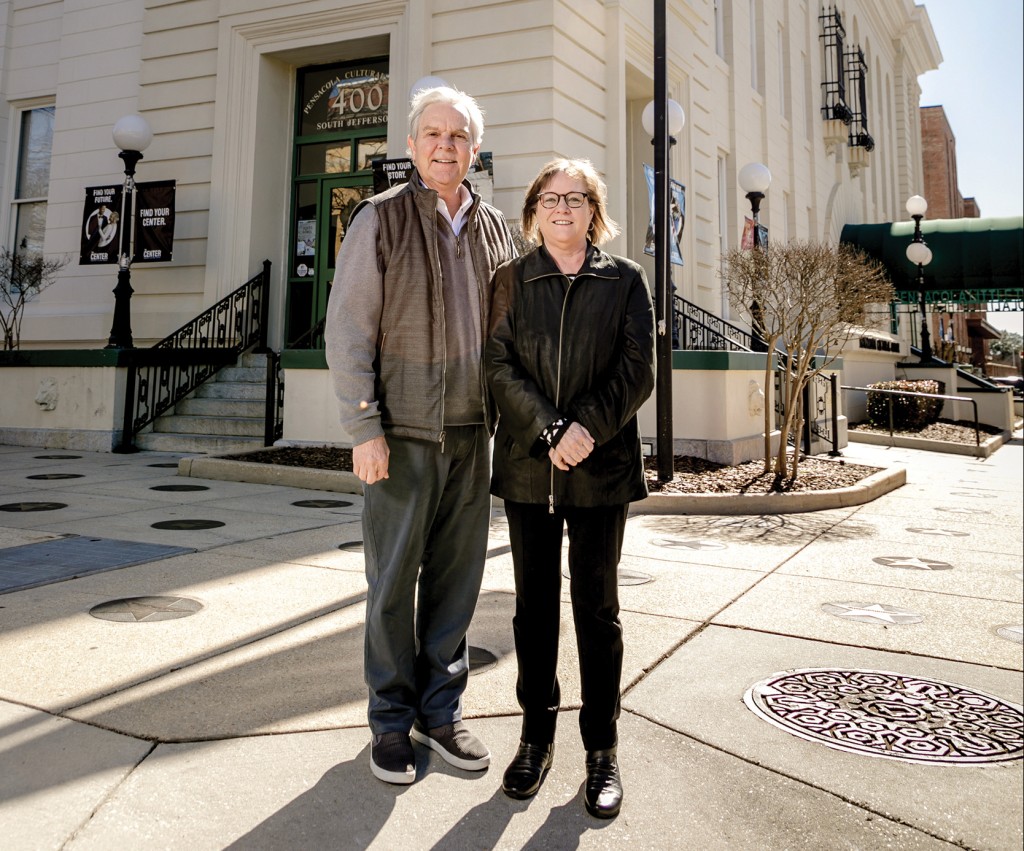 A three-story, alabaster building at 400 Jefferson St. in Downtown Pensacola houses history and, for locals like David Clark, enduring memories.
A former jail and records repository, the Pensacola Cultural Center, known about town as The Center, was donated to the Pensacola Little Theatre in the early ı990s not long after Clark moved with his wife and daughter from Midland, Texas, to Escambia County.
Clark recalls that The Center soon after the transfer had a new tenant — the Kaleidoscope Dance Centre, which is known today as Ballet Pensacola.
"At age 8, my daughter decided she wanted to be a ballerina, so my wife, Cynthia, and I found ourselves at The Center nearly every day for the next ı0 years," Clark said. "In ı995, I was asked to join the Pensacola Little Theatre Board, and a year later, I became president and was actually responsible for the construction of the building's first theater."
Clark, a real estate developer and one of the longest-tenured members of the Pensacola Little Theatre Board, has seen The Center weather "lean times and good times," he said. Tenants have come and gone, but the venue's culture, camaraderie and talent have grown even stronger.
That's what keeps him sticking around.
"One of my favorite memories of this place was our mortgage burning party ı0 years ago, where the community, our volunteers and past and present members of the board came together to celebrate our new, debt-free status," Clark recalled. "There is so much support from both the community and The Center. We invite all kinds of talent. None of our plays are pre-casted, and we've had aspiring actors, directors, musicians and dancers all pass through. It's just a welcome center for everybody."
Indeed, The Center is still home to the theater and ballet but also hosts Liberty Church, Improvable Cause, the West Florida Literary Federation, the Stamped LGBTQ Film Festival, EntreCon and numerous other community organizations and events.
But for Clark and the rest of Pensacola, the best is yet to come. Last year, the Clarks made a
$ı million donation toward The Center's $3 million renovation project, which Pensacola Little Theatre executive director Sid Williams-Heath said has been "a long time coming."
"From theater to church to a gay film center, it's an awesome, multiuse space," Williams-Heath said of The Center. "But, after 30 years of our original repurpose, it's time to bring it up to the new century with us. All of the renovations are to make it that hub, that community center, where it's not just for people to come see a show, but for meeting with friends on a Tuesday for a glass of rosé because it's a cool place to be."
In the future, that glass of vino may be sipped from The Center's planned rooftop bar and lounge, which will be the first of its kind in Pensacola. Sky-high watering holes are more common in big cities, but Williams-Heath said The Center's take will take a back seat to none of them and will offer views of downtown and Pensacola Bay.
"Hands-down, I'm most excited for the rooftop venue," Williams-Heath said. "It'll be open to the public, and the best thing about it is that it's not like going to a normal bar; there will be live art and culture in front of you, and the funding from all the ways you engage here will go back to supporting the operations of a nonprofit."
Too, the project will see the complete overhaul of The Center's first floor. The theater will receive new seats, lighting, carpet, paint, curtains and improved acoustics, giving it what Williams-Heath calls a "New York City-feel." The historic, red brick atrium will be "retrofitted and equipped with a small champagne bar, low lighting and leather furnishings," Williams-Heath said, and an old courtroom will be renovated with an expanded entryway and new interiors that will serve as a gathering place and gateway to The Center's brick garden and fountain.
"We're also adding a permanent fine art gallery," Williams-Heath said. "Right now, we're all performing arts, so we're going to showcase painting, writing, sculptures and other media to really make it that cultural center."
At this writing, donations totaling $500,000 plus the Clarks' contribution have put the project at a halfway point. Williams-Heath said numerous naming opportunities are available, including the rooftop bar, and fundraising will continue throughout 2022. Construction is due to commence at the end of this year or early 2023.
The Clarks' generosity, said Williams-Heath, is a "game-changer."
"I can't even tell you what their gift means to us," he said. "It's trailblazing, and I would have appreciated that generosity from anybody. But all of this coming from them just feels … right. This isn't just a family who had the capacity to give; these are people who have been involved in this building since we opened 30 years ago. Every major fundraising event has their name on it, and it's their dedication that makes this so special. They saw the potential of the future and said, 'We want to help get us there.' It's truly going to change the institution as a legacy forever."
Indeed. The Center will be officially renamed The Clark Family Cultural Center. Clark said he hopes his gift inspires others to contribute and get involved with the project.
"Knowing this will be The Clark Family Cultural Center is just so special to our family," Clark said. "The arts are such a great way to bring people together, and we want to expand that opportunity for Pensacola natives and visitors. When you're in Pensacola, if nothing else, we hope you stop by and spend some time with us."