Air Force Contracting Summit
Gathering promotes awareness of latest procedures, opportunities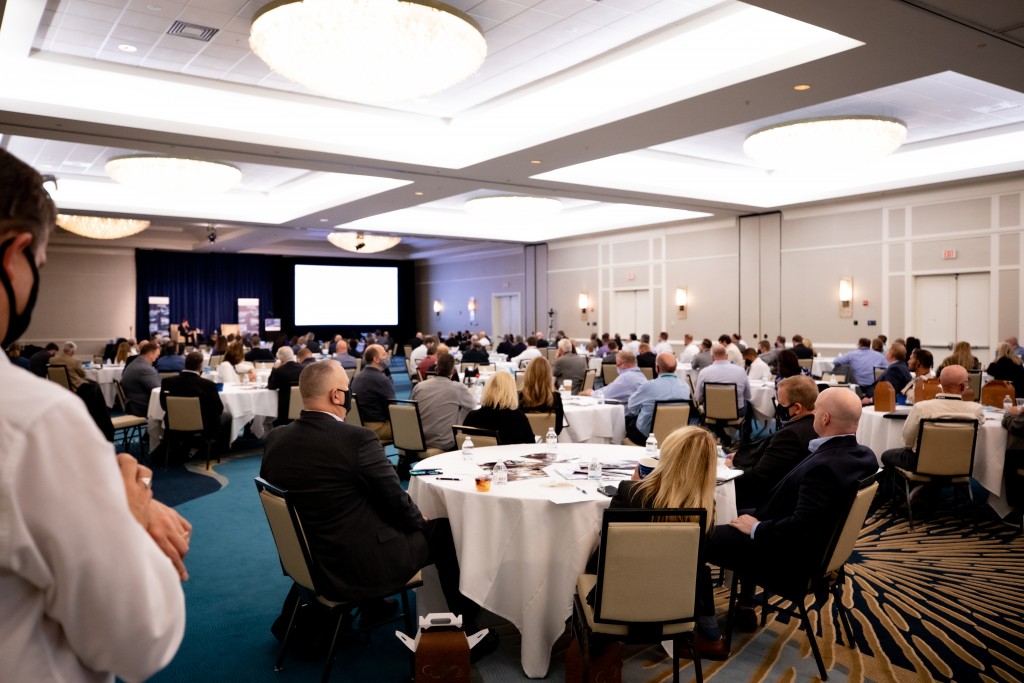 The eighth annual 2021 Air Force Contracting Summit, presented Feb. 8-9 by the Defense Leadership Forum at the Hilton Sandestin Beach Golf Resort & Spa, updated businesses across the country about the evolving mission of the Air Force and its recent spending priorities and trends.
In-person seating at the event, capped at 350, was sold out, and another 350 registrants participated virtually, according to Defense Leadership Forum chairman William Loiry.
Event speakers combined to discuss innovative defense solutions supplied by industry and explained contracting procedures for small businesses.  The summit served to connect businesses with federal contracting resources, and helped prime contractors identify new subcontractors.
Or, as Charles F. Sills, national program director for the Defense Leadership Forum put it, the summit provided "actionable intelligence" in areas including:
Air Force budgets

New Pentagon and Air Force systems for responding to cyber attacks.

Details on Space defense and the Space Force.

Other Transaction Agreements and other innovative acquisition strategies and programs.

New Air Force MILCON contracts, including Tyndall AFB reconstruction.

New Air Force installation resiliency contracts

Air Force priorities for aircraft, weapons, facilities, technology and energy.

Public and private financing sources.

New contracting opportunities for prime defense contractors.

New contracting opportunities and teaming arrangements for defense subcontractors

Details on specific new military contracts in all areas of procurement, including facilities and infrastructure modernization, aircraft, missiles and ammunition, vehicles, information and communications systems, cybersecurity and information warfare, innovative defense technologies, R&D, energy, and space defense.
Presentations were made from both macro and detailed perspectives.
Todd Harrison, the director of the Defense Budget Analysis and Air Force Security Project at the Center for Strategic and International Studies, offered a big-picture look at U.S. military spending patterns. Going forward, he said, spending may adhere to those patterns or may depart from them, given the change in administrations.
He noted that the Air Force's personnel costs have been growing due to the need to offer competitive compensation and benefits as an all-volunteer force. Operational/maintenance costs have increased owing to expenses associated with maintaining an aging fleet. Congress, he said, has demonstrated a reluctance to retire legacy aircraft.
"We are probably not going have details of the Biden administration's military budget request until April, maybe as last as May this year," Harrison said.
But, to the extent that Air Force spending may remain flat, the availability of funds for procurement and construction will decline in an environment in which personnel and maintenance costs are growing. That can make it all the more important for businesses to stay on top of new contracting opportunities and to stay current regarding the manner in which contracts and agreements are awarded.
The Air Force Contracting Summit fosters such awareness.
Elizabeth Midkiff, a field support representative for the Office of the Deputy Assistant Secretary of Defense for Contracting, noted that the Air Force has done much since 2018 to encourage innovation and to remove layers of contracting authority and regulation.
"We have encouraged the use of creative contracting tools and have rejected a culture of recrimination when things go wrong," Midkiff said. "We are stretching the limits of the possible by bringing rapid contracting tools into our process, which has proved to be highly efficacious."
The Air Force has created opportunities, she said, for industry to submit recommended solutions to challenges to a panel of subject matter experts including Air Force decision makers. Selected solution providers participate in a showcase event where they demonstrate their proposed approaches to challenges.
Other speakers addressed topics ranging from community partnerships to the Space Force. Contractors who sponsored the summit made presentations outlining their capabilities and specialties.
Finally, the summit excelled as a networking opportunity among participants and a chance to share and review job openings for subject matter experts, government affairs officers, data analysts, systems engineers and many more roles required by today's military and the contractors who advance its mission.
To stay up-to-date on Defense Leadership Forum events and initiatives, visit usdlf.org.