Baptism by Simulated Fire
Medics undergo new, highly realistic medical-readiness training at Eglin AFB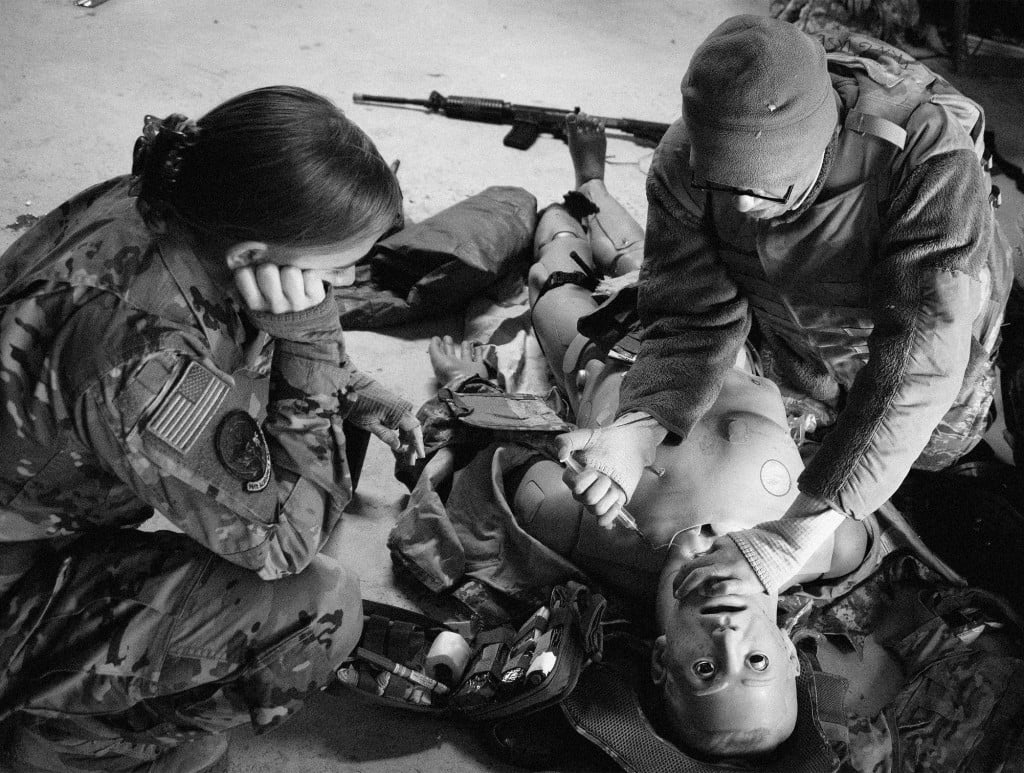 Awe-struck student medics with the 96th Medical Group (MDG) at Eglin Air Force Base stood in shock.
The simulation was that real.
Lifelike "manikins" controlled by 96th MDG simulation operators screamed for help. Their ribcages expanded with heaving, racking breaths. Blood spurted from their necks unless a tourniquet was properly applied. Pupils dilated if an airway remained constricted.
The Department of Defense's newly instituted medical readiness course, Tactical Combat Casualty Care (TCCC), teaches students life-saving trauma care techniques for use on battlefields. The four-day course concludes with a scenario in which students apply all they've learned to stabilize wounded soldiers removed from medical facilities.
"Most of our students are fairly young and haven't yet had experience in zones of conflict," said 96th MDG chief nurse executive Lt. Col. Ronald Jones. "To apply new training by using these breathing, bleeding, talking manikins was, yes, very surprising for them. But, it makes them realize this is what they bring to the fight, that this is exactly what they've joined the military to do."
Tactical Combat Casualty Care is expected to prevent up to 24 percent of combat deaths that would otherwise occur.
According to the National Association of Emergency Medical Technicians (NAEMT), approximately 90 percent of American service men and women killed in action die due to hemorrhaging prior to arriving at a medical treatment facility. Loss of blood has, for centuries, been the No. ı cause of battlefield deaths.
Progress on that front is now being made, but combat medical training prior to 200ı, the NAEMT reports, mirrored civilian courses and did not take into account tactical and environmental factors. Medics are not required to learn how to apply tourniquets, and they were not consistently used until 2005.
TCCC training takes place in three phases — care under fire, tactical field care and tactical evacuation care.
"TCCC is an evidence-based approach in preparing our medical staff who deploy for global operations," said Dr. Matthew Hanson, the 96th MDG commander. "The skills in this program were developed from taking care of patients in contingency operations and collecting information that informs the training that the next generation of technicians and medical professionals will receive, as well as changes we need to make to improve survival."
Hanson reports that in conflict zones in Iraq and Afghanistan, United States Central Command has achieved a battlefield injury survival rate of 98 percent.
"You only get there by carefully tracking outcomes and identifying the best practices, standardizing them and applying them to the rest of the medical force," Hanson said. "What we've learned from past conflicts is that our folks need realistic training."
Prior to capstone day, the TCCC course consists of three days of hands-on instruction and lab skills training. Students learn to identify pressure points, treat occluded blood vessels, close open wounds in airway cavities and apply airway adjunct techniques.
In 20ı8, the office of the Air Force surgeon general notified Eglin AFB that TCCC would be implemented throughout the Department of Defense, replacing the Self Aide Buddy Care course, which consisted of classroom demonstrations and computer-based training.
"I think you can appreciate that the day-to-day in a clinic doesn't really prepare you for care under fire," Hanson said. "You've got to create that situation via simulation, or send your medics to a shock trauma center that is more similar to what people will see at a contingency facility in a place like Afghanistan."
The manikins used in TCCC simulation training react to their handling by medics and supply immediate feedback.
"The goal is to fix everything that will not allow for normal breathing and circulation," Jones said.
All medical treatment facilities, including the 96th MDG, are required to certify their surgical and medical technicians by February 202ı. Jones is confident the 96th MDG will meet that deadline and through its monthly TCCC courses, train approximately 400 medics.
"We reached out to our local bases that have the capability to teach the curriculum, and in this case, special ops medics at Hulbert Field helped us get our inaugural force off the ground," Jones said. Five medical force personnel are now qualified to teach at the 96th MDG.
Going forward, the TCCC course will be extended to 96th MDG nurses and other service providers.
"This region, with our multiple services, medical departments and conventional and special operations forces, offers a unique opportunity for us to train with sister services units so that when we're in a safe training area, our Air Force medics might be able to interact with our counterparts and other war-fighting units," Hanson said. "Our Air Force nurses can learn what to expect when they are vetted with a Marine Corps Special forces unit."
TCCC is just one of many new efforts the 96th MDG is making to ensure its medical force is combat ready.
"I would argue that, to a degree, every single patient we care for in our surgical clinics and operating rooms prepares us and sustains our readiness," Hanson said. "But TCCC is a supplement that takes us to a higher level."