Working Hard to Stay in Place
Paradise Inn captivates guests with an 'old-timey' feel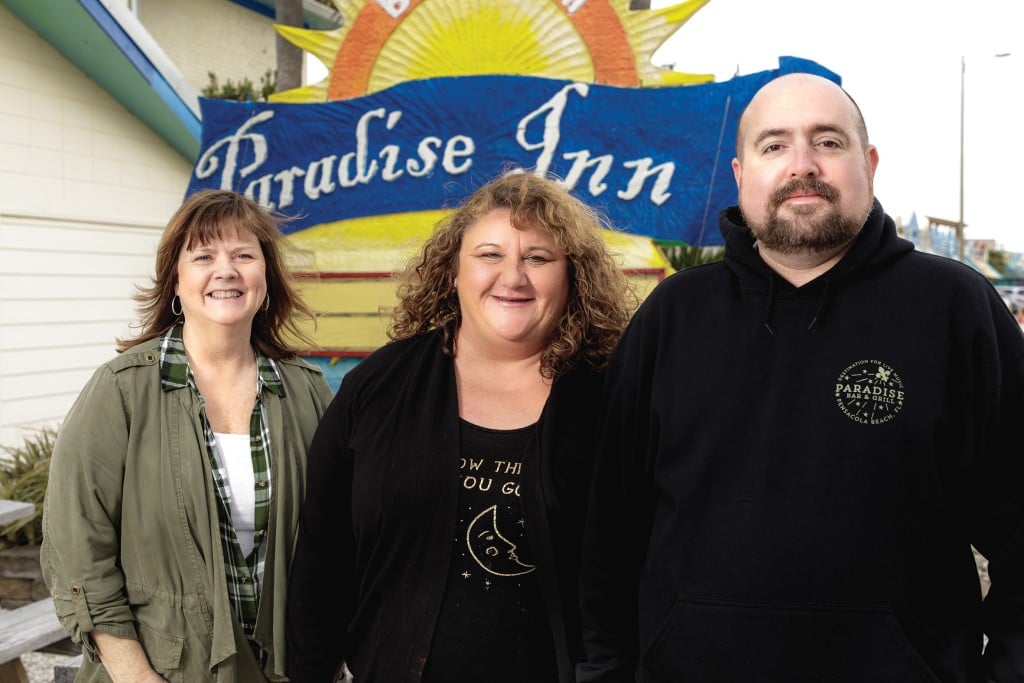 Images preserved by the Pensacola Historical Society depict the sepia-soaked landscape of Pensacola Beach's past: miles of pristine beach speckled with more sun tanners; a business district consisting of a grocer, restaurant and laundromat; and an aerial shot, circa ı960, in which the only notable landmarks on the mostly barren barrier island were the Pensacola Beach Water Tower and fishing pier.
It was "Old Florida," the type of unspoiled, uncrowded paradise you'd find in a Jimmy Buffet song. Today, Pensacola Beach's skyline, defined by high-rise condominiums, Hiltons, Hamptons and Holiday Inns, tells the story of an inevitable progression.
But the Paradise Inn, a vintage waterfront motel with an open-air bar and grill, recalls days gone by. Originally a ı950s motor lodge, the Paradise Inn's doors open to the outside, where bikers, boaters and beachgoers belly up to the bar, enjoy live music and mingle.
It's an "old-timey feeling" that sets the inn apart, said Paradise Inn general manager Karl Hedlund.
"A lot of people who come here are looking for a mom-and-pop place that feels vintage, yet clean, updated and upgraded," said Hedlund, who has worked at the motel for ı6 years. "We're not a big corporation, so we're more personable with our guests, and we're in a great location, but I think the biggest draw is our atmosphere. We've worked hard to change very little but keep the place up to guests' standards. With the beach, bar and grill, and pier leading to the bay, everything's all in one place, and people love that."
Fred Simmons, Paradise's current owner, manages around ı50 properties across Pensacola Beach with his business, Paradise Coastal Realty. Despite having no previous experience in the hospitality industry, Simmons said he purchased the motel in the late ı990s to provide a place to stay for the "everyday guy."
Rates are about a third of what you'll find among Pensacola Beach's commercial hotels, and maintaining that affordability has been important, he said. Guests have the option of lodging in the motel's one- and two-story units and villas, and there's an outdoor pool, private beach and pier access, complimentary breakfast and pet-friendly amenities.
But Simmons said the Paradise Bar & Grill, located off the inn's western parking lot, may be its best feature. He has his father to thank for that.
Simmons grew up in Escambia County at a time when Pensacola Beach was frequented by few.
"But, whenever we did encounter someone, my father would go out of his way to help them," he said. "I remember he told me, 'Son, when you grow up, you build you a house on the water and be a friend to mankind.'"
Simmons recalled those words as he was doing his final walkthrough of the motel before purchasing it. He sat on an old grill out back and studied the water.
"My dad had passed, but I was talking to him then and telling him I was going to close on this thing tomorrow," Simmons recalled. "I wondered, 'What if I built me a bar here on the waterfront and was a friend to mankind?'"
The Paradise Bar & Grill — and the inn — have long been a part of the lives of Sandra and Fred Bundy. They have called Pensacola home for more than 40 years and have been "staycationing" at the motel since 2006.
"Sitting outside at the bar, you meet a lot more people than you would in the bigger hotels," Sandra Bundy said. "Even at the pool, strangers are just talking, hanging out and making friends. We've grown close with Karl Hedlund and his wife, Melody, and love having some adult beverages with them at the picnic area once they get off work. We even went to their wedding that they had here at Paradise."
Bundy said she's in the habit of asking new guests why they chose the Paradise Inn over other hotels.
"They say it's the ambiance, the friendly faces, bands at the bar. All you have to do is park, take your stuff in and you're set," she said. "We love it so much and hope they never take it away."
Simmons isn't worried about the competition or even the economy. The Paradise Inn continues to flourish and, in 202ı, experienced a record year. The biggest threat to the business may be Mother Nature.
In September 2020, Hurricane Sally's ı05 mile-per-hour winds ripped the roof off the motel's two-story unit and office building and dropped debris on the villas and Hedlund's truck. The parking lot was flooded, and the pier had been obliterated.
"It was stressful, but everyone
came together and did their part to rebuild," Hedlund said. "And, we got it all done by July ı0, just in time for the Blue Angels."
A new pier and seawall have
been installed, the two-story motel rooms have been rebuilt and interior rooms have been refurbished and updated with new furniture. Of the future, Hedlund said things are "looking bright."
"I'm grateful for the fact that we have so many return guests and locals who have embraced us," he said. "I hope we stay the way we are."