Update on Job Creation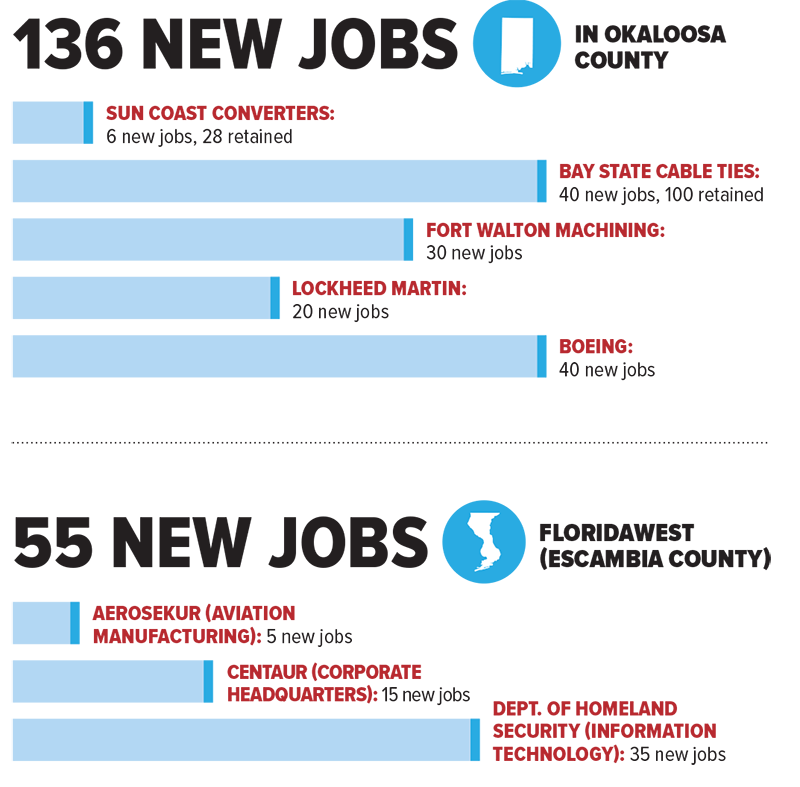 In April of 2015, 850 published a story about the major economic development organizations in Northwest Florida and their track record in helping to create jobs by bringing in new businesses or helping existing businesses expand during the prior five years. We promised to readdress the issue a year later to see what those counties have been up to. We asked the EDOs featured in that story to provide us with how many jobs they had helped bring to their county in 2015 — and the breakdown of jobs per company.
As in our original report, Okaloosa and Escambia counties provided information on the successful projects where the economic development organization had some involvement.
Bay County officials reported they had no new job announcements to claim credit for during 2015. "We didn't have any official announcements in 2015 — it was all about planting seeds," said Scarlett Phaneuf, vice president of the Bay Economic Development Alliance.
During the interim, the Economic Development Council of Tallahassee/Leon County, which was housed with the Chamber of Commerce, was dissolved. On Feb. 29, the Intergovernmental Agency, made up of the Leon County Board of County Commissioners and the Tallahassee City Commission, voted to establish itself as the county's new economic development organization and is now responsible for all economic development initiatives.
Here is a look at last year's numbers/activity for Bay, Escambia, Leon and Okaloosa counties.
---
Bay Economic Development Alliance
During the year, the EDA submitted 34 proposals to companies and site selectors; went on 16 international and domestic marketing missions; participated in more than 20 one-on-one meetings at the Paris Air Show; and hosted more than 15 site visits and fam trips to the county.
---
Economic Development Council of Tallahassee/Leon County
As of Sept. 30, 2015, the end of its fiscal year, the now-dissolved Economic Development Council of Tallahassee/Leon County Inc. reported a total increase of 4,141 jobs for the county. The numbers were provided by the Florida Department of Economic Opportunity and include all new jobs in the county, not just those created with assistance of the EDC. (The EDC reported it was working on nine active projects with a potential capital investment of $35 million and 1,083 potential new jobs.)
---
Danfoss Turbocor (Advanced Manufacturing and Research Company)
Retained 166 jobs, 25 new jobs, 10 of those jobs projecting an average salary of $74,758. The project brings a $14 million capital investment, with construction beginning in 2016.
Entrepreneurial Excellence Program (Spring and Fall 2015)
Assisted in business development to 26 companies resulting in 31 employees