Crook Stewart Keeps Rockers Rollin'
Touring Professional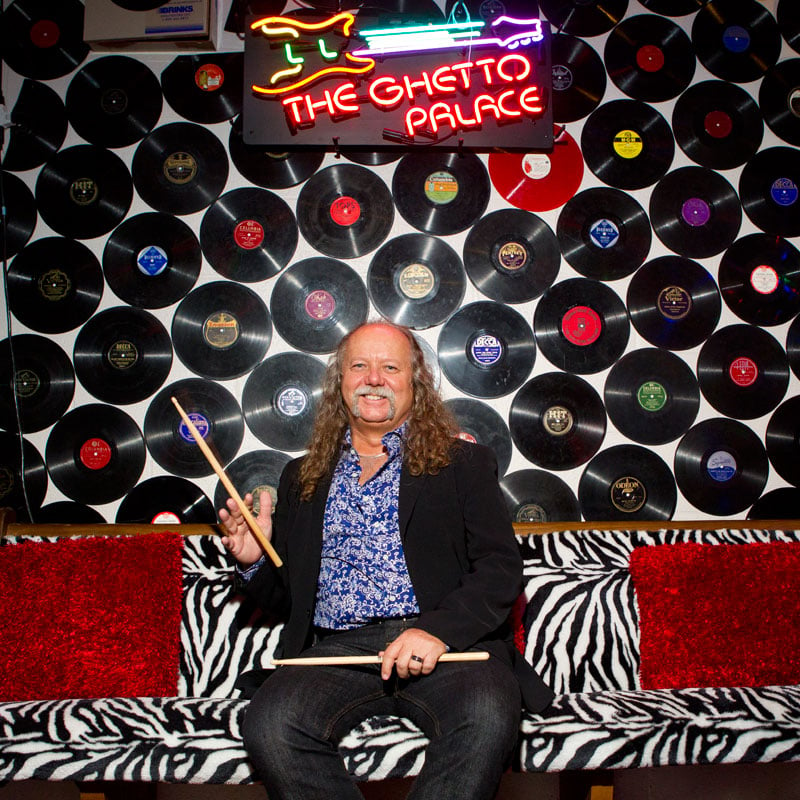 "Art Garfunkel."
It's the name that Crook Stewart III mentions first when asked the dinner party question: You and five guests, living or dead, who would they be?
"And Keith Richards would be a heckuva character to invite. Buddy Rich, he had a short temper and there might be fisticuffs, but I'd make a place for him. We'd need to bring a pacifist in, and that would be Joan Baez. Jackson Browne is always good for fascinating conversation. And, my wife, Vickie, of course, she'd be there; I'm no dummy."
But what causes Garfunkel to leap to mind?
"He's a bit neurotic," Stewart says, "and he has an intriguing, challenging persona. I'll give you an example."
Stewart excuses himself, retreats to a closet and emerges seconds later with a framed email message from Garfunkel. Stewart had been tabbed to manage a tour for Garfunkel and had arrangements well in hand before hearing from the performer. In the message, Garfunkel lists a string of positive developments that had occurred in his life, suggesting that he was on a roll. He then admonishes Stewart, a man he had never seen: "Don't ruin it."
"You know, Art doesn't have a lot of faith in people," Stewart says. "But because he has a reputation for being difficult, I thought it would look good to have him on my resume. I figured people would say, 'If you can work with that guy, you can work with anybody.' I don't go looking for exacting bosses, but difficult people need services, too."
Since 1989, Stewart, 56, has made his living as a tour manager, understanding and meeting the needs of artists including Baez; Garfunkel; Crosby, Stills and Nash; and, recently, the Rolling Stones. Performers at their level maintain entourages that include both production managers and tour managers.
Production managers swap trucks out of bays and ensure that lighting and sound systems and other gear is properly set up. The tour manager, Stewart says, is the interface that connects concert venues with acts.
"Basically, I make sure the artists and band members are so comfortable that the only thing they have to worry about is stepping on that stage and putting on the best show they can," Stewart summarizes his role. He meets needs and wants, ranging from the elemental to the incidental to the idiosyncratic.
In his first media interview, Stewart confirms, for a moment, the presumption that he works with a lot of prima donnas, but then retracts that assessment. They are not prima donnas, he says, so much as they are perfectionists who care deeply about their art.
Even Keith Richards, the grizzled Stones guitarist whose narcotics consumption is the stuff of legend.
Stewart assisted the Stones' logistics director late last year when Mick et al performed two concerts in London and three in the Greater New York City area. (They also joined in "12-12-12," the concert for Superstorm Sandy relief.)
The septuagenarian, arthritic Richards, Stewart said, ran a mile before every performance and worked out daily in a dance studio. And the Stones "rehearse, rehearse, rehearse," Stewart discovered. "They are a tightly knit, tightly run organization that puts on a tremendous show."
Too, there is nothing sloppy about Stewart. While he looks like the Cowardly Lion and has a sweet disposition, he confronts challenges with confidence, drinks little and knows that to satisfy perfectionists, you must be one. It helps, too, that he is a drummer, accounting for his interest in Buddy Rich.
His residence, which he calls the Ghetto Palace, is a block building that housed a hurricane shutter manufacturing business in its previous life. Located in the downtrodden community of Springfield near Panama City, it is given today to contemporary living quarters upstairs and, on the ground floor, a performance space with a band stand, stripper's pole and lighted Christmas tree suspended upside down from the ceiling year-round. As often as he is in town, Stewart gathers local musicians for jam sessions and hopes they find inspiration there.
The Beginning
A Peter Frampton concert at Panama City's Marina Civic Center when Stewart was in high school proved to be seminal in his life.
"When I saw that show, I made the determination right then and there that I wanted to be in the music business," Stewart recalls. "At the time, I thought I wanted to play for the rest of my life. But after 10 years on the road, I figured out that there was a better way to slay that animal."
Stewart had plans to pursue a music degree at North Texas State University, but his mother convinced him to enroll at Gulf Coast State College in Panama City. He found, however, that the music program there was several beats behind the one he had enjoyed at Rutherford High School.
So, Stewart didn't hesitate when a few older guys with whom he'd played in a bar band named Summerstock announced they had landed a gig in Charleston, S.C., and invited him to go along. The road was about to become his home.
Stewart would get into assembling and managing his own bands and came to play the larger clubs in the Atlanta area.
"I had a big public-address system, big lights, big sound, a truck and two guys and a girl to set it all up and tear it back down," Stewart recalls. Then came a calamitous month in which Stewart blew a truck engine and several speakers. He looked at his books and realized he was paying to play; there had to be a better way.
Already, the sound technician for the band and Stewart had been building speaker cabinets in their spare time. Now, they went about building a reputation for high quality PA systems. Their business grew so much so that the two men set up shop in an old paint-and-body shop at Peachtree and Piedmont roads in Atlanta. They landed a contract to build speakers for the Georgia World Congress Center and were turning out 50 speakers a week for Smart Theater Systems, but a steady diet of sawdust soon grew tiresome.
Stewart missed the music, and the music came back to him.
A woman who had been his drum technician and lighting specialist was working for a local stagehand crew. She got jobs for Stewart and his partner in the speaker cabinet business working the Jackson 5's 1984 "Victory Tour" stop at Atlanta Fulton County Stadium. Stewart helped assemble steel towers at either side of the stage, demonstrated that he had no fear of heights and one job led to another. He caught on at the Omni in Atlanta, the Art Garfunkel of rigging jobs due to its unique ceiling structure. (If you can rig there, you can rig anywhere.)
Over the next few years, Stewart's role with the crew evolved to include "settling the shows," that is, paying the stage hands in a manner similar to sharing up tips at a restaurant at the end of the night. He was moving now from brawn work to brainwork. He attracted the attention of Jeff Jackson, the production manager and lighting director for the band, 38 Special, who judged Stewart to have the potential to become a good tour manager.
"He told me one time," Stewart says, "that if he ever had the chance to put my hat in the ring for a tour manager job, he would."
Shifting Gears
In 1989, Jackson learned that Joan Baez needed a tour manager, and he encouraged Stewart to pursue the job. Ten days after submitting the first resume he had ever cobbled together, Stewart had heard nothing, but had the temerity to pick up the phone and talk his way into an interview with Baez's chief handler in Manhattan.
Stewart, who had never been across the Mason-Dixon Line, booked a flight to Newark, N.J. — it was cheaper than flying into New York. Before departing, he checked the weather in the Northeast and decided to tuck an umbrella into his briefcase.
"I took the Port Authority bus over to the city and walked to the manager's office in Manhattan," Stewart recalls. "We sat down to lunch and he said something about the rain, and I pulled out my umbrella and said, 'Always prepared.' That stuck with him, and to this day he tells me that the umbrella was one of the main reasons he hired me."
Stewart's first show with Baez was in Portland, Ore., just a few days after the San Francisco earthquake. From there, Baez and company crossed the country in the course of a three-month tour. After just three shows, Baez turned to Stewart and said she wanted him to go with her to Europe a year later.
Stewart counts Baez as a good friend, but says he is careful never to embark on close relationships with the artists who employ him. Still, Baez turned sentimental when Stewart decided to move on. She presented him with a record album on which she had written a tender, if awkwardly phrased, note containing an odiferous word-choice problem.
"Crook: Is this really happening?" she wrote. "Life on the road will never be as totally together, effluent, charmed and generally killer as it will when you move on. I love you and all you've done for me over these last 19 years. I will see you in the future. Joan"
Stewart worked for Baez for 19 years, finally departing to take up with Jackson Browne, not because anything was wrong with his relationship with her, but purely because Baez was slowing down and he needed to work more. In recent years, Crosby, Stills and Nash have provided Stewart with steady work, including 90 shows in 2012, alone.
Even when tour-managing a pacifist, there was "always something," Stewart says, including encounters with bootlegging Berliners and Bob Dylan.
The Wall had just come down, and Baez was playing the Palace of the Republic in what had been East Berlin. Stewart's sound tech had become uncomfortable, sensing that local crew members were up to something shady. Stewart investigated and found that they were bootlegging Baez's performance by recording it on reel-to-reel machines. Stewart summoned the show's promoter, who was from the west and only too happy to bust the eastern offenders.
"He confronted them, and there was a lot of language that was terse that I didn't understand, but we ended up leaving there with the tapes and they (the tapes, not the bootleggers) ended up getting thrown off a bridge," Stewart remembers.
Stewart has encountered Dylan only once.
Baez, Dylan and Van Morrison were playing a festival in Tramore, Ireland. It had been 10 years since Dylan and Baez, at one time close, had spoken. Stewart was sitting in a dressing room with Joan and her manager when Dylan's manager knocked on the door.
"Bob would like to say hello to Joan if that's OK," Dylan's manager said and then, suddenly, Dylan was in the room.
"He gave Joan a big hug and picked her up off the floor," Stewart recalls. "And the first words out of his mouth after those 10 years were, 'Boy, you've put on some weight.' I'm thinking what a jerk. He's not Rico Suave by any means."
Stewart, polite by comparison, apologizes. His cell phone is flashing and it's a call he must take from a man named Buddha who works for Graham Nash.
A philanthropist had agreed to fly Nash, who would then be in the midst of a tour, from Jacksonville, Fla., to Boston so that he could make commencement remarks and receive an honorary degree at Lesley University in Cambridge, Mass. But the arrangement, Buddah reports, has fallen through.
"We're gonna need somebody else with a big heart and a plane," Stewart mutters to himself, and presently he is at work on it.