Tyndall Air Force Base 2.0
New installation will be stronger, smarter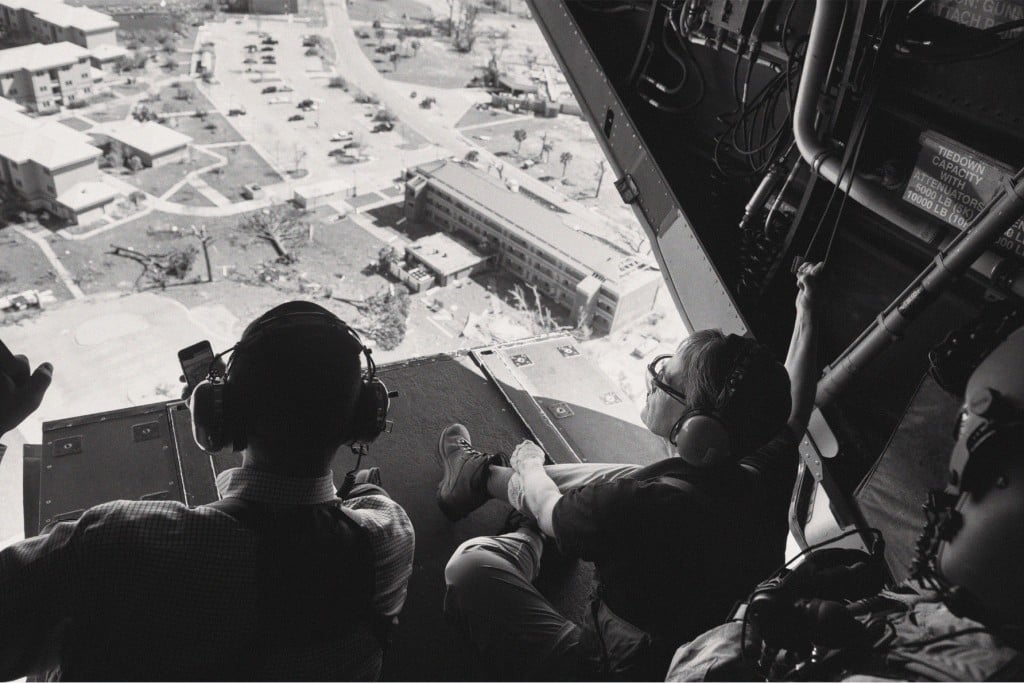 The U.S. Air Force awarded two contracts in 20ı9 related to reconstruction at Bay County's largest employer, Tyndall Air Force Base — $ıı.8 million to build a fire station and $ı7.6 for an Air Battle Manager F-ı5 simulator building.
Two down, an anticipated 42 more contracts to go.
"Hurricane Michael destroyed close to 300 facilities at Tyndall," John W. Henderson, the assistant secretary of the Air Force for Installations, Environment and Energy, reminded the audience for the Gulf Power Economic Symposium in February.
"We have a lot of work to do at Tyndall, and we also have an opportunity to upgrade code and make facilities there more resilient than they were. The chance to start with a blank canvas is unlike any other opportunity in the world."
The federal spending bill signed by President Donald Trump in December contained $2.4 billion for Tyndall. Earlier in the year, $ı billion in construction funding was included in an emergency supplemental federal appropriation.
Tyndall's redevelopment as a fifth-generation fighter base will take place in a context of evolving threats to the nation's security and the changing face of warfare.
Speaking generally, Fletcher said the Air Force and America's joint force "have to prioritize our investments to ensure that we are modernizing and keeping up with advancing technologies and the changing character of war. We need to maintain a lethal, resilient, rapidly adapting joint force.
"Our future battlefields aren't necessarily geographic locations. We have to think in terms of space, cyberspace, macroeconomics, trade, information operations and more. Our installations have to be resilient as to energy, cyber and installations in the face of a variety of threats."
To achieve that goal, the Air Force has some catching up to do.
"The Air Force has ı80 installations worldwide, and because of shortfalls in recent years, we accumulated a $33 billion backlog in deferred maintenance," Fletcher explained.
That circumstance makes the high priority assigned Tyndall reconstruction all the more significant. And, the base is in good hands, Fletcher stressed.
"We have to demolish the flight line. We're going to need a bunch of swing space. We have to look at parking $300 million in facilities sustainment, restoration and modernization equipment," Fletcher cited a few items on a long list.
"But I am blessed to be working with the best contracting officers in the U.S. Air Force. They want to see to it that, in rebuilding Tyndall, we get not the base we had, but the base we need. And, our nation needs Tyndall Air Force Base. The F-35 has direct connective tissue to our national defense strategy."
Three squadrons of F-35s are scheduled to arrive at Tyndall in 2023. They effectively will replace squadrons of F-22s that were reassigned away from Tyndall due to Hurricane Michael. In addition, Tyndall remains the preferred alternative home for an MQ-9 Reaper Wing currently based in New Mexico.
At present, environmental impact studies are underway related to the anticipated arrival of both aircraft at Tyndall. That work is expected to be complete early in 202ı.
No one can say today precisely what the base of the future will look like, but Dave Robau, the executive director of the Gulf Coast Energy Network, offered some broad hints and educated guesses at an Air Force Contracting Summit, held in January in Sandestin.
Robau works to align contractors with the U.S. military. He is close to the action.
"Far more planning is involved in the redevelopment of Tyndall 2.0 than has been involved in the building of bases in the past," Robau said at the contracting summit. He then listed some of the considerations that the planning has entailed …
A walkable community to include a pedestrian bridge over U.S. 98.
Predicted maintenance on mechanical systems.
Occupancy sensors to reduce energy consumption.
Fortified buildings built to withstand the next Hurricane Michael.
An energy microgrid that can be utilized during power outages.
Enhanced-use leases that will make waterfront areas accessible by the public.
Further, Robau expects the Tyndall project to embrace systems already in place in the private sector. He offered an example.
"If you go to Wal-Mart and buy a can of peas, that same can of peas is on its way to the store from a distribution center no more than 4ı minutes after the bar code is scanned," Robau said.
"Real time data is something that the military can learn from. With a connected system, if you are flying an F-35 and there is an actuator on the landing gear that needs to be replaced, that airframe can connect to a schedule and when the pilot lands, the plane is already in line for service and the computer has automatically ordered that part."
Brian Stahl, the deputy director of Tyndall's Reconstruction Program Management Office, told an energy and sustainability conference held in Panama City Beach that the total rebuild of Tyndall will require seven or eight years.
The six hangars at Tyndall all sustained heavy damage due to the storm. They had been built to withstand winds from 83 to ı30 miles per hour. As a Category 5 hurricane, Michael delivered sustained winds of ı60 mph.
Because, Stahl said, there is no existing template or blueprint for rebuilding an entire Air Force base, decision-makers have had to decide what is going to be built, to what standards and where.
The Air Force Research Lab at Tyndall, which had been located at the eastern edge of the base in a location just 5 to 8 feet above sea level, will be moved to another area of the base.
Stahl said buildings south of U.S. Highway 98 will be built at least ı9 feet above sea level and structures north of the highway will be at least ı4 feet above sea level. An extensive airfield drainage project forms another part of the rebuild. Replacement buildings will be constructed to withstand winds of ı65 or ı70 miles per hour.
Stahl said in an interview with 850 Business Magazine that post-Michael conditions at Tyndall were worse than those at "bare base" sites in Afghanistan he visited while on active duty in the Air Force.
Stahl has found that the cost estimates and budget arrived at for Tyndall reconstruction — much of that work was done at the Pentagon — are holding up well.
"Any time you have a major event like this, like Eglin and Hurricane Ivan in 2004, there is a desire at very senior levels to get a number, and there always is some guesswork," Stahl said. "We know, under normal conditions, what it is going to cost to build a 20,000-square-foot building."
To those usual costs, money was added for "base of the future" features and the cost to bring a reconstruction workforce in from elsewhere. The budgeters also recognized that Tyndall would be competing for resources with other areas affected by natural disasters and other calamitous events.
"We're usually pretty good at this," Stahl said. "Some initial estimates have been revised, but not to the magnitude of changing the program from $3 billion to $5 billion or anything like that."
Stahl said support from the Military Affairs Committee of the Bay County Chamber of Commerce and Bay County, generally, has been critical to the future of Tyndall.
"I don't think you would be seeing Tyndall being rebuilt the way it is being rebuilt without the community support it has received," Stahl said.
Bay County District 3 Commissioner Philip "Griff" Griffitts, addressing the contracting summit, said Tyndall accounts for fully one-third of Bay County's economy. He described the relief that the county experienced when Vice President Mike Pence came to town shortly after the storm and announced that Tyndall would be rebuilt.
"When you live in a military community and you don't hear a jet, it's an ominous feeling," Griffitts said. "The first jet I heard post-Michael, I pulled over, got out of my car and took a picture."
"We've got to get this right," said Stahl, citing Tyndall's importance to both national security and the economy of Bay County and Northwest Florida. "If a future storm were to destroy Tyndall, we wouldn't be given a chance to rebuild it again."