Tallahassee Memorial HealthCare Receives a Big Gift for Little Ones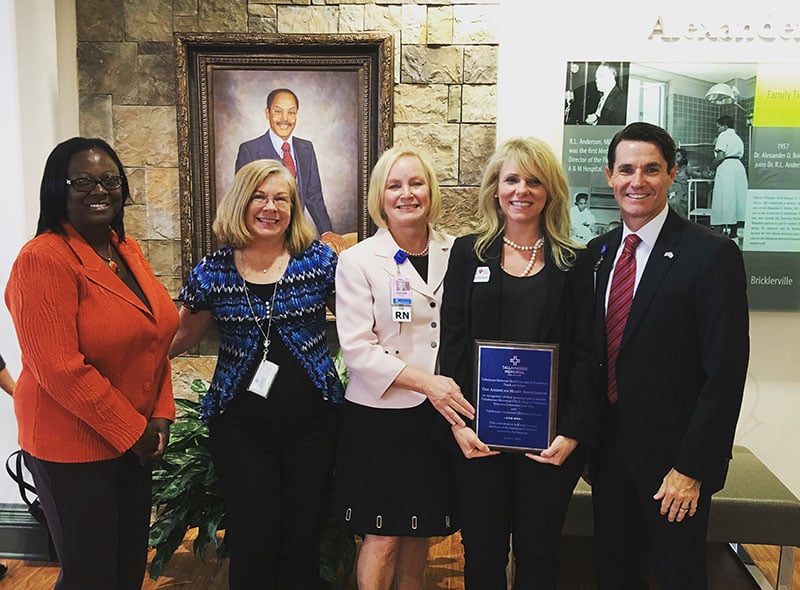 A baby is born, and the parents can't wait to get their little one home for the first time. What most parents don't realize is leaving the hospital means no more doctors or nurses to help if something goes wrong. Many become frightened by this realization and aren't sure what they would do if their baby encounters choking and/or breathing trouble. That's why the American Heart Association has gifted 660 Infant CPR Anytime kits for parents of babies in the newborn intensive care unit (NICU) at Tallahassee Memorial Hospital.
The American Heart Association's Infant CPR Anytime® personal learning program makes it possible for anyone to learn how to relieve a choking infant and perform infant CPR. The kit contains everything needed to learn skills in about 20 minutes, and it can be used anywhere, from the comfort of home to a large community group setting.
Infant CPR Anytime® is for new parents, grandparents, family members and anyone who wants to learn lifesaving infant CPR and choking skills but does not need a course completion card.
On June 7, the American Heart Association presented TMH with the Infant CPR Anytime kits and a plaque to hang in the NICU corridors. The kits will help provide a vital and important educational benefit for the over 650 babies and their families who are served by the Tallahassee Memorial NICU annually.
President and Chief Advancement Officer of the TMH Foundation, Mickey Moore, was present and thanked all those involved in making the generous gift possible. After receiving the gift, all those in attendance mingled and enjoyed refreshments.
Cardiac arrest is a leading cause of death in the U.S. and it can happen anytime and to anyone. To help ensure everyone is knowledgeable of how to administer CPR, "Press the Chest" will be held Saturday, June 11, at the Civic Center. From 10 a.m.–noon, community members can learn how to properly save a life. Although this is not a certifying course, it may help you administer proper life-saving skills in the future.
To learn more about Press the Chest or to register for this free event, click here.