Symbiotic Relationships
Danfoss Turbocor partners with schools to enlarge the talent pool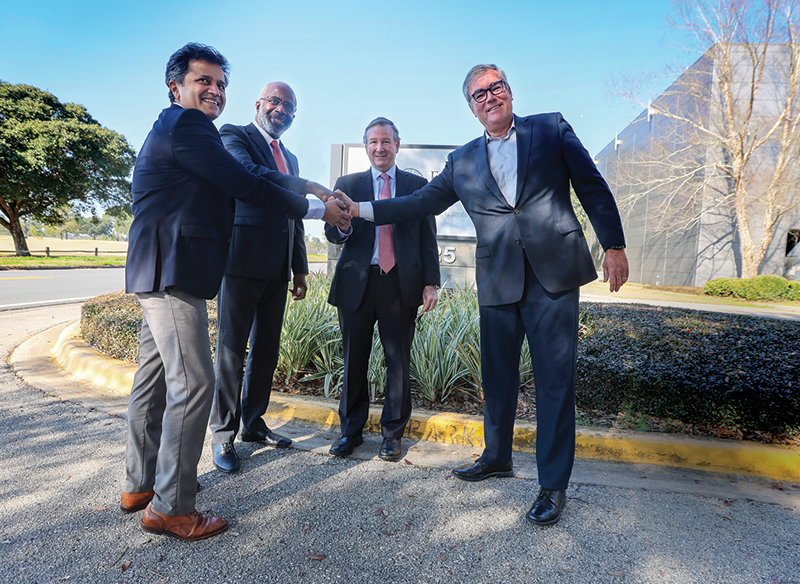 Danfoss Turbocor's revolutionary transformation of the heating, ventilation and air-conditioning industry, with its oil-free, magnetic-bearing compressors and its relocation from Canada to Tallahassee to be near the National High Magnetic Field Laboratory, is a well-documented story.
Less publicized, perhaps, are the Danish company's close ties with the MagLab, FAMU-FSU College of Engineering (COE) and Tallahassee Community College and the mutual benefits derived from their collaborations.
As Danfoss Turbocor president Ricardo Schneider tells it, his company is heavily dependent on magnetic technologies to enhance and further develop its products, and in Tallahassee it found a favorable environment. Not only does the Capital City boast the world's largest and highest-powered mag lab, it's home to world-class research institutions that are pushing the boundaries of aerodynamics, power electronics and magnetic technologies.
"This is why we came to Tallahassee and why we're happy to be growing here," Schneider said, referring to his company's latest expansion at Innovation Park, where it is constructing a state-of-the-art manufacturing plant.
Schneider identifies the creation of more efficient cooling and heating systems as his industry's biggest challenge, both to conserve energy and reduce carbon emissions. In those areas, Danfoss Turbocor is a global leader with its cutting-edge digital compressors.
Sales of those compressors surged during the pandemic, a continuing trend that Schneider attributes to the accelerated construction of IT infrastructure to accommodate the shift to remote work and learning, and the consequent need to cool data centers, along with a growing worldwide demand for greener technologies.
"We see this repeatedly in history in terms of the adoption of new technologies when major disruptions occur," Schneider said. "People say, we need to do this better or differently, and technologies reach an inflection point. With the pandemic, the digital infrastructure grew exponentially."
Dr. Greg Boebinger, director of the MagLab, explained that its primary purpose is to create electromagnets, whose magnetic properties once activated by electricity, become significantly more powerful than those of permanent magnets.
"Our reason for existing is to generate these incredibly high magnetic fields," he said. "And those powerful magnets are what has enabled Danfoss to produce its line of oil-free bearings."
Additionally, Boebinger said, MagLab staff are able to troubleshoot problems, such as when magnets become misaligned, or nonmagnetic materials become magnetized in the manufacturing process.
"We can help solve these problems," Boebinger said. "For Danfoss, it's like having a research lab next door."
In return, Boebinger said, Danfoss advances MagLab's cause when, for example, it testifies before Congress on the need for a U.S. magnetic industry to counter dependence on overseas magnet production.
"Such testimony helps because we're then seen as important players," Boebinger said. "And when these big corporations say it to Congress, it means a lot more than me grabbing the phone and saying, 'Hey, listen to me.'"
Another of Danfoss' longstanding relationships involves the FAMU-FSU COE, with whom it recently signed a $750,000 five-year agreement to fund scholarships and provide research opportunities for faculty and students.
"As a company, we are passionate about diversity, equity and inclusion," Schneider said, noting his own origins in an underdeveloped country. "We truly believe that through education, we can create a path for folks in engineering, especially from underrepresented groups."
Danfoss, in turn, benefits from both the research and talent pool that the COE program produces. Indeed, 22% to 25% of Danfoss engineers are FAMU-FSU graduates, Schneider said.
Finally, there is Danfoss' partnership with TCC aimed at addressing the skilled labor shortage in the manufacturing sector through the creation of an apprenticeship program that feeds the company's trainees.
"The new manufacturing requires skills in computers and highly sophisticated machines," Schneider said. "This collaboration with TCC creates a talent pipeline for us."
Dr. Kimberly Moore, TCC vice president of workforce innovation, noted that COVID-19 not only caused employers to shed jobs, it also led employees to re-evaluate the workplace and many older workers to bail out, part of the so-called Great Resignation. In effect, she said, the exodus created a workers' market and exacerbated the skilled labor shortage stemming from a longstanding emphasis on four-year degrees over trade schools.
"It's a huge, national problem," Moore says. "And now we're trying to fast track to create the skilled talent that employers need."
The apprenticeship program, she said, benefits not only Danfoss but also the community, creating a career pathway for individuals whose only option otherwise would be a fast-food job.
As for TCC, the partnership helps it better achieve its objectives.
"They serve on our advisory council, advise us on trends and encourage us to change the curriculum," Moore said. "Others can take a page from Danfoss' playbook on how to engage actively, recruit workers and do it with partnerships."
---