St. Joe Spec Building Expected to Boost Economic Development Efforts
The speculative building Near Bay County's Airport satisfies a growing need.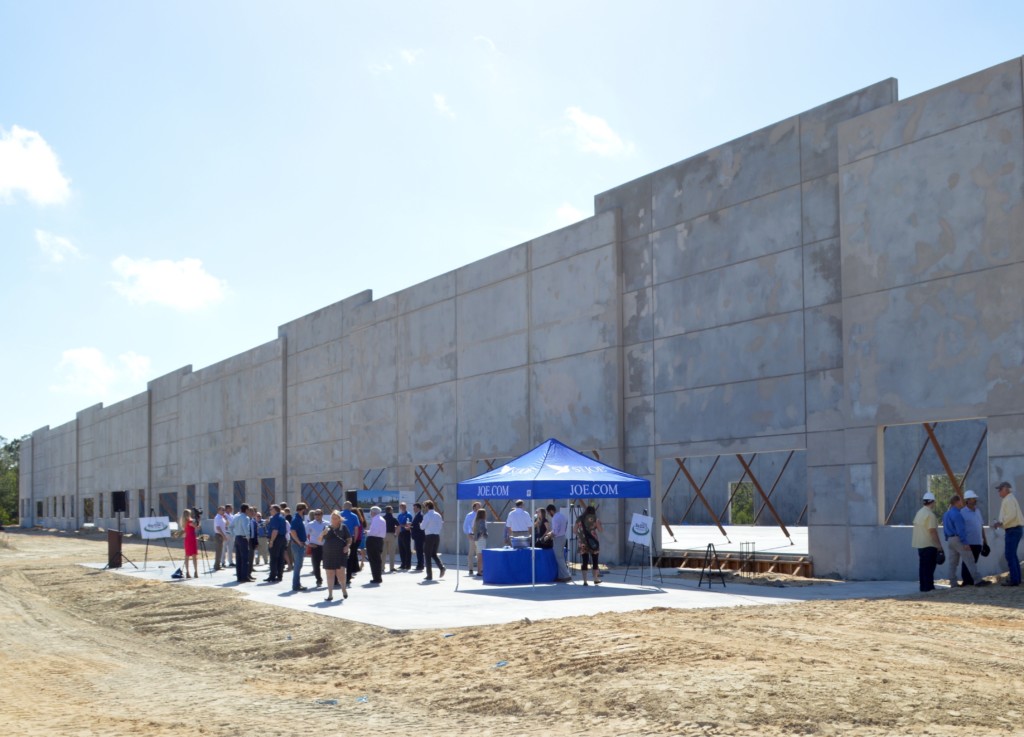 Construction of a 60,000-square-foot speculative building by the St. Joe Company at VentureCrossings Enterprise Center has put the Bay County Development Alliance back in business.
That's the assessment of Becca Hardin, the Bay EDA's president, who was among speakers at a "construction celebration" held Thursday at the project site.
Hardin had pleaded for years with Jorge Gonzalez, St. Joe's CEO, to commit to construction of a spec building, given the scarcity of available space in Bay County. When finally he said yes to the idea, Hardin "screamed and hugged his neck," she said.
"At St. Joe, we see land and lots and buildings going up pretty quickly," Gonzalez said. "But not everyone sees things that way. Becca satisfied me that this project will greatly enhance her recruitment efforts."
Hardin said that Hurricane Michael wiped out what little available building space Bay County had remaining after an aerospace contractor, ACMT, snapped up the former Honeywell building in Lynn Haven and Air Temp, an auto parts manufacturer, acquired the one-time Boyd Brothers Printing property.    
Hardin has assured Gonzalez that she will fill the new building quickly. Last month, she and Garrett Wright, the EDA's vice president, attended MRO Americas Atlanta, an international trade fair, which is focused on maintenance, repair and overhaul in the aerospace industry.
Hardin talked up the spec building while there and lined up four businesses — all located in the U.S. outside the Southeast — who will be making trips to check out the project.
"I don't think this space will be on the market very long," Gonzalez ventured to say.
With good weather, the project has advanced rapidly, given the tilt-up wall construction that was employed — so much so that a planned "wall raising" became a construction celebration instead.
The "flex" building has been designed to accommodate one or as many as 10 tenants. Each of the 10 bays making up the structure will feature front entries, rear dock doors and ceiling heights of approximately 28 feet. White Construction of Panama City, the project's general contractor, anticipates that the building will be complete in September or October.
Previously, St. Joe had announced plans to develop a 142-room hotel at the entrance to VentureCrossings, which is located very near the Northwest Florida Beaches International Airport in northern Bay County.
"Companies considering Bay County take note of our growing advanced manufacturing base, higher education offerings, motivated workforce and, of course, our world-famous beaches," Hardin said. "The growth of VentureCrossings with this new building will further enable us to attract new business and create new jobs for Bay County.
Gonzalez said additional spec buildings like the one at VentureCrossings are being planned for Bay County east of the Hathaway Bridge.
Sandy Sims, the Bay EDA's board chair, said projects like the airport and VentureCrossings result from "vision, partnership and passion."
"Bringing about the new airport was a heavy lift," Sims said. "A lot of people challenged that vision, but no one today can argue with its success."