Spec Building Pledged For Industrial Park Place
Santa Rosa County taking steps to lure tenants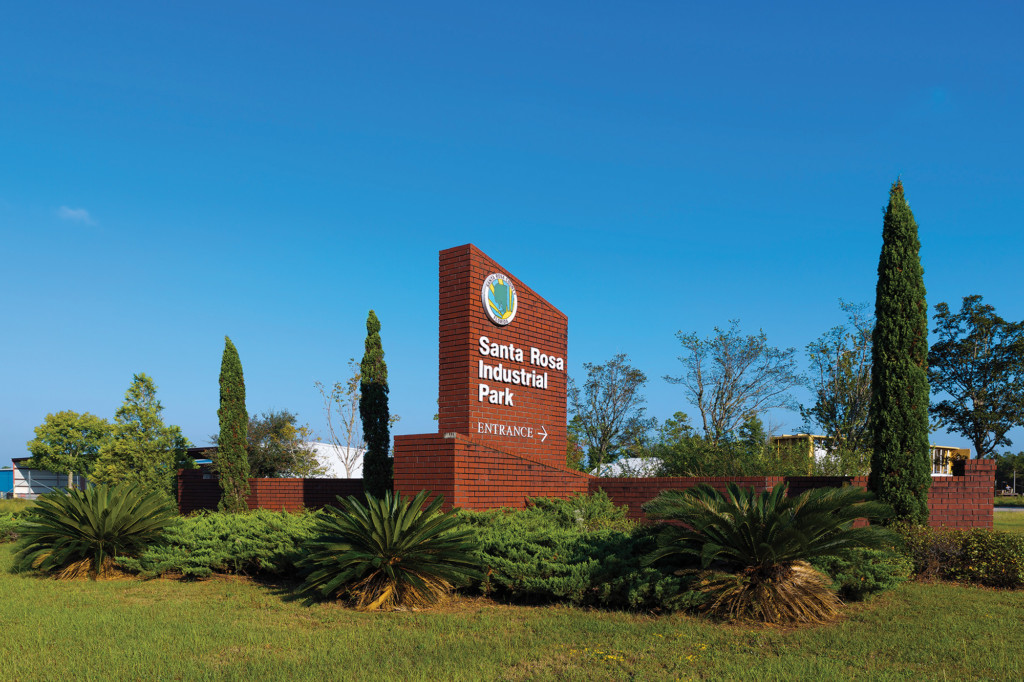 Northwest Florida counties tend to be "land rich and building poor," said Shannon Ogletree, the director of Santa Rosa Economic Development.
Santa Rosa is trying to escape that generalization by at least 50,000 square feet, maybe 100,000.
The Santa Rosa County Commission has committed to the construction of a spec building at its 90-acre I-10 Industrial Park.
Infrastructure is in place at the site, which a distributor from the Southeast is having a close look at. Ogletree, at this writing, said he and the county are narrowing down possible incentives that will be offered to the prospect.
If the hoped-for deal is made, the distributor would bring 400 jobs to the county in the first phase of its build-out.
"They would require lots of truckers," Ogletree said. "Over half of their employees would be truckers."
The spec building, at 50,000 square feet, could be divided into two spaces. Or it could be expanded to more than 100,000 square feet.
"Having an available manufacturing building, with eight dock doors, a 6-inch slab and a 32-foot eave height will attract prospects, Ogletree is convinced.
"It's just like sales," Ogletree emphasized. "Whatever will continue to get us the most looks gives us the best chance. Buildings are in short supply, especially on I-10."
The county owns four industrial parks in total in various stages of development.
Whiting Aviation Park
In 2017, the Triumph Gulf Coast Board gave preliminary approval to the county's request for $8.52 million with which to pay for infrastructure, roads and utility extensions that will serve an aircraft repair facility at the park. The approval was formalized by contract last year.
"We've selected Moffitt-Nichols as the design firm to put the utilities in," Ogletree said. "The design work should be complete by midsummer with construction starting shortly after that. Soon, it will be possible for companies who want in at Whiting to begin construction of their own facilities, even as work on park improvements continues."
Ogletree said "various companies" have been attracted to the park's relationship to Naval Air Station Whiting Field and the availability of limited use agreements allowing for touches at the Navy's 6,000-foot runway.
Most of the interested companies are in the business of maintaining, repairing and overhauling aircraft, but a couple have talked about manufacturing operations, according to Ogletree.
The realization of the aviation park has been a long time coming. The concept is at least 16 years old, dating to a conversation between then-County Commissioner W.D. "Don" Salter and Commodore Terrance "Rufus" G. Jones, who was the training wing commander at Whiting Field.
The two men talked about how development adjoining Whiting Field, given an adequate buffer separating commercial operations and those of the Navy, would benefit the county's economic interests.
"Receiving the funding to put the infrastructure in is what we needed," Ogletree said. "If it weren't for Triumph and Chairman Gaetz, who worked closely with us, none of this would have happened, the park never would have been realized.
We went from scuffling to real progress."
Santa Rosa
Industrial Park East
The park is home to a Cape Horn boats manufacturing facility, and the county has agreed to lease 15 acres to Pensacola State College for a truck driver training school at the site.
"Nationwide, the need for truck drivers has skyrocketed," Ogletree said. "Think about how we are ordering goods every day and how they are delivered. Up to that last mile when it is delivered to your house, delivery drivers are in demand more and more to get goods to the distribution centers. The school will help provide companies with the employees they need to accomplish their goals."
Santa Rosa Industrial Park
Navy Federal Credit Union and Goldring Gulf Distributing have presences at the park, which is "basically built out with very few acres left," Ogletree said.