Sound Bytes Fall 2022
Notable local news and happenings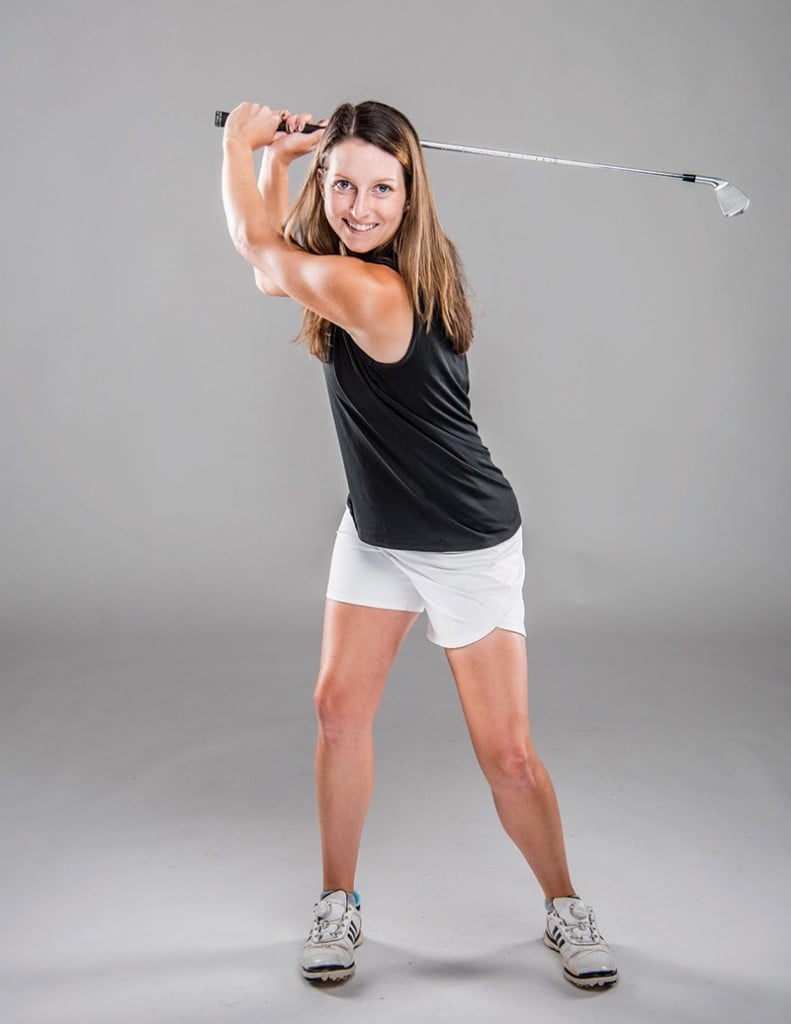 Emerald Coast // Local Honors
Santa Rosa Golf & Beach Club's Harrison Achieves PGA Membership
Becoming a Professional Golfers' Association of America (PGA) member is no small feat. Golf professionals average four years in completing the program. Lindsey Harrison completed the program after two years and was elected to the PGA's membership this spring. Candidates are tasked with completing a playing ability test, documenting lessons, bookwork and multiple knowledge-based tests. As a collegian at Troy University, Harrison had multiple NCAA team collegiate wins (including a 2016 Sunbelt Conference Championship), multiple top fives and top 10s in the Alabama Northwest Florida PGA Section Events, and is known for making two holes-in-one in a nine-hole span. She joined the Santa Rosa Golf & Beach Club team in the fall of 2021 as the first assistant to the director of golf. Originally from Panama City Beach, Harrison, as a member of the PGA, can compete in tournaments with other PGA pros, receive playing perks and — Harrison's favorite — get tickets to the Masters.
Capital
Local Happenings
» Dr. Jim Murdaugh, president of Tallahassee Community College (TCC) announced the retirement of Al Moran, vice president of communications and marketing. He further announced that Candice Grause, currently chief of staff, will add overseeing the communications and marketing office to her role. Grause has been responsible for several college-wide initiatives and programs, including coordination of the college's shared governance committees and leadership groups. She works closely with Dr. Murdaugh on external community and government relations efforts. In addition to being an alum of TCC, Grause earned a Bachelor of Arts in editing, writing and media from Florida State University, and a Master of Public Administration from the University of Central Florida.
» Longtime news director for the Tallahassee Democrat, Jim Rosica, has departed his role to join City & State Florida, a sibling online publication to News Service of Florida, as its inaugural editor-in-chief.
» The Junior League of Tallahassee (JLT), was recently awarded the Association of Junior Leagues International Award for Public Policy & Advocacy for its Advocacy Certificate Training Track and Advocacy Plan. The Public Policy & Advocacy Award recognizes a league for its success in using public policy and advocacy as strategies in raising awareness, improving the public policy environment and influencing public policy legislation on an issue selected by the league. The award includes a $5,000 grant to further impact the community.
Local Honors
» The FSU Alumni Association held its Spring Alumni Awards where Elder Care Services' president and CEO, Jocelyne Fliger, was honored as one of 2022's Grads Made Good Award recipients. Some of the many reasons Fliger was deserving of the award was her revamping of Elder Care Services' Meal on Wheels program in response to COVID-19 and starting a monthly LGBTQ+ support group for seniors.
» The International City/County Management Association (ICMA) has recognized Leon County Administrator Vincent S. Long as the 2022 recipient of the Award for Career Excellence in Memory of Mark E. Keane. This award is the highest recognition in the profession and is given to one local government CEO in the world each year. Long is receiving this honor for his leadership in implementing transformational projects and policy, managing historic crises, protecting public safety during disaster and consistently setting the highest standard in public service and transparency. Long was selected for this honor due to his role in leading Leon County Government through unprecedented challenges, like the Great Recession, Hurricane Michael and the pandemic, all while launching significant programs, completing game-changing projects and strengthening Leon County's reputation.
» Robin Vernon CLU, ChFC, a partner and financial advisor with Proper Wealth in Tallahassee, has been accepted into the Forbes Finance Council, an invitation-only community of executives in accounting, financial planning, wealth and asset management, and investments. Vernon was selected by a review committee based on the depth and diversity of her experience. As a council member, she has access to exclusive opportunities to collaborate with other respected leaders who will help her reach her peak in professional influence. Further, Vernon will benefit from exclusive access to vetted business service partners, membership-branded marketing collateral, and the support of the Forbes Council's member concierge team.
» Tallahassee Community College (TCC) has been selected as a 2022 Most Promising Places to Work in Community Colleges award winner by Diverse: Issues in Higher Education and the National Institute for Staff and Organizational Development (NISOD). TCC was one of 24 colleges in the nation to receive this prestigious award. Colleges receiving this research-based designation have focused on workplace diversity, staffing practices and work environment in addition to being family-friendly, having great salaries and benefits and ample amounts of professional development opportunities.
» Gloria Pugh, CEO, AMWAT Moving Warehousing Storage was recognized as a top 100 women-led business in Florida by The Commonwealth Institute. The TCI-Florida recognizes female power players of women-led organizations across Florida based on revenue, DEI, innovation and customer service.
New and Notable
» Innovation Park hosted a groundbreaking celebration for the construction of the new, state-of-the-art business incubator, North Florida Innovation Labs. The new building will have 31 labs and 20 offices as well as coworking spaces, conference rooms and other amenities to support technology entrepreneurs. In addition to the biology and chemistry labs, the building will also have flexible lab spaces and a machine shop for creating product prototypes. The new 40,000-square-foot facility will support up to 100 technology companies and provide specialized programs and mentorship to support the growth of companies across northern Florida. The labs and programs are projected to produce over 600 full-time jobs in Tallahassee and surrounding regions.
Emerald Coast
Local Happenings
» HCA Florida Fort Walton-Destin Hospital announced the appointment of Karim Ghanem as vice president of operations. Ghanem has six years of experience in the health care industry and brings a strong clinical performance background to this role after serving as the director of performance improvement and a regional lead advanced practice clinician in HCA Healthcare's Capital Division. During his tenure in HCA Healthcare's Capital Division, Ghanem developed and executed multiple division and corporate initiatives, improving education and staffing. While working as a lead advanced-practice clinician, he was responsible for the budgeting, recruitment and onboarding of advanced-practice clinicians across four campuses.
Local Honors
» Hilton Sandestin Beach Golf Resort & Spa was granted the 2021 Award of Excellence in the United States and Canada by Hilton Hotels & Resorts. Each year, the corporation identifies properties that have provided exceptional services from the past year to determine winners.
» The St. Joe Community Foundation announced the winners of the 2022 No Ordinary JOE Scholarship as Wes Corbin of Walton High School and Kira Nguyen of Rutherford High School. Both were awarded $13,000 scholarship awards for college tuition. The No Ordinary JOE Scholarship was created to encourage students to become engaged in leadership and community service. An additional 13 students received $2,500 scholarships, and 27 students received $500 scholarships. Corbin plans to attend Auburn University for a degree in building construction, and Nguyen intends to attend Gulf Coast State College then the University of Central Florida to pursue pediatric dentistry.
» Hotel Effie announced it has been recognized by Tripadvisor as a 2022 Travelers' Choice Best of the Best award winner for hotels. Based on a full year of Tripadvisor reviews, the Travelers' Choice Awards is awarded to the top 1% of all hotels worldwide in guest comments and reviews, honoring the best in travel and recognizing the places that delivered the most exceptional experiences.
» Step One Automotive Group, based in Fort Walton Beach, was recently announced as a Top 150 Dealership Group in the U.S. by Automotive News. The Automotive News Research & Data Center surveys U.S. dealership groups to determine its annual ranking of the top 150 groups. Step One Auto is one of seven dealership groups that were new to the list. Step One Automotive Group owns 17 new car dealerships in Florida, Alabama and Georgia, representing 16 brands.
» HCA Florida Twin Cities Hospital has been named to the 2022 Fortune/Merative 100 Top Hospitals® list. This annual list recognizes excellence in clinical outcomes, operational efficiency, patient experience and financial health. This is the first time HCA Florida Twin Cities Hospital has been recognized with this honor as one of the top performing Small Community Hospitals in the U.S. HCA Florida Twin Cities Hospital is an award-winning, 65-bed hospital with a medical staff of over 150 physicians.
» Three Tri-County HCA Florida Healthcare teams received HCA Healthcare's nationwide Unit of Distinction (UOD) award for exemplary nursing. The award-winning units were HCA Florida Fort Walton-Destin Hospital: Cardiovascular intensive care unit and the women's and children's services; and HCA Florida Twin Cities Hospital: Medical-surgical unit. Launched in 2015, the annual UOD award program recognizes exemplary nursing units at HCA Healthcare facilities nationwide, where some 94,000 nurses are employed.
» The Pearl Hotel's Havana Beach Bar & Grill Restaurant earned the 2022 Wine Spectator Restaurant Award for its outstanding wine program. Havana Beach Bar & Grill has won the Award of Excellence, which recognizes restaurants whose wine lists feature a well-chosen assortment of quality producers along with a thematic match to the menu in both price and style.
New & Notable
» Popular brunch spot, Ruby Slipper, has opened at 34902 Emerald Coast Parkway. The New Orleans style restaurant serves breakfast, brunch and lunch.
» Shelley Sarmiento has joined the SCDC team as the director of commercial leasing and merchant relations. With over 35 years of experience, Sarmiento has held various leadership roles, executing effective growth strategies, driving commerce, strengthening brand recognition, reinventing concepts, incubating new businesses, and breathing creative life into national brands White House Black Market, Limited Brands/Victoria's Secret, Omega Apparel, Under Armour and Belmont University.
Bay
New & Notable
» Point South Marina at Port St. Joe will open its first phase in the fall of 2022. Phase one includes 252 dry-storage slips, 48 wet slips and a retail store.
» Ascension Sacred Heart Bay announced a new $6 million radiology unit set to open at the Panama City hospital. The suite will include a new MRI machine and upgraded imaging equipment. The opening coincides with the hospital's award as an American Heart Association SilverPlus Get With The Guidelines–Stroke quality achievement, demonstrating a commitment to the treatment of heart disease and stroke.
Gulf/Franklin
Local Happenings
» Kristal Smallwood was named director of the Gulf Coast State College Gulf/Franklin Campus.
» John Solomon, director of the Franklin County Tourist Development Council and executive director of the Apalachicola Bay Chamber of Commerce was named to the 2022–2023 Visit Florida board of directors. In 1995, Solomon served as the correctional officer sergeant and evidence officer at the Franklin County Sheriff's Office. He worked there for 19 years, transitioning to be executive director of the Apalachicola Bay Chamber in 2014. In 2019, he was named director of the Franklin County Tourist Development Council. Visit Florida's board provides guidance, input and insight for the state's marketing programs.