Innovation Park
Where science and business enhance each other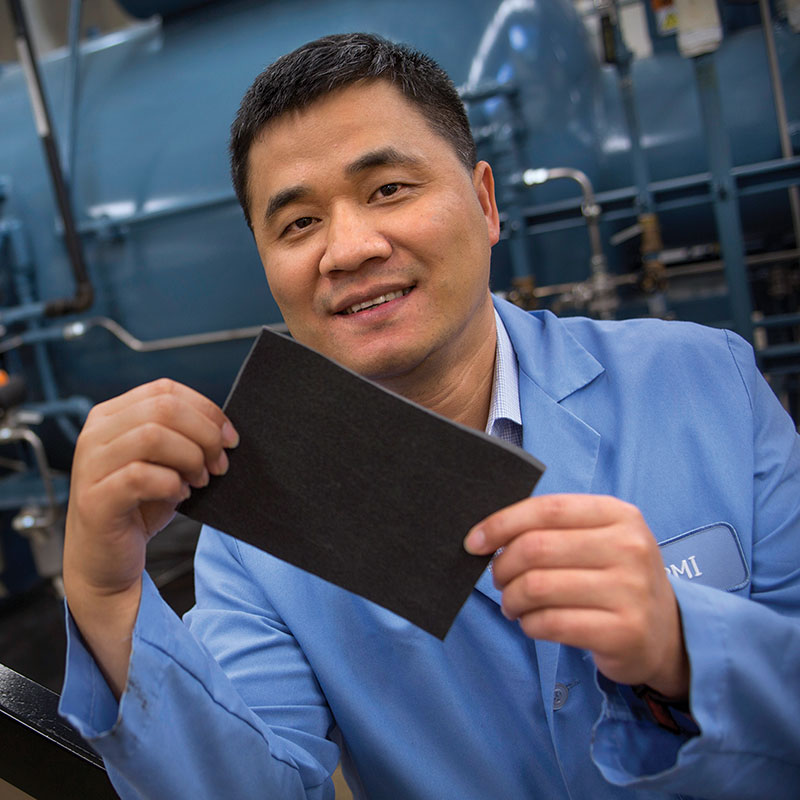 At Innovation Park, science and business dwell together in a symbiotic relationship. Located in southwest Tallahassee, the land that Innovation Park occupies was set aside by special charter in 1978 by the state of Florida so that university researchers and private tech companies could be housed side by side. The goal was for researchers, in addition to pursuing independent work, to help companies develop new products or improve existing ones. Being able to show examples of commercial applications for their work would also make it easier for the researchers to apply for grants.
There are 17 buildings within the park, nine of which belong to Florida State University, two to private owners, one to Florida A&M University and five to the Leon County Research and Development Authority (LCDRA), which manages and oversees the park. Today there are 35 organizations and businesses that make their home in Innovation Park, most of which are university-affiliated. They employ about 1,900 people. The park has an additional 44 acres that could be developed to house future businesses or research facilities, as well as a 12-acre outparcel that could be used for a housing development.
Innovation Park is not only an asset to the business and science communities, the 208-acre property is also a beautiful greenspace where wild deer, turtles and birds dwell in the woods and ponds next to the research facilities and high-tech manufacturing. While the park is currently a workplace, the LCDRA hopes to eventually build housing for graduate students and scholars and add nature trails to make it an attractive place to live and work.
Marvel in Real Life
One of the notable tenants based in Innovation Park is FSU's High Performance Materials Institute (HPMI). Some of the materials HPMI is developing sound like they came straight out of a Marvel superhero movie. Take buckypaper, for instance. Thanks to carbon nanotube technology, this paper-thin, black material has the potential to be 500 times stronger than steel, is flame-resistant, and has energy storage and electromagnetic shielding properties. Amazing, right? Potential uses for buckypaper could include lightning-strike protection on aircraft.
Buckypaper prototypes are currently being created on site by HPMI. At present, FSU is waiting for a viable private company to enter into a licensing agreement with it and begin manufacturing buckypaper on a wider scale.
Another recent invention that has come out of HPMI is auxetic foam. Developed by FSU Associate Professor of Manufacturing and Industrial Engineering Changchun "Chad" Zeng, this foam has special shape-changing properties. When it is compressed, auxetic foam moves toward the point of impact rather than away from it. This makes it perfect for absorbing impact; potential uses for the foam include body armor, prosthetic limb lining, hospital beds and football helmet lining.
A private startup company, Auxadyne LLC, based out of Keystone Heights, Florida, signed a licensing agreement with FSU in 2014 and has begun producing and sending foam prototypes to interested companies. Auxadyne's CEO, Joe Condon, said his company will focus on developing auxetic foam for use in athletic shoes and equipment, protective gear for first responders and medical device applications.
Aeropropulsion, Mechatronics and Energy Center
Another of Innovation Park's notable tenants is FSU's Aeropropulsion, Mechatronics and Energy (AME) Center. The aeropropulsion sector of its research deals with air flow, which refers to how air travels over the parts of an aircraft or other vehicle or object. Researchers at the center want to find ways to change aircraft design to make airplanes quieter and more efficient.
The mechatronics portion of the center deals with robotics, seeking to design robots that can maneuver easily and efficiently over difficult terrain, such as sandy or rocky areas, as well as robots that can run, climb or fly. The AME Center is equipped with dynamic motion analysis equipment and sophisticated manufacturing tools that researchers can use to build and test their designs.
The energy research the center engages in is designed with an eye toward finding ways to store and provide energy that is affordable, efficient and causes minimal harm to the environment. Current research at the center includes a project to develop a highly efficient, inexpensive portable PEMFC (proton exchange membrane fuel cell) system and some research into lithium-ion batteries, which could potentially be used one day to power electric cars.
Exporting Cool Air to the World
The biggest private business in Innovation Park is Danfoss' compressor manufacturing center. Danfoss, a large Danish company with manufacturing centers all over the world, creates a variety of machines and parts that are necessary for such applications as heating and cooling, refrigeration and industrial automation. The company's goal, according to its website, is to "do more with less," creating effective and sustainable technological solutions.
Danfoss Turbocor, a member of the Danfoss Group, has developed the world's first totally oil-free commercial refrigerant compressor specifically designed for the heating, ventilation and air conditioning (HVAC-R) industry. Thanks to the opportunities to collaborate with researchers and engineers in Innovation Park, the manufacturing facility currently in Tallahassee was moved from Montreal to Innovation Park. Since then, according to Danfoss Turbocor President Ricardo Schneider, Danfoss has collaborated with several of the research and development entities in the park, including the National High Magnetic Field Laboratory, the FSU High Performance Materials Institute and the AME Center, which helped the company improve the aerodynamics of its compressors. Their facility in Tallahassee employs more than 160 people.
"I know that just the proximity to the MagLab … has been fantastic for us, but also having lots of R&D (research and development) support from FSU has been probably one of the most valuable things in our manufacturing," Schneider says.
Planning for the Future
The LCRDA would like to make Innovation Park even more successful by adding more private businesses.
"The challenge that we've had at Innovation Park is that there's been more research facility development than there's been private sector development, and that is something that we're trying to remedy," LCRDA executive director Ron Miller says.
The LCDRA has a number of programs in place to encourage startup companies, including the Entrepreneurial Excellence Program and tech grants. The authority also wants to put a business incubator in the park, which would provide space for startups to house their companies, as well as equipment they could use to develop and test products, and other forms of support. Speaking of the park's current $500 million annual impact and future prospects, Miller says, "It is really a tremendous economic resource that's only going to grow."