Sound Bytes April/May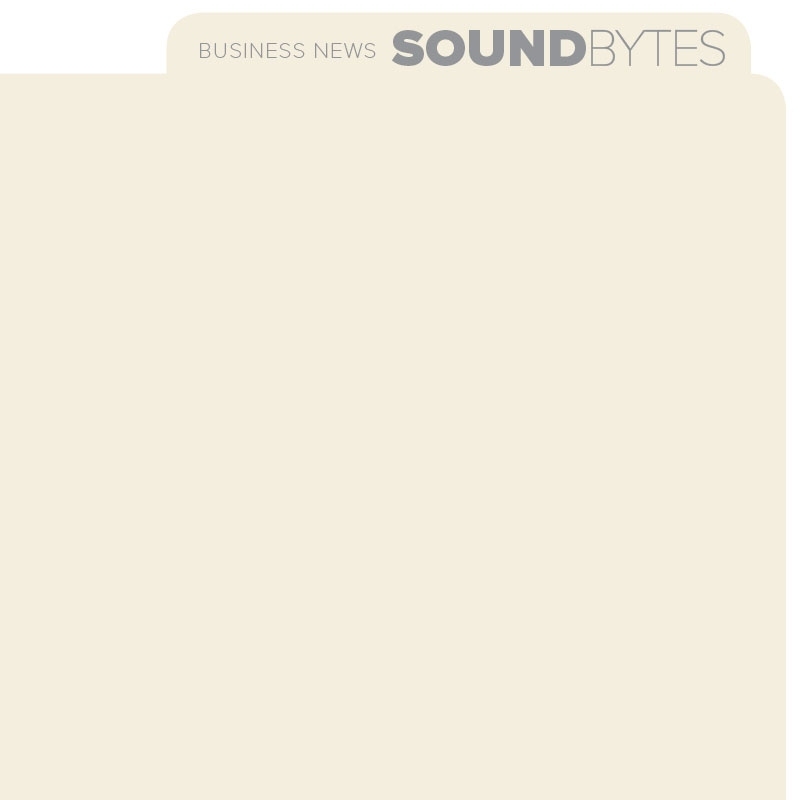 Capital
New Beginnings
Randy Hanna has returned to Bryant Miller Olive, where he served as managing shareholder from 1998 until he left the multi-state law firm in 2011 to serve as chancellor of the 28 colleges in the Florida College System. Hanna will also teach at the university level and consult with higher education institutions and organizations.
Herschel Vinyard, former secretary of the Florida Department of Environmental Protection, has joined Foley & Lardner's public affairs team as Of Counsel. His focus will be public policy and environmental regulation practices.
Cari Roth has joined the Tallahassee office of Dean Mead as Of Counsel in the Government Relations, Lobbying and Administrative Law practice group.
Ben Graybar is the new vice president and commercial banker for Hancock Bank. Graybar was previously vice president and commercial banker for Tallahassee State Bank.
Rob Lane was recently named Tallahassee city president, and Cindy Weier has been named vice president/branch manager for PeoplesSouth Bank's newly opened office located at 2920 Kerry Forest Parkway. Chartered in 1973, PeoplesSouth is a full service commercial bank with 24 locations throughout Southeast Alabama, Southwest Georgia and Northwest Florida.
The Florida Retail Federation,

representing retailers for over 75

years, has hired James Miller as its new communications director to implement and oversee a comprehensive marketing, communications and public outreach strategy. He previously served as vice president of communications and marketing for the Greater Tallahassee Chamber of Commerce.
Brian Proctor has joined NAI TALCOR as a commercial advisor.
Joe McCann, a 20-year public policy veteran, has joined Baker Donelson as a senior public policy advisor in the firm's State Public Policy group. He was formerly a senior vice president at Ballard Partners.
On the heels of the general election, Tallahassee-based VR Systems, which provides elections software and hardware products to 62 of Florida's 67 counties, expanded nationally with acquisition of the elections management assets of North Carolina's Decision Support. VR Systems will now operate in 104 jurisdictions across the country.
Florida is for Veterans Inc. has named Joe Marino as the corporation's chief operations officer. Marino is a graduate of the U.S. Military Academy at West Point and most recently worked with the Florida Defense Contractor's Association.
Anna Alexopoulos has joined the On3PR team and will serve as an account manager.
Farm Credit of Northwest Florida has welcomed Stephanie Kuhlman to the team as a loan processor in the Tallahassee office, where she will process loans and prepare loan-closing packages for the cooperative's Country Mortgages Division.
Ted Nation has joined the Waddell & Reed firm as a financial advisor in the Tallahassee area. Prior to joining Waddell & Reed, Nation, 39, was an owner of Nation One Financial.
Wilson & Associates, a Tallahassee-based lobbying and association management firm specializing in the fields of energy and construction, has expanded its team with the addition of Wayne Bertsch as vice president of Political Operations and Tami Torres-Fillyaw as a senior communications consultant. As part of its expansion, Chief Operating Officer Kari Hebrank has been promoted to partner.
Phil Morrison, a consultant and systems engineer, has joined Über Operations as its chief security officer.
Thomas Howell Ferguson has added three new hires to its Assurance Services Department — Manager Lori Martin, CPA, and staff members Catherine Carver and Taylor Harmon. Mark Hayes has been hired as a staff team member in the Tax Services Department.
Randi Jiang, Jason Norris and Christopher Salak have joined the Tallahassee office of James Moore, Certified Public Accountants and Consultants.
Local Promotions
Karl Blischke has been named director of the Division of Strategic Business Development at the Florida Department of Economic Opportunity.
International law firm Greenberg Traurig has elevated Karusha Y. Sharpe to Of Counsel in its Tallahassee office. She concentrates her practice on litigation matters involving products liability, consumer financial services, dealership law and employment law.
Tallahassee-based Partners in Association Management recently appointed two new vice presidents — Rachel Luoma, MS, CAE and John Ricco, MPA, CAE.
Katie Munday and Jeremy Smith, in the Tallahassee office of James Moore, Certified Public Accountants and Consultants, have been promoted. Munday is now a senior accountant and Smith an associate accountant.
Local Honors
Tallahassee attorney Elizabeth Ricci

has been recognized by the Florida Supreme Court for her work on behalf of poor and indigent clients. Ricci and her husband, Neil St. John Rambana, are managing partners of Rambana & Ricci, a multilingual immigration law practice in Tallahassee.
For the third year in a row, Dan Parisi, director of new business development for Rowland Publishing Inc., has been named Top Producer in overall advertising sales at the regional publishing house. In 2014, he sold the highest dollar volume for two of the company's flagship publications, Tallahassee Magazine and 850 — The Business Magazine of Northwest Florida.
E. Edward Murray Jr., CCIM, of NAI TALCOR, has achieved the prestigious SIOR Office designation. Individuals who hold the SIOR designation are top producers in the commercial real estate field and are represented in more than 630 cities in 29 countries around the world.
The American Marketing Association presented its 4th annual Higher Education Marketer of the Year Individual Award to creative strategist Jeanette DeDiemar. The award recognizes extraordinary leadership and achievement in the field of higher education marketing. Until recently, DeDiemar served as Florida State University's associate vice president for university relations and director of integrated marketing and communications.
Stacy Gromatski, president and CEO of the Florida Network of Youth and Family Services, has joined the board of Florida TaxWatch.
Alan Null and Rick Theobald, financial advisors with Waddell & Reed, have received the firm's 2015 Crest Award. Among the highest honors for the most productive financial advisors, Crest Awards were presented to less than 190 of Waddell & Reed's financial advisors, out of its national network of nearly 1,800.
Cathy Schroeder received the 2014 Silver Medal Award from the American Advertising Federation Tallahassee. She earned the club's highest award for showing success in her company, creative ability, general advancement of the advertising profession and contributions to the community.
A recent edition of Cooking with Paula Deen magazine named Chicken Salad Chick as the top spot in the country to try chicken salad. A section entitled "Ten to Try" features a different delicacy in each issue and highlights 10 favorite spots to find that particular food. Chicken Salad Chick has sold over 100 franchises across the states of Alabama, Florida, Georgia, North and South Carolina, Tennessee and Texas.
Appointed by Gov. Scott
Marc Dunbar, 44, of Tallahassee, to the Northwest Florida Water Management District.
Martin Fennema, 59, of Tallahassee, a professor at Florida State University, to the Board of Accountancy.
Dr. Randi Mackintosh, 30, of Tallahassee, a staff psychologist and the outreach director for the Florida State University Counseling Center, to the Board of Psychology.
Frank Messersmith, 72, of Crawfordville, a consultant for FSM Associates, to the Tallahassee Community College Board of Trustees.
Jay Pichard, 47, of Tallahassee, the owner of Pichard Holdings LLC, to the Florida Commission on Human Relations.
William Spiers Jr., 57, of Tallahassee, director of financial aid at Tallahassee Community College, to the Florida Fund for Minority Teachers Inc. board of directors.
Local Happenings
Moore Communications Group, an integrated communications firm, has acquired Denver-based Financial Social Media, one of the leading social media firms in the country.
Sachs Media Group has opened its third Florida location in Boca Raton. Amy Rosen has been named vice president of South Florida Operations and Marketing and will head up the new office.
Emerald Coast
New Beginnings
Clay Ingram has been elected to serve as the new president and CEO of the Greater Pensacola Chamber of Commerce. Ingram, a Pensacola native, is a member of the Florida House of Representatives, where he represents most of Escambia County. He was recently named chair of the House Transportation and Economic Development Appropriations subcommittee.
Blue Marlin Realty Group, one of the fastest growing real estate groups of the Emerald Coast, has expanded its team with new realtors Rick Moore and Shaun Gaiser.
Phillip Vlahos has been named president of Destin Custom Home Builders, part of the Legendary Family of Companies.
Lynnette Hayward, a nearly 30-year veteran of the retail industry, has been named the new director of retail for the Sandestin Family Retail Shops, which include Barefoot Princess, Island Clothiers, Coconut Kidz and Sandestin Clothing Company.
Ten years after Phillip Stutts & Company was formed, the firm has changed its name to Go Big Media Inc. and has moved to WaterSound, the new home of CEO Phillip Stutts. Dean Petrone, a veteran of Gov. Rick Scott's first gubernatorial run and later an aide in his administration, has also joined the firm as its new vice president.
Seagar's Prime Steaks and Seafood, Hilton Sandestin Beach Golf Resort & Spa's AAA Four-Diamond steakhouse, has appointed Paul Hawkins as the restaurant's new general manager.
IMS ExpertServices has hired seven employees: Shawn Bernard (IT technician), Julie Goldberg (research), Sam Wein (recruiting/data quality), Jessica Patrick (recruiting assistant), Meghan Sorrell (marketing), Erica Evans (sales and business development) and Cassie Powell (accounting specialist).
Local Promotions
Air Force Col. Daniel J. Orcutt of Hurlburt Field has been nominated for appointment to the rank of brigadier general. Orcutt is currently serving as commander, 505th Command and Control Wing, Air Combat Command, Hurlburt Field.
Joni Guerrera has been promoted to vice president of Sales and Marketing and Jeremy Holcomb to vice president of Operations for Legendary Yacht Club at Legendary Marine in Destin.
Dana Hahn has been promoted to Howard Group's vice president of Real Estate. Howard Group is a Northwest Florida portfolio real estate development company specializing in premier commercial developments and upscale resort residential properties.
Gulf Winds Federal Credit Union has announced several promotions: Stephanie Chase to vice president of Risk Management; Mary Pollard to assistant vice president of Consumer Lending; and Michael English to Marketing Analyst II.
Saltmarsh, Cleaveland & Gund has announced the following promotions in its Pensacola office: Whitney Bruner, CPA, and Lori Gambill to senior in the Financial Institutions Services Department; Stephen MacBeth, CRCM, and Rob Wilson to manager in the Financial Institutions Advisory Group; Mike Miller, CPA, CIT, and Beth Varhalla, CPA, to senior manager and Catie Purdon to senior in Tax and Accounting Services; Chuck Landers, CPA, CIT, to shareholder in Audit and Assurance Services.
Warren Averett, LLC, Certified Public Accountants and Advisors, has promoted seven employees to Members of the Firm, including Pensacola-based Jeff Helms, a member of the firm's Investment Committee.
Local Honors
The University of West Florida has been selected to receive the 2015 Community Engagement Classification, an honor given to 361 institutions nationwide by the Carnegie Foundation for the Advancement of Teaching. This is the first time UWF has received this prestigious classification.
Florida's Naval Air Station Pensacola and Naval Air Station Whiting Field won a sweep of the Navy's 2015 Installation Excellence Awards. NAS Pensacola was No. 1 in the large base category and Whiting was No. 1 in the small base category. The award lauds the top Navy commands at shore for their installation management, program excellence and community outreach. Now the two first-place winners compete for the nomination to represent the Navy for the DoD-wide 2015 Commander in Chief's Annual Award for Installation Excellence.
Thom Gossom Jr., has been elected chairman of the Auburn University Foundation Board — the first African-American to hold the position. Gossom is owner and president of Best Gurl Inc., a multi-platform communication company in Fort Walton Beach. He is also an executive-in-residence for Auburn Athletics, a director of the Okaloosa County Tourism Board and a member of the Via College of Osteopathic Medicine Auburn Advisory Board.
Kenneth Brooks Jr., a managing partner with Brooks, Warrick & Associates in Milton, has been honored by the Florida Supreme Court for his work on behalf of poor and indigent clients. Since 1992, he has contributed hundreds of hours of free legal assistance to those who are on the fringe of the community through age, disability or economic circumstances. He has also provided free legal service and advice to nonprofit groups that support local schools or serve the community in other ways.Pensacola Bayfront Stadium placed 12th out of 2,050 national venues on Stadium Journey magazine's list of the "Top 100 Stadium Experiences for 2014" — outranking such legendary peers as Fenway Park, Wrigley Field, the Rose Bowl Stadium, the Superdome and the Dallas Cowboys' new AT&T Stadium.
Pensacola Bay Center, celebrating its 30th anniversary in 2015, sold more than 73,800 tickets in 2014. This achievement placed the venue at 86th in the United States and 152nd in the world on Pollstar magazine's 2014 "Top 200 Arena Rankings."
The Destin Area Chamber of Commerce recently installed Newman-Dailey Resort Properties President Ken Wampler as the 2015 Chairman of the Board. Other members of the executive committee include: Chairman Elect Jonathan Ochs, Trustmark National Bank; Treasurer Bill Lindsley, SimpleHR/SimpleHIRE; Immediate Past Chairman Amy Perry, Pleat, Perry & Ritchie, P.A.; Vice Chairman – Communications & Marketing Julie Cotton, Northwest Florida State College; Vice Chairman – Community & Economic Development Lockwood Wernet, Destin Water Users Inc.; Vice Chairman – Membership Development Bob Perry, Destin Commons; and Vice Chairman – Harbor Advisory Committee Jami Jones, Destin Charter Service.
Jonathan Tallman, owner of The Tallman Group LLC, located in Niceville, has been named in Insurance Business America magazine's Hot 100 list for 2015. The annual list recognizes 100 people who have made waves in the insurance industry over the past year.
Two hotels in the St. Joe Club & ResortsSM collection — WaterColor® Inn & Resort and The Pearl Hotel, in addition to the WaterColor® Inn's onsite restaurant Fish Out of Water® — have received four-star ratings from the 2015 Forbes Travel Guide.
In a year of record-breaking tourism, a number of Pensacola Bay Area organizations earned national — and even international — acclaim for their initiatives, service delivery and innovation:

TripAdvisor recently announced its 2014 Travelers' Choice Awards, naming Pensacola's National Naval Aviation Museum one of the "Top 25 Museums in the United States," alongside the Smithsonian National Air and Space Museum and the Metropolitan Museum of Art. The museum, which celebrated its 50th anniversary in 2014, was also recently named to USA Today's list of "10 Best Military Museums."
Crowne Plaza Pensacola Grand Hotel and Holiday Inn Resort Pensacola Beach have each brought home an IHG (InterContinental Hotels Group) Quality Excellence Award — the third for both properties. The annual award is given to hotels that achieve "distinction in all aspects of their operations." IHG also honored Holiday Inn Resort Pensacola Beach with a sales award for Director of Sales Katie Kehoe.
Holiday Inn Express Pensacola Beach was named to the Expedia Insiders' Select list for 2014, marking the hotel's second consecutive year as a top-ranking Expedia-listed hotel. The hotel's staff were also presented with a second Kemmons Wilson Spirit of Family Award by InterContinental Hotels Group, a distinction given to just one Holiday Inn and Holiday Inn Express property in the North Americas each year. The hotel also took home the InterContinental Hotels Group Torchbearer Award — for the fifth consecutive year.

Emagination Unlimited Inc. of Pensacola received numerous ADDY Awards for exceptional creative design work at the American Advertising Federation of Pensacola 2015 American Advertising Awards. They took five Gold Awards, including digital advertising campaigns for Covenant Hospice and Pensacola International Airport.
Brittany Miller and Stephan Vance, of Pensacola digital marketing and public relations firm Ideaworks, have passed their Google Analytics Individual Qualification test. The certification, obtained through Google, demonstrates proficiency in data analysis and search engine optimization concepts.
Gulf Winds Federal Credit Union has earned BauerFinancial's 5-Star Superior rating for strength and security. A 5-Star Superior rating indicates excellence in areas of capital, loan quality, profitability and more. Gulf Winds Federal Credit Union has earned this highest rating for 82 consecutive quarters. Only 9 percent of the nation's credit unions have earned and maintained Bauer's top rating for so long and with such consistency.
SunQuest Cruises SOLARIS has been selected as a 2015 "Best of Weddings" winner for Destin weddings, a special section featured on The Knot's Web site. Winners represent the top 1 percent of reviews from recently married couples. This is the sixth consecutive year SOLARIS has been voted the winner of The Knot "Best of Weddings." SOLARIS is also one of only 748 new inductees into The Knot Best of Weddings Hall of Fame for 2015.
Local Happenings
Two industrial parks in Santa Rosa County have been certified by Gulf Power's "Florida First Sites" program — Northwest Florida Industrial Park at Interstate 10 and Santa Rosa County Industrial Park. Certification means the sites have proper zoning, service to utilities and meet other qualifications that make them ready for development. Both sites are targeting aerospace.
Aerosync Support Inc., a leader in helicopter repairs, modifications and upgrades, will expand in Santa Rosa County. The expansion will create 25 new jobs and a capital investment of at least $1.75 million in the region. The company provides global on-site labor support for Bell and Sikorsky helicopter products, servicing commercial and military markets.
Gulf Power is partnering with the U.S. Navy and U.S. Air Force to build solar energy farms at three different facilities across Northwest Florida. The utility submitted the renewable projects to the Florida Public Service Commission for approval, and the projects could be in service as early as December 2016. The solar energy farms will be constructed at Eglin AFB in Fort Walton Beach (30 megawatts), Holley Field in Navarre (40 megawatts) and Saufley Field in Pensacola (50 megawatts). Gulf Power will serve customers across Northwest Florida with power from these renewable energy-generating facilities.
Northwest Florida Regional Airport, located on the Eglin Air Force Base, has a new name — the Destin-Fort Walton Beach Airport. The change is designed to take advantage of two of the best known names in the region.
Two Northwest Florida television broadcasters have joined forces — Santa Rosa Beach-based 30a TV and Port St Joe-based Coastal Connection TV. Both companies will expand their programming to include broadcasts on cable, antenna, web TV ROKU, Amazon Fire TV and mobile devices. Live on location broadcasts will also be added, enabling simultaneous online and cable TV viewing.
Appointed by Gov. Scott
Lewis Bear Jr., 74, of Gulf Breeze, president of the Lewis Bear Company, to the University of West Florida Board of Trustees.
Belle Bear, 74, of Gulf Breeze, a community volunteer, to the Governor's Mansion Commission.
Richard Goff, 62, of Niceville, president of KG II Development, to the Florida Building Commission.
Chip Simmons, 50, of Cantonment, chief of police for the City of Pensacola, and Frank White, 36, of Pensacola, the general counsel and a business analyst for Sandy Sansing Dealerships, to the Pensacola State College Board of Trustees.
More Sound bytes on the next page…
Forgotten Coast
Local News
An economic impact study commissioned by the Port St. Joe Port Authority concludes that proposed port infrastructure improvements could generate nearly $133 million in net state revenues, representing a total return on investment of nearly $4.66 to state taxpayers for each state dollar invested in the project.

The study by the Washington Economic Group concluded the proposed port modernization plans will generate an average of 803 annual equivalent jobs from 2015 to 2025 and have a $941 million economic impact. The port authority this year is asking the state legislature for operational money.

The City of Port St. Joe is one of four communities selected by the Florida Department of Economic Opportunity to participate in the pilot program for the Competitive Florida Partnership, a new rural community development initiative. The state agency will assist the city in creating strategic economic development plans, such as a community asset inventory that will be made available to potential businesses wishing to expand in or move to Florida.
Appointed by Gov. Scott
Kathie Brown, 62, of Panacea, director of ReNu U Medical Spa, to the Department of Elder Affairs Advisory Council.
Bay
New Beginnings
Becca Hardin is the new president of the Bay Economic Development Alliance, replacing Neal Wade. She joined the EDA as senior vice president in the fall of 2014 after working 13 years as executive vice president of the Greater Columbus Georgia Chamber of Commerce.
Clifford Wilson III has been named president of Preble-Rish Inc., one of the largest locally owned engineering firms in Northwest Florida, with 13 offices in Florida, one in Alabama and one in Haiti. Wilson most recently served as interim Secretary of the Florida Department of Environmental Regulation.
Sandy Sims has been selected to serve as Gulf Power's new Eastern District general manager, taking responsibility for the utility's customer service and sales operations in the district that includes Panama City, Panama City Beach and Chipley. She is replacing John Ed McDanal, who retired in March after 34 years with the company. Sims most recently served as Gulf Power's Community Relations manager, overseeing the company's strategic community support of charitable activities and community engagement.
Local Happenings
Silver Airways has begun daily flights to Orlando and Tampa from the Northwest Florida Beaches International Airport (ECP) in Bay County. ECP is the 12th Florida airport to provide Silver Airways service.
I-10
Appointed by Gov. Scott
Michael McCormick, 59, of Bonifay, a paramedic supervisor with Holmes County EMS, to the Holmes County Hospital Corporation.
James Padgett, 84, of Marianna, a former Jackson County commissioner, to the Chipola College Board of Trustees.
Compiled by Linda Kleindienst