Six National Defense Summits Make Impact on Northwest Florida and Beyond
Military, contractors and business leaders merge at nationwide meeting opportunities revolving around defense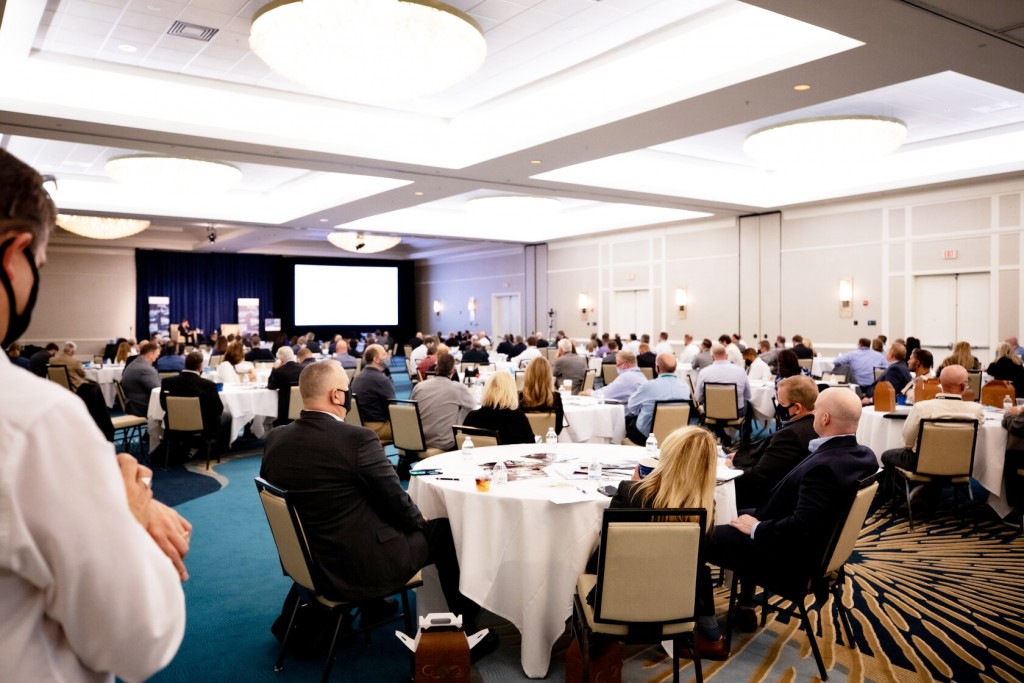 It is known that when a group with similar interests and intents gathers with purpose, great ideas and meaningful connections are often the result. Beginning in 1996, William Loiry recognized this need for a communal gathering of defense sectors, and that resulted in a series of homeland and global security and defense summits. What began as a summit in Washington, D.C., expanded to six yearly summits throughout the United States.
Loiry, a defense and security facilitator and business leader, started the summit series catering to Air Force Contracting, and it quickly included summits for each branch of service. The summits decentralized from Washington D.C., so that small- and mid-sized companies could participate without bearing the burden of travel.
As of 2022, the annual events include the Air Force Contracting Summit, Southwest Defense Contracting Summit, Navy Contracting Summit, MILCON Contracting Summit, Pacific Defense Contracting Summit and Northwest Florida Economic Summit.
"These summits are a matter of ensuring that thousands of U.S. companies interested in federal contracts can actually identify contracting opportunities and upcoming contracts," said Loiry. "We are active nationwide with those who are engaged with federal defense contracting or want to be."
The original summit, nearing its 10th year, is the Air Force Contracting Summit taking place at the Hilton Sandestin Beach Golf Resort & Spa Feb. 8–9, 2022. This comprehensive summit details the major areas of Air Force procurement bringing together contractors, subcontractors, military officials, defense agencies and business leaders.
The Southwest Defense Contracting Summit takes
place yearly in San Antonio, Texas, because it is home to Joint Base San Antonio, the largest U.S. military base worldwide. Commanders from JBSA speak alongside Army and Air Force officials from the Pentagon and other nationwide commands.
Each June, the Navy Contracting Summit is held in Norfolk, Virginia. This summit focuses on the latest news about Navy contracts, from major weapons platforms to IT/communications to shipyard modernization, and allows access to meet key Navy and Marine Corps decision-makers.
The MILCON Contracting Summit in Washington, D.C. in December hones in on military construction and energy contracts for all of the services — U.S. Army Corps of Engineers, Naval Facility Engineering Systems Command, Army Installations, and the Air Force Civil Engineer Center.
Two new summits will be introduced in 2022, the Pacific Defense Contracting Summit in Hawaii and the Northwest Florida Economic Summit in Panama City Beach.
A major emphasis of the Pacific Defense Contracting Summit will be procuring and delivering a wide range of assets and resources to military bases across the Pacific region, as a result of the expanding threat of China.
In late October 2022, the Northwest Florida Economic Summit will discuss ways to broaden Northwest Florida's economic base by diversifying the region to include defense and infrastructure alongside the continued emphasis on tourism. Following the theme of the other summits, this will address how small- and mid-sized companies can be awarded contracts in Northwest Florida.
Defense Leadership Forum national moderators are based in Washington, including Howard Snow, the former Deputy Assistant Secretary of the Navy, and Charles Sills, who has served in national security positions in the Pentagon, the Defense Intelligence Agency, the U.S. Middle East Force Command, and the Supreme Allied Command NATO/Atlantic.
The conferences will have the options of both in-person and virtual attendance. Each option allows attendees to meet with contractors, speakers and others in attendance.
Each summit provides an overview of the defense budget, an overview of commands' mission and operational priorities, speakers from the relevant service branches, and detailed briefings on defense contracting opportunities. The matchmaking sessions — or as Loiry refers to them, defense speed dating — allows those who sign up 7 minutes to pitch their expertise. At the end, the pair can decide if they will further collaborate on contracting.
Loiry is certainly making an impactful mark in defense leadership by providing opportunities for military and business leaders to join forces and merge ideas that will result in promising regional and national decisions empowering the increased defense of the United States.
» Want to Go? For more information on the 2022 Air Force Contracting Summit and the 2022 Northwest Florida Economic Summit, visitusdlf.org and northwestfloridaleadershipforum.org, respectively.
Northwest Florida Military Report
By William Loiry
Tyndall Air Force Base:
To build Tyndall Air Force Base's new 325th Fighter Wing Headquarters Facility, the U.S. Army Corps of Engineers has awarded the fourth rebuild military construction project contract. The $24.5 million contract was awarded to B.L. Harbert International for a two-story, 27,265-square-foot facility, which will house front office staff and a variety of support operations. "Like all of our planned MILCON projects, this new facility will ensure Tyndall Airmen have the environment and the tools needed to continue executing the mission for our Air Force and our nation," said Col. Greg Moseley, 325th Fighter Wing Commander. The $5 billion Tyndall AFB reconstruction program is a five-to-seven-year process, which includes more than 40 new
military construction projects and 260 facility sustainment restoration and modernization projects.
Eglin Air Force Base:
The Agile Weapons Division of the Air Force Armament Directorate, based at Eglin Air Force Base, has announced a new innovative contracting method known as the Eglin Wide Agile Acquisition Contract. "Eglin's Armament Enterprise took a monumental step forward toward advancing agile force-multiplier weapon capabilities," said Brig. Gen. Heath Collins, AF Program Executive Officer for the Weapons and Armament Directorate. "In today's environment, we can't bring new capabilities to bear fast enough." The program awarded the first contracts in less than two months.
NAS Whiting Field:
Vice Admiral Kenneth Whitesell, Chief of Naval Air Forces, has accepted the first TH-73A training helicopter from William Hunt, CEO of Leonardo's U.S. helicopter division. "This aircraft is going to be the centerpiece for our advanced helicopter training system," Whitesell noted. The TH-73As will operate with Training Air Wing Five (TAW-5) from NAS Whiting Field. "This delivery signifies a new era for naval aviation training," said Rear Admiral Robert Westendorff, Chief of Naval Aviation Training.