Seaside School Announces Multi-Million Dollar Expansion with NWFSC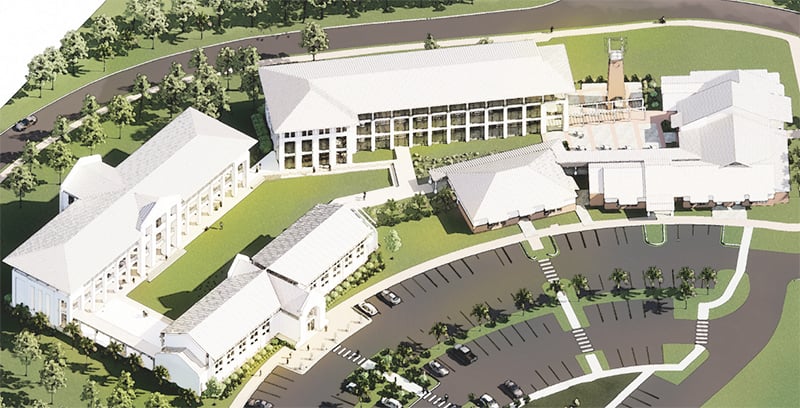 The Seaside School, Inc., Florida's oldest continuously operated public charter school and No. 1 combination public charter school in the state of Florida, announced the launch of the Seacoast Collegiate High School (SCHS) Expansion Project in partnership with Northwest Florida State College (NWFSC). This multi-million dollar expansion project will further expand the partnership between SCHS and NWFSC by providing a permanent home for SCHS at the South Walton Campus of NWFSC as well as developing a high school dual enrollment center for all students in Walton County. In addition, the new facility will include "The Accelerator" which will offer training, mentoring, and collaboration to new area businesses and entrepreneurs.
"Walton County and the surrounding areas are currently experiencing rapid growth," said Patrick McCarthy, Seaside School Foundation president. "We believe investing in the people of our community is needed and necessary now more than ever. By expanding this partnership between two historically successful institutions, we will make Walton County an even better place to live and thrive."
Currently, ninth and tenth grades at SCHS operate in five classrooms that are leased from NWFSC at the South Walton Campus. Students in eleventh and twelfth grades attend classes on the Niceville Campus of NWFSC. With this expansion project, The Seaside School, Inc. will be able to consolidate all high school students at the NWFSC South Walton Campus as well as expand the collegiate programs to more students in Walton County by adding additional instructional space for students in grades nine through twelve and the community.
"Our goal is to create a vibrant epicenter for not only dual enrollment education but also higher learning opportunities that will not only benefit our students, but will provide all high school students in Walton County more access to a college education and fulfill their educational goals," said Kim Mixson, The Seaside School, Inc. chief academic officer.
NWFSC is providing 5-acres of land on which The Seaside School, Inc. will construct new educational facilities consisting of three additional buildings for both SCHS and NWFSC classrooms, shared lab space, "The Accelerator" for workforce development, continuing education, and other workforce preparedness opportunities for the community, as well as green spaces to unite the campus.
"Our college's commitment to provide expansive educational and training opportunities for the citizens of Northwest Florida is evidenced once again in this strong partnership with Seacoast Collegiate High School. We believe dual enrollment opportunities are the key to advancing educational attainment in our region and in Florida," said Dr. Devin Stephenson, president of Northwest Florida State College.
Despite the growth, SCHS holds strong to their core values of providing a small learning environment with a focus on student's individual learning needs and independence in combination with a collegiate program. Over the last decade, SCHS has experienced great success and growth with the anticipation of graduating a class of 60 students this spring. The school has consistently had a 100% graduation rate and more students qualifying for the Bright Futures Scholarships than any other high school in Walton County as well as continually earning top academic scores.
"Our school has spent over 25 years supporting our students and their community. This project will allow us to remain committed to fostering a high level of academic achievement for our students while providing them with skills to contribute to the area's business community," said The Seaside School, Inc. director of Strategic Development, Joy Robbins. "Currently, our high school students are working on earning their Associate of Arts degree, but with this level of growth and expansion, we will be able to offer our students the opportunity to earn an Associate of Science degree with a concentration in Business Management."
The next step in this project is to secure funding and letters of support from stakeholders, community members, and through a variety of philanthropic initiatives led by the Seaside School Foundation whose primary mission is to take a long-term approach to raise, invest, and spend funds in support of The Seaside School, Inc. and to steward those funds so they provide support in perpetuity.
"The Seaside School Foundation is excited to bring our community along in this great adventure that involves the School community and so much more. We are not just building a high school that will serve only our students, we are building a dual enrollment center that will enroll and serve other high school and college students throughout Walton County." said Teresa Horton, executive director of the Seaside School Foundation. "The generosity of donors and philanthropic support is essential to make this very important project and vision a reality. A comprehensive center that provides an outstanding education, innovation, leadership, workforce development, continuing education and so much more, is definitely a worthy investment."
For more information on the Seacoast Collegiate High School Expansion Project including naming and gift opportunities, campus renderings, and upcoming informational sessions, visit SeasideSchools.net. The Seaside School, Inc., hopes to break ground on the new facilities this year with doors opening to students in 2025.