Journey to Success
A strong work ethic and can-do attitude has helped Jorge Garcia succeed in business and life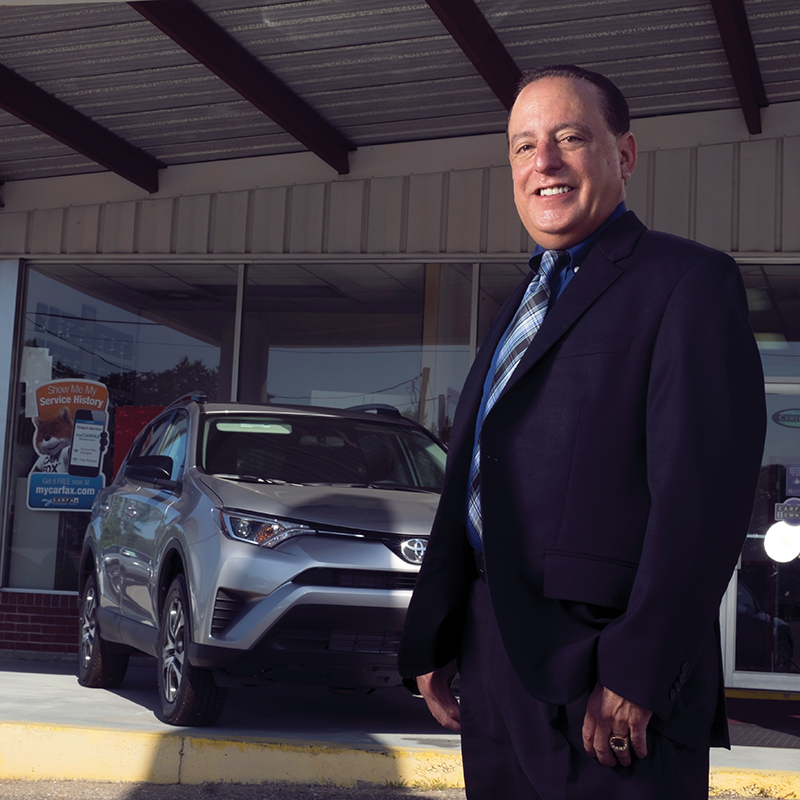 Sitting in his office at Marianna Toyota, Jorge Garcia is surrounded by family. On his walls hang photos of his wife, who he met at a square dance, his parents, children, grandchildren. His grandson's wrestling medals are in frames. And there is a photo of Dr. Landelino Cabrera, his uncle and a medical doctor, who arranged for him to leave Cuba and come to the United States in 1970.
When Garcia left Cuba at the age of 13, he didn't think it would be long before he would be reunited with his family. By the time they could come to this country via Spain in 1990, he would be married with children.
When finally arriving in the United States, Garcia's mother handed him two books of poems that she wrote while they were apart. She wrote them on days she was missing her son. Today a successful businessman and president of the town's Toyota dealership, Garcia, now 60 years old, still chokes back tears while remembering.
"From Havana to Marianna. It's been a journey," he says. "Marianna has been good to me. I just love it here. I can't see myself anywhere else. It's a good place to raise kids, grandkids."
After arriving in this country via Mexico, Garcia went to live with his uncle in New Jersey, but only a few years later his uncle announced they would be moving to Marianna, where he had been hired as a medical director at the state-run Sunland Center. Garcia enrolled at Marianna High School, graduated in 1975 and went to work on the assembly line at the Lehigh furniture plant during the day shift. He added on a job at the Louisiana Pacific lumberyard that he worked from the afternoon into the late evening hours. On weekends he sometimes pumped gas at Sheffield Oil.
"I needed to work two to three jobs to take care of my family. My first priority was my family," Garcia says. "I remember my dad telling me, 'If you don't take care of your family, you're not my son.' I didn't want to let him down."
Although he didn't attend college, Garcia's philosophy was to always be in the top 5 percent to 10 percent of the workers at his job, no matter what he was doing. He knew that if layoffs came, he would not be the one losing his job.
"I always took pride in my work," he says. "I said, 'If you hire me, I will do my best.' A lot of people do just enough to get by. Work more than you're getting paid for and you'll never have to worry about losing your job."
Garcia's involvement with the car industry began the day he walked into the Marianna Toyota dealership, owned by Quen Rahan, to buy a car in 1983. He was asked by the manager, Rick Miles, if he'd like to work there.
"I said, 'Well, I work on the assembly line and I stack wood and I pump gas every once in awhile.' And he said, 'If you pumped gas, you're in the car business!' " Garcia decided to walk through that door of opportunity, but not before getting a promise from his supervisor at the furniture plant that he could come back if the car business didn't work out.
A people-loving person — "I get my energy from being around people" — Garcia started out in sales and still proudly points to the plaques on the wall that prove he was salesman of the month for 2 1/2 years. He learned other elements of the car sales business step by step and eventually worked out a deal to buy the dealership, the final step in the deal coming in 2014.
At work, he is surrounded by people who have committed much of their lives to working at the dealership. Some have been there 25 to 30 years. The worker who handles detailing of the cars has been there 18 — as has the employee who answers the phone.
"There's very little turnover," Garcia says, then adds, "You're only as good as your people."
And the dealership is very involved in the community, which includes supporting local schools, recreation departments, Little League, Optimist Club and other clubs and, of course, the high-school wrestling team. (Remember the medals on the wall.)
"If anyone represents the spirit of America and the ideals we hold dear, George is the epitome of that," says Art Kimbrough, who served as head of the Jackson County Chamber of Commerce for 10 years and now is a chair of Vistage, a coaching organization for CEOs and executives. "He took to selling cars, and people fell in love with him because he outworked everybody. He's got an infectious energy about everything he does. And when he commits to do something in the community, it's done."
As his children grew into adulthood, Garcia says he told them that one of the most important things in life is to set goals.
"You need to have a positive mental attitude and set goals — short, intermediate and long-term goals," Garcia says. "A lot of people go through life with no goals."
Today his children work in a variety of fields. One son is a finance manager for another Toyota dealership, another is the used car manager at the Marianna dealership, and the youngest son is studying sports medicine. His daughter works for Eli Lilly and Company.
Asked if he plans to ever return to Cuba, Garcia says he will never say never. For now, however, he's content to be surrounded by family and dabble in his hobby of cooking Cuban dishes while he remains immersed in his dealership, preparing for a major remodeling project that he says is needed. As he eyes the plans that sit on his desk, Garcia is asked how much that is going to cost him. With a laugh, he answers, "I don't even want to know yet."