Q&A with Fat Clemenza's Owner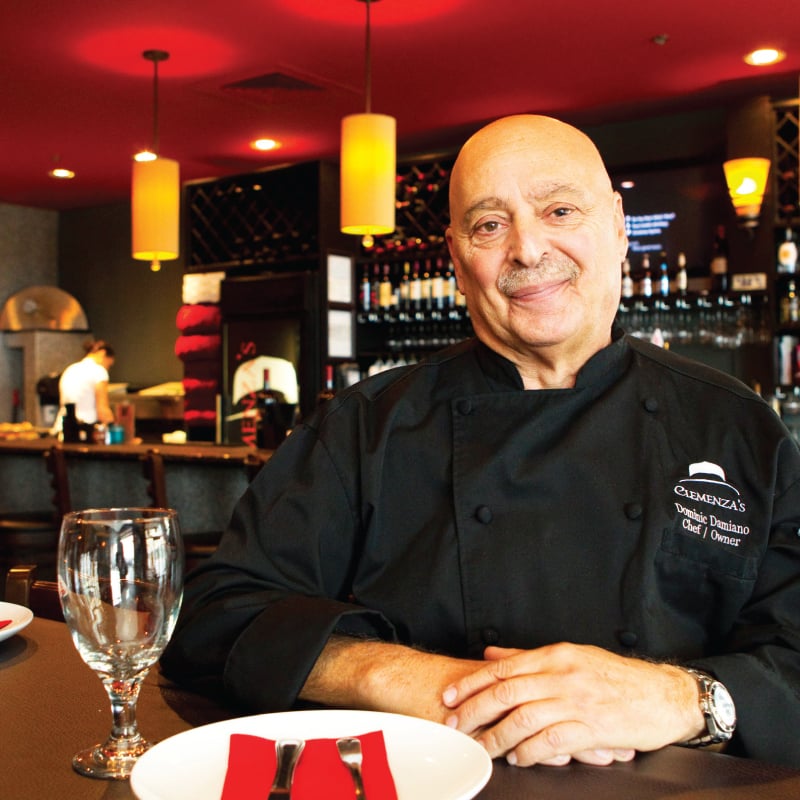 "Come over here, kid, learn something. You never know — you might have to cook for 20 guys someday," Peter Clemenza intones to a young Michael Corleone in one of the few light-hearted scenes from the iconic film, "The Godfather."
But cooking and doing it well is no joke to someone like Dominic Damiano, who can trace his family roots to Sicily and Calabria — the toe of Italy's boot.
Five years ago, Damiano and three partners — Chris Damiano, Mimmo LaInnusa and Saverio Jacovelli — turned a failed Destin restaurant called O Solo Mio into Fat Clemenza's, and the results have spoken for themselves. Once again in 2012, Fat Clemenza's won EC Magazine's Best Italian Restaurant and his weekend breakfast service, which he coined Mama Clemenza's European Breakfast, won Best Brunch.
In April of 2011 Damiano branched out by opening Clemenza's at Uptown Station in Fort Walton Beach. Both restaurants feature classic red-and-white checkered tablecloths and large black-and-white "family" portraits mounted on the walls. Some are actually Damiano's relatives, while others are famous for their association with La Cosa Nostra.
But as any seasoned diner can relate, it's not possible to eat atmosphere. And classic Italian cuisine is Clemenza's savory trademark.
How much did your family background influence what you are doing today? Both families were in the produce business and both families were phenomenal cooks and bakers — absolutely amazing. A lot of our events in our lives revolved around food, smells, tastes. There is a trigger mechanism to the comfortable things that go on.
Tell us about your earliest experiences in the kitchen. I think I started making St. Joseph's Day cookies when I was 10 years old. I had two sisters, and we didn't sleep in our beds at all that week, because they were covered with wax paper and about a million cookies … we fed an army on St. Joseph's Day.
How did Fat Clemenza's get its name? We kind of did the restaurant like how we grew up — we patterned it after every big city, urban restaurant that we'd ever been in. So we put 20 names in a hat. My name was, Leave the Gun, Take the Cannolis. My son said, "That was Fat Clemenza, Dad," and I thought, "Fat Clemenza was pretty cool — he only killed one guy and he cooked all the time."
In addition to your regular menu, you are famous for your blackboard specials. How did that come about? It's what we found growing up with neighborhood restaurants in Chicago, 'cause Gramma's in the kitchen cooking something special. We use the blackboard for a couple of reasons. One is we get to play every day. Someone in the kitchen is making something that's going on the board, whether it's a soup or dessert or entrée. The other reason is that it fills the need to expand the horizons on the customers' side. It gets them eating things that they might not have tried before.
You added a banquet facility in Fort Walton Beach, with a demonstration kitchen. Why? In the first six months I saw we had a lot of very big tables. It's not uncommon to have a 50 top. So the theory is to do the multi-purpose room next door, set up with audio/visual and whatever capabilities are required for corporate events as well as rehearsal dinners and banquets. It's doing very well; some months we're completely sold out. We are attracting a lot of military for private dining and dinners, which is great.
The cooking classes are doing well. We have Chef Dan Pettis and Yoshi from Harbor Docks. We keep it under 22 people. We can crank up a meal for our guests and hand them a few recipes, show them a few tricks to make it a dining experience. We have a lot of talented chefs at both restaurants at our disposal to showcase their skills.
Have there been any surprises at the Uptown Station location? I did not realize how much a need there was for lunch service. We are a "go to" spot for locals having business lunches. That's nice.