Ready for Takeoff
Aviation park adds to Santa Rosa county's attractiveness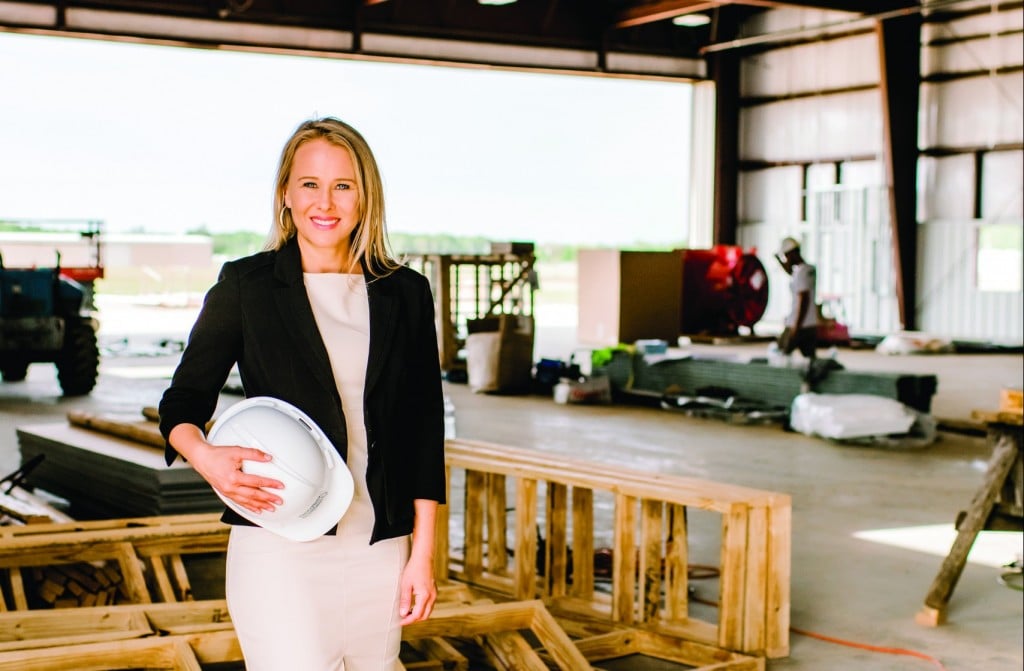 Erica Grancagnolo was fresh from a meeting with the Santa Rosa County Commission where conversation took place about a potential project at the Whiting Aviation Park.
Such discussions are happening regularly now that the first phase of construction at the 239-acre commercial/industrial park is nearing completion and attracting the attention of potential tenants.
Grancagnolo, the associate director of the Santa Rosa Economic Development Office (SREDO), doesn't mind. As a woman committed to doing what she can to make Santa Rosa County a better place for people to live and work, she is excited by the seeds of economic development and the potential that they represent.
"I'm excited to report that construction is in full swing, and we expect it to finish on time and on budget by early summer," said Grancagnolo, who heads the Whiting Aviation Park infrastructure project. "The park looks really beautiful. The massive stormwater pond has been installed, and most of the water and sewer infrastructure is in. The earthwork has been taken care of, and it's looking great out there."
She's giddy about the road currently being paved to Don Salter Boulevard, which leads to the park and bears the name of the longtime county commissioner who devoted 20 years to working to make the project happen.
But as construction at the park's first 68 acres ends, an even bigger undertaking begins.
"While we don't have a start date or all the funding lined up for Phase II, we will turn our focus to constructing a taxiway that will enable civilian tenants of our park to utilize the runway and control tower on the base," Grancagnolo said. "Because we'll be building on U.S. Navy property, it's going to require a lot of coordination."
Construction of the Whiting Aviation Park, which lies adjacent to Naval Air Station Whiting Field in Milton, relies upon a limited-access use agreement between Santa Rosa County and the Navy. The agreement allows for up to 75 operations by civil aircraft per day, including access to 6,000 feet of the Navy's two, bi-directional runways.
Funding for the $ı0 million infrastructure project came by way of Triumph Gulf Coast, whose investment in Santa Rosa County has been "transformational," Grancagnolo said. "We're looking forward to their continued support and know we wouldn't have this project without them. Companies won't come if we don't have shovel-ready sites."
That is, unless, you're Leonardo. The aerospace company, with U.S. headquarters in Pennsylvania, is the eighth largest defense contractor in the world and Whiting Aviation Park's first official tenant.
Upon winning a contract in 2020 to replace the Navy's fleet of TH-57 training helicopters, Leonardo committed to construction of a ı00,000-square-foot customer support center that will employ up to 50 people.
"Attracting a big name like Leonardo certainly puts us on the map," said Grancagnolo. "I know for them time is of the essence, and they're moving as quickly as possible to establish their presence here in Santa Rosa County."
According to Shannon Ogletree, director of the SREDO, the facility's construction has an ı8- to 24-month timeline. In the interim, he said, Leonardo is set to operate out of a new hangar at Prince Peter Airport in Milton by early June.
"Leonardo's CEO was just here (this spring) and like what they're seeing," said Ogletree. "Our focus now is working with them on the placement of the Whiting Aviation Park facility and all its nuances."
Ogletree said Leonardo put their faith in Santa Rosa County, recognizing its strong military presence and abundant, experienced workforce. (The area is currently home to about 34,000 military retirees and gains around 2,400 retirees per year.)
A strong talent pipeline from the area's military installations isn't the only incentive for the park's potential tenants, however.
"Our board of county commissioners has been very forward thinking in terms of economic development, and that's why we have successes like Leonardo," said Grancagnolo. "One thing our board has approved is land pricing guidelines for our industrial parks, so we're able to discount land based on the number of jobs created, the wages of those jobs and capital investment."
Too, there is the opportunity of establishing a relationship with Space Florida, an economic development association devoted to shaping the state's next generation of aviation and aerospace businesses. Grancagnolo said Space Florida will work with the park's companies on facility and equipment financing, which will result in many long-term benefits.
Ogletree said that while no new companies have yet committed to Whiting Aviation Park, two entities are currently "kicking the tires."
"Now that we have Leonardo, people are starting to see that something must be going on in Santa Rosa County," he said. "We're getting a lot more looks from companies that wouldn't have even considered us before."