Northwest Florida Military Report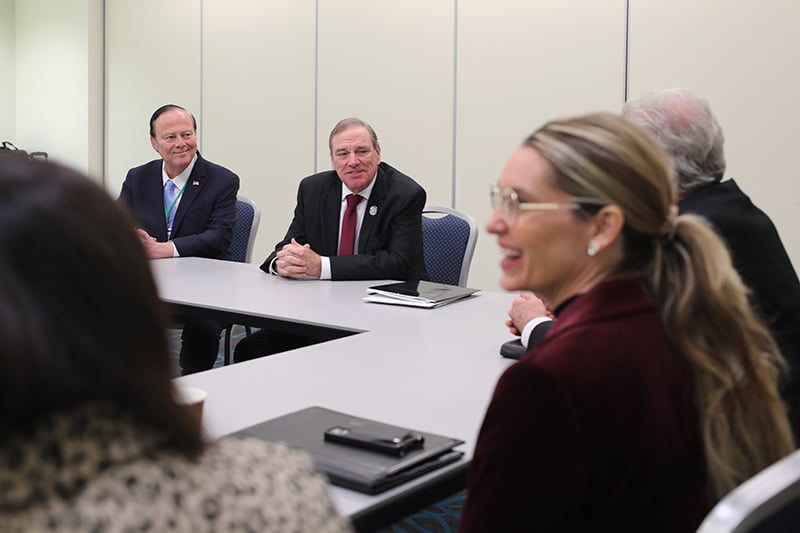 More than 700 military and government officials, business associations and defense contractors participated in the 10th annual Air Force Contracting Summit on Feb. 7-8, 2023, at the Hilton Sandestin Beach Golf Resort & Spa.
Almost 30 military and industry speakers filled the two-day program, organized by the Defense Leadership Forum, a public service organization. U.S. Rep. Neal Dunn (FL-2) provided the Summit Keynote Address.
Air Force Command presentations were provided by a host of installations, directorates and commands. Additional government presentations were provided by NASA SEWP and NITAAC.
Industry presentations were provided by AT&T Defense & National Security; Bank of America; Capitol Integration; Horsley Construction Group; Lockheed Martin; Mohawk Valley Materials; National Energy U.S.A.; Raytheon Intelligence & Space; Schneider Electric; and Unanet.
Congressman Dunn, who serves on the House China Select Committee, said that with rising tensions and risks, especially from China, the nation needs private-sector contractors and experts working in concert with uniformed military.
"My experience in Congress has taught me that if you can get the state and local partners, such as the people at this summit, the tools to understand and strengthen supply chains in their regions — and then get out of their way — they become better partners for providing for our national security," Dunn said.
Of special interest to the audience was a presentation on the multi-billion dollar reconstruction program for Tyndall AFB provided by Col. Patrick Combs, Deputy District Commander, Mobile District, U.S. Army Corps of Engineers.
Lt. Col. (USAF Ret), Steve Loken, deputy base civil engineer at Hurlburt Field, provided an update on the latest Air Force energy resilience contracts. Wayland Patterson, chief of the Air Force Contract Augmentation Program (AFCAP), provided insight into Air Force contingency contracting. And Claire Reynolds, representing the U.S. Army Partnership Program in the Pentagon, provided details on the latest military base/community partnerships.
The 11th Annual Air Force Contracting Summit will take place in February 2024. See usdlf.org for particulars.
---