More Than a Game
Minor league baseball broadens Pensacola's appeal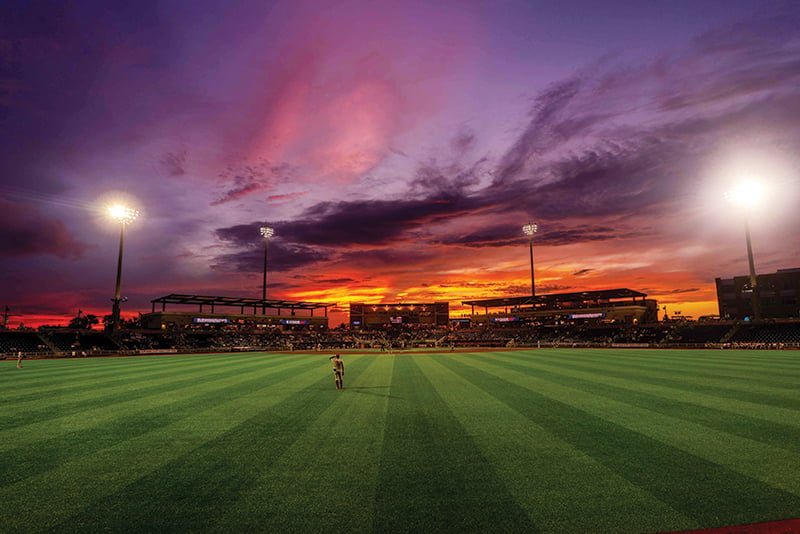 An athlete at any level experiences a special kind of exhilaration when he steps into a batter's box, toes the starting line for a running race or takes his place on a soccer field with the opening kickoff moments away. Such moments are gravid with possibility.
This may be the day that the underdog prevails, a pitcher hurls a no-hitter or a back-of-the-pack runner makes a late charge and finishes first.
For spectators, sporting events present opportunities to watch competitors strive for excellence within prescribed boundaries and reasonable blocks of time; their appeal dates to the first Olympiad and beyond.
Communities within Northwest Florida, heavily dependent upon tourism, have taken steps to gather visitors by investing in sports venues, employing new technologies to enhance the spectator experience and strengthening the ties between teams and the fans who support them. – Steve Bornhoft, Executive Editor, 850 Business Magazine
It is one of the most spectacular settings in all of minor league baseball and a major component in the revitalization of Downtown Pensacola.
The Pensacola Blue Wahoos, a Double-A minor league affiliate of the Miami Marlins, play their home games at Admiral Fetterman Field, a 5,038-seat stadium that faces Pensacola Bay.
Jonathan Griffith, the president of Studer Family of Companies, an owner of the Wahoos, said baseball is central to what happens at the stadium, but the stadium is part of a larger mission.
"The ball club is more than the baseball," Griffith said. "Improving the quality of life in our community is truly our mission."
Quint Studer is an entrepreneur, businessman, author and visionary who came to Pensacola in the late 1990s and succeeded very well as the founder of a health care consulting company. He and his wife, Rishy, soon became known for their philanthropic efforts throughout their adopted community — supporting health care providers, nonprofits, research and scholarship programs, as well as making a $2.25 million donation to help build Pensacola's Community Maritime Park.
That $54-million, city-owned project includes commercial buildings, a public park, an amphitheater and the $24 million Blue Wahoos stadium, where the team has played since 2012.
"Baseball was a way to get people to want to live here and work here, to have entertainment for the families here and to rejuvenate the downtown area," Griffith said. "The goal was to improve the quality of life in our community. We had so many people leaving here for jobs in places like Atlanta and New Orleans, so the concept was: What can we have that will make you want to live in this town? What will make you want to come to Pensacola, and how do we get people to stay? The baseball team was kind of a tool for that."
Griffith said that the Blue Wahoos franchise is profitable but stressed that the Studers, themselves, don't make money from the franchise. "They've never taken a check from here," he said. "They reinvest every dollar that they get from the ball club back into the community."
The Blue Wahoos Stadium operates year-round and hosts over 250 events annually, including youth and community athletics, fundraisers for local nonprofits, school field trips and many types of social events, including parties, weddings and graduations. Some of its operations benefit local businesses, such as when the stadium hosts a wintertime Division 3 college baseball tournament.
"We have nine teams with an average of 40 players here for a week and a half," Griffith said. "That's a lot of beds. Taxes are being paid, food eaten. We're not charging anything; we host them. But by them all coming down here, now they're fans of our community, and the parents tell me they want to come back here for vacation. So we're doing this for the community. This is not a thing that we do to make money. We account for about $200,000 a year just in hotel stays for the Blue Wahoos games, alone."
The Wahoos' stadium has 18 billboards for rent, as well as company and organization signage opportunities everywhere you look: on the scoreboards, the dugouts, the on-deck circles, the foul lines, even on bathroom mirrors, napkin dispensers and trash cans. But its theme nights are the Wahoos' biggest draw. Whether it's Grilled Cheese Day, Star Wars Night, World Oceans Night, Junk Food Day or School of Rock Night, the fans come en masse to enjoy the fun and the spectacle. And they even get to watch a baseball game.
The stadium employs roughly 40 full-time people and, throughout the year, another 400-500 part-timers.
"We're a lot of people's first job, and we're a lot of people's last job," Griffith said. "We employ people with disabilities. One of our guys in a wheelchair never had a job until he got here. One of the things he told me is that we changed his life because he feels normal here. He gets to work; he gets to interact with fans. We have truly improved his quality of life by being able to have a job."
For Griffith and all involved with the Wahoos, providing a superior customer experience is a top priority.
"Our big thing is training and customer service," Griffith said. "We put so much effort into that — making sure that our customer service is top-notch. And not only do we say it, we measure it as well. We survey every single game before the seventh inning; it's something every full-time manager has to do to make sure we're on point.
"This past year, we had a net promoter score of 90.2. Our big goal is that when you come to a ballgame here, you might not know who won the game, but you will talk about the entertainment. That's what we're all about, that family entertainment. We do a lot of fun activities. We're interactive to get fans involved in the game. The more you can get a family involved in the game, the more they feel part of the Wahoos."
New promotions were on tap for the current season.
"On Doggone Tuesday, dogs will be allowed at the ballpark, and you also get a hotdog, chips and a drink. We're also going to have a $25 soda and a $25 popcorn. The benefit is that you can use that cup and that popcorn bucket for the rest of the year and get free refills all year long. Somebody that's loyal to us, season ticket holders that go to 50 games a year, we're always looking how we can thank them and reward them."
Some events at the ballpark are intended to cause fans to cheer for more than the Wahoos.
"We do a thing with Ascension Sacred Heart, which is the local hospital here," Griffith said. "We call it Home Run for Life, where we celebrate, once a month, a miraculous thing that the hospital has done — a cancer patient who's gone into remission or somebody who recovered from a car accident. They're able to come here, and we bring the entire staff that worked with that patient, and we tell their story. They run around the bases and high-five all the players. It's so impactful for that family and our fans. There's not a dry eye in the ballpark when that happens."
The team also hosts youngsters with terminal cancer.
"We try to find those people that we can help, to give them a bright day and not think about whatever troubles they are having," Griffith said. "We have pictures of families who were here for the last great memory they had of their child's life. Because we're here, because Quint and Rishy made this investment in the community, they're able to have that time with their child."
For Griffith, the score of the game is always secondary.
"We're about making those family memories. So, the Wahoos could lose the game, 20-0, or we could win a close game. But you don't even care."
---