Leading by Example
Costa family promotes career development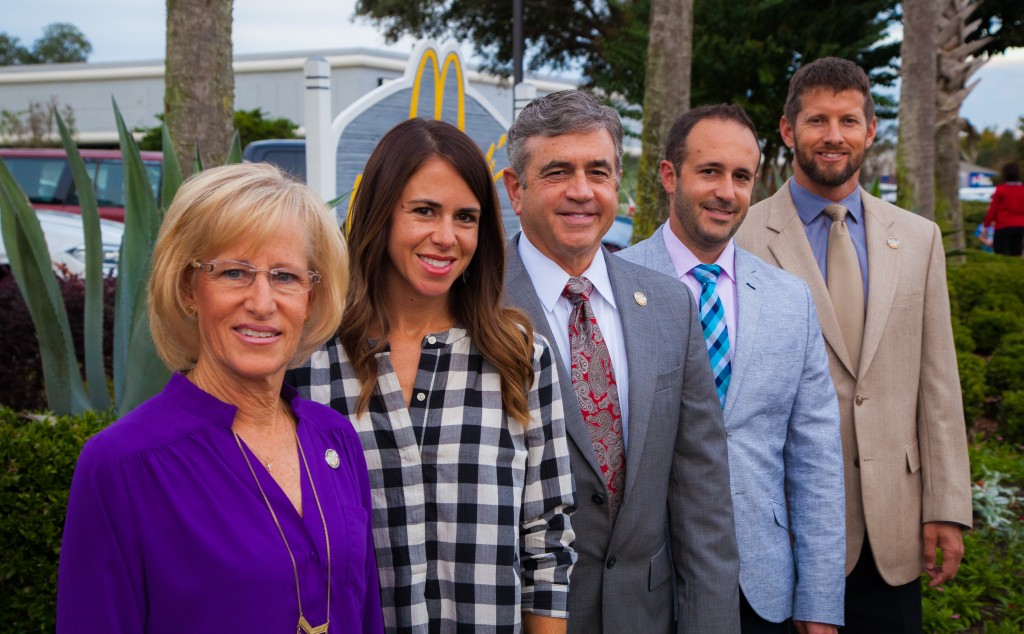 As the member of a family that owns and operates two dozen McDonald's restaurant franchises, David Costa Jr. has served as a mentor to dozens of young people working what the parent company calls "America's best first job."
About those entry-level employees, Costa has exclusively positive things to say. He is especially close to the Costa Enterprises restaurant located near Northwest Florida State College in Niceville.
"We have been extremely impressed with both the abilities and the work ethic of students from Niceville area schools who work in our restaurants," Costa said during an interview. "As they enter the workforce, we help them learn the basics of the job and how to work with others and with the general public."
Costa, 39, was born in Wichita, Kansas, when his father was in the U.S. Air Force. His family moved to Florida when he was 5. Costa graduated Niceville High School and attended Northwest Florida State College when it was known as Okaloosa-Walton Community College. He earned a bachelor's degree from the University of West Florida in Pensacola and a master's in business administration from the University of Florida.
The McDonald's restaurants owned by Costa, his father, David Sr., and his sister, Amy Killebrew, dot an oval that extends from Navarre to Crestview, Marianna, Blountstown, Port St. Joe and Panama City. Costa serves the family business as its chief of operations.
The family, Costa said, is passionate about giving back to the community and in Northwest Florida State College, it has found an ideal outlet for that desire.
"We are constantly trying to help people achieve their potential and develop leadership skills as members of our organization," Costa said. "We asked ourselves how we could get involved in something outside of our business that would further people in their lives and professional careers."
The family took note of progress being made by the college toward bringing about a program for leadership training and found that it was the "perfect fit."
Today, the third floor of the Raider Central Building on the Niceville campus of NWFSC is named the Costa Leadership Institute. Its offerings are paid for with interest generated by an endowment established by the Costa family.
"The Costa Leadership Institute is a little bit different because the courses there are not credit courses," Costa said. "We offer professional continuing education — programs that help people who are with companies or anyone who wants to improve his professional skills."
The leadership institute's classes are open to students enrolled in for-credit classes at NWFSC, college employees and the general public. Costa said that the institute offers instruction on subjects, including professional writing, public speaking, photography and Microsoft Excel.
"They complement what students and employees are doing already," Costa said. "The classes are well-suited for people who have already selected a profession and want to enhance their business and professional skills."
"The Leadership Institute is the No. ı spot we go to host any of our trainings," said Bill Allison, NWFSC's director of strategic workforce solutions.
He noted, for example, that the Costa Leadership Institute made possible the delivery of Disney corporation customer-service training to 100 students last November.
In addition, Allison manages beneath his umbrella activities conducted at the college related to the Leadership Okaloosa program, which involves chambers of commerce throughout Okaloosa County.
The Costa Leadership Institute provided scholarship support to the nine-month program, which enhances participants' networking and leadership skills, offers 25 hours of leadership development training and also provides tours of Okaloosa County.
The class meets once a month from September to May. Participants receive classroom training and interact with key community leaders throughout the process. A highlight of the program is a two-day trip to Tallahassee for the Legislative Day meetings. And, all participants take part in a group project with a focus on city and county government.
Allison anticipates that going forward, the Costa Leadership Institute will offer quarterly leadership training opportunities that will be free and open to the public.
"We want to offer high-level transferable leadership skills that would benefit any industry," Allison said. He has in mind, subject to Costa family approval, three topics: effective communication in the workplace; ethics; and intergenerational communication.
"We're seeing intergenerational issues at all levels of leadership," Allison said. "I'm a great example. I am a millennial with staff members who are boomers and everything in between.
"That's a situation that presents both challenges and opportunities.
"The leadership institute exists to create prosperity among businesses in Okaloosa County, and that's exactly what I aim to do. The support of the Costa family is vital to that effort."
The Costa Leadership Institute, by providing customized training for businesses, strengthens the connection between Northwest Florida State College and the business community, said Cristie Kedroski, the college's vice president of college advancement.
"Northwest Florida State College has always been a great partner with the business community and with the community as a whole," Costa said. "We recently hosted a large breakfast there for the Fellowship of Christian Athletes, an event that brought together businesses and the school system. (NWFSC president) Dr. Devin Stevenson has done a good job letting employers know that the college wants to work with them."
Costa finds that NWFSC is a "pillar of the community in the ways it gives back. It is helping our area become more relevant. We see people coming into the area to go to the Mattie Kelly Arts Center for a concert, show or play. And, lifelong learning is critical on the leadership institute side, as well."
Costa encourages people he meets to visit the "world-class facilities at our college."
"People don't realize what a nice gym we have here in Niceville," Costa said. "And, the administration has made a lot of positive changes to increase participation there by students."
He anticipates that on-campus housing is not far off for NWFSC, and he would like to see the college do more to promote and host youth athletic programs.
Meanwhile, he and his family will continue to offer tuition scholarships to their employees who wish to attend NWFSC.
And, Costa is always in hiring mode.
"Automation may help us with a few aspects of the business, but right now, there are not enough young people available to fill entry-level jobs," he said in February. You see 'Now Hiring' signs everywhere. The unemployment rate is as low as it's been in 50 years."