Business Sound Bytes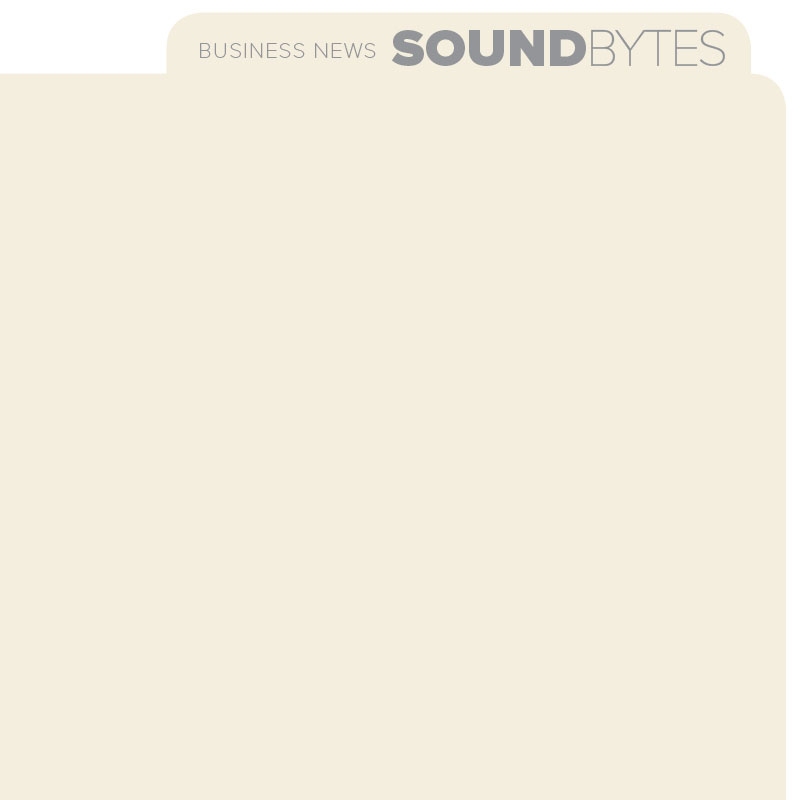 Capital
New Beginnings
>> A new leadership team has been installed at the Economic Development Council of Tallahassee/Leon County Inc., led by Kyle Touchstone as executive vice president and Ben Pingree, the new vice president of Business Retention/Expansion and Public Policy.
>> Government affairs firm Ballard Partners has added a new partner, Brad Burleson, to its Tallahassee team.
>> Amanda Karioth Thompson has been named interim executive director of the Council on Culture and Arts.
>> Tim Nungesser is the new legislative director of the National Federation of Independent Business/Florida.
>> Matt Ham has opened the Computer Repair Doctor on E. Tennessee St. across from Leon High School, specializing in laptop and iPhone repairs.
>> Charles Belvin Productions and Chucha Barber Productions have combined resources and launched a new website, impactvisualmedia.com, to promote their services.
>> Nick Waller, former general manager of WCTV (Tallahassee/Thomasville) and WSWG (Moultrie/Albany), is now the senior vice president of Gray Television and will oversee all TV stations in the South and East, including WCTV. General Sales Manager Heather Peeples has been picked to succeed him as general manager of WCTV and WSWG.
>> Thomas Howell Ferguson P.A., a professional accounting, assurance and tax services firm headquartered in Tallahassee, has added Becca Gilbert as its new senior manager of marketing and business development.
>> Moore Communications Group has promoted Nanette Schimpf, APR, CPRC, to vice president.
>> Alex Bello has joined Über Operations as a data integeration engineer. He will be working with the Florida Department of Health to develop a new HIV/AIDS Program Data Reporting System.
>> Hunter+Harp Hospitality has named Randy Esponda as operating partner of Recess, the only rooftop pool lounge in Northwest Florida, opening this fall in CollegeTown.
>> Dr. Chris DeRosier, a board-certified plastic surgeon, has joined Southeastern Plastic Surgery.
>> Tyrone Brooks has joined The Tallahassee Ballet as the artistic director for the 2013–2014 season.
>> Carter DeWitt has been named chief development officer for Florida TaxWatch. Robert E. Weissert has been promoted to chief research officer and general counsel.
>> Shawn Roberts, senior project manager with Mad Dog Construction since 2010, has been promoted to chief operating officer.
Local Happenings
>> Sachs Media Group is opening a new office in Washington, D.C. Media relations expert and former journalist Mark Pankowski will head the office. The firm also has offices in Tallahassee and Orlando.
>> Ajax Building Corporation has completed the Leon County and City of Tallahassee Public Safety Complex. The $29.9 million, 100,000-square-foot facility is the new home to the Consolidated Dispatch Agency, Leon County Emergency Medical Services, Tallahassee Fire Department Administration, the City of Tallahassee Regional Transportation Management Center and the Leon County Emergency Operations Center.
>> TeligentEMS has achieved certification to the ISO 13485 quality standard, an internationally recognized quality standard that requires an organization to demonstrate that it has the comprehensive quality management systems in place to consistently meet the specific customer and regulatory requirements applicable to medical equipment. The company's customers are in the medical, instrumentation, military, communications and industrial markets.
Legal Affairs
>> Former Bankruptcy Judge Lewis M. Killian Jr. has joined Berger Singerman LLP as Of Counsel and a member of the firm's Business Reorganization Team in the Tallahassee office. Killian served as the Chief Bankruptcy Judge of the United States Bankruptcy Court for the Northern District of Florida for more than 25 years.
>> Radey Thomas Yon & Clark has launched a new name and brand — Radey Law Firm — to position it for future growth.
>> Michael P. Harrell and Marnie L. George have joined the Pennington P.A. Governmental and Legislative Affairs team. Harrell has been named senior government affairs consultant and George has been named government affairs consultant.
>> Robert J. Sniffen, managing partner and founder of Sniffen & Spellman P.A., is ranked in Chambers USA 2013.
>> Carlton Fields has added Michael "Kip" Krieger as an associate in its Tallahassee office.
>> Gregory M. Munson, an attorney and former deputy secretary for water policy with the Florida Department of Environmental Protection, has joined the Gunster law firm as a shareholder in its Tallahassee office.
Local honors
>> Kay Stephenson, co-founder, president and CEO of Datamaxx Group Inc., was recently elected to the board of directors of the Integrated Justice Information Systems (IJIS) Institute, a nonprofit organization dedicated to uniting the private and public sectors to improve mission-critical information sharing.
>> Summit East Technology Park received the 2013 Statewide ENVY Award for commercial developments from Florida Realtors as the commercial developer that has made the most significant contribution toward building in harmony with Florida's sensitive environment.
>> Über Operations is a recipient of the 2013 Florida Companies to WatchSM award, an honor presented by GrowFL in association with the Edward Lowe Foundation.
>> Integrated marketing firm Taproot Creative has been selected as an official honoree in the Law category for the 17th Annual Webby Awards for design and development of the Hopping Green & Sams website, hgslaw.com.
>> The Florida Society of Association Executives recently named two Tallahassee business leaders as winners of its 2013 Leadership Awards: James R. Ayotte, CAE, executive director of the Florida Manufactured Housing Association — Executive Member of the Year, and Jim Wacksman, CEO of Association Studios — Rising Star.
>> Florida mass care coordinator Michael Whitehead of Tallahassee won the Craig Irwin Memorial Award at the FEMA Region IV annual Individual Assistance Conference in Atlanta. Following a disaster, individual assistance and/or mass care programs coordinate with federal, state, local and voluntary/non-profit entities to provide recovery assistance to survivors.
>> The American Red Cross Capital Area Chapter's new board officers are: Chairman — Gregg Patterson, CEO Innovative Management Services; 1st Vice Chair — Sherrie Kishbaugh, senior vice president of operations, Mainline Information Systems; 2nd Vice Chair — Bob Lotane, senior consultant Hill & Knowlton Strategies;
3rd Vice Chair — Felicia Nowels, partner, Akerman Senterfitt; treasurer — Betsy Miller, audit manager, Thomas Howell Ferguson P.A. New board members are: Mary Wachob, Capital City Bank; Rob Lane, BB&T; Tom Derzypolski, BowStern.
Appointed by Gov. Scott
>> John B. Girdler III and Stanley T. Davis to the Board of Opticianry. Davis, 58, of Tallahassee, is an optician with National Vision Incorporated. Girdler, 48, of Tallahassee, is an optician with Luxottica, Sears Optical.
>> Randy Hanna, 55, of Tallahassee, chancellor of the Florida College System, to the board of directors of Workforce Florida Inc.
>> Keith Lawson II, 42, of Quincy, owner of the Keith Lawson Company Inc., to the Construction Industry Licensing Board.
>> Karen B. Moore, 55, of Tallahassee, CEO of Moore Consulting Group, to the Florida Endowment Foundation for Vocational Rehabilitation.
>> Darrell Phillips, 60, of Tallahassee, construction planning and design manager for the Department of Education, to the Florida Building Commission.
>> John "Jay" Smith, 39, of Tallahassee, a vice president at Ajax Building Corporation, to the Partnership for Public Facilities and Infrastructure Act Guidelines Task Force.
>> Steven Uhlfelder, 67, of Tallahassee, an attorney at Uhlfelder and Associates, to the Children and Youth Cabinet.
>> Jonathan E. Walker, 44, of Tallahassee, a licensed massage therapist and president of Jonathan E. Walker & Associates Inc., to the Board of Massage Therapy.
>> James T. Watson and Nicholas Pappas, of Tallahassee, to the Board of Athletic Training. Watson, 56, is an athletic trainer and community outreach coordinator at Tallahassee Orthopedic & Sports Physical Therapy. Pappas, 60, is an athletic trainer with Florida State University.
>> Lloyd "Gary" Wright, 71, of Monticello, former president and CEO of Farmers and Merchants Bank, to the North Florida Community College District Board of Trustees.
Emerald Coast
New Beginnings
>> Former Pensacola Mayor Jerry Maygarden is serving as interim president and CEO of the Greater Pensacola Chamber Board of Directors. A former city councilman and state legislator, Maygarden was president and CEO for the Baptist Health Care Foundation and has served as a senior administrator and chief development officer for the Baptist Medical System.
>> Jim Bagby is the new executive director of the South Walton Tourist Development Council. Bagby's experience includes 24 years in the U. S. Army with a variety of operational and staff assignments throughout the world. Most recently, he was town manager in Rosemary Beach, one of South Walton's 16 beach neighborhoods.
Local Happenings
>> The Fort Walton Beach Medical Center has opened The Vein Center at FWBMC, an outpatient service dedicated to the diagnosis and treatment of Venous Disease and other vascular disorders.
>> Pen Air Federal Credit Union has partnered with BALANCE® Financial Fitness Program to provide members with unbiased money management information and services.
>> Ron Green, president/CEO and founder of Another Broken Egg Café, has signed a 10-store development agreement with Jake Alleman, franchisee and managing partner of Cojak Investments LLC. The first openings will be in Jacksonville (spring 2014) and Orlando (winter 2014). They are also evaluating locations in Tallahassee, Daytona Beach and Gainesville, and are confirmed to open in Fairhope, Ala., in fall 2014. Cojack Investments owns and operates Another Broken Egg Cafés in Lafayette, La., Panama City Beach and Tuscaloosa, Ala.
Local Honors
>> David Whalen, CEO of Twin Cities Hospital in Niceville, and Danny Cain, emergency room director, were recently honored with the Employer Support of Guard and Reserve (ESGR) Patriot Award for their support of employees who serve in the military.
>> Twin Cities Hospital, owned by the Hospital Corporation of America, was recently ranked near the top of the list of Florida hospitals for surgery performance in elderly patients, according to a national report from Consumer Reports.
>> Gov. Rick Scott in August honored Stan Connally, president and CEO of Gulf Power Company, with the Florida Business Ambassador award, which recognizes economic development leadership.
>> Hilton Sandestin Beach Golf Resort & Spa has received the prestigious Pinnacle Award for the 10th time from Successful Meetings magazine as one of the 2012 Best Hotels and Resorts. The resort has also been recognized with the TripAdvisor GreenLeader Bronze title for efforts to decrease its carbon footprint and become a more eco-friendly property.
>> Mary Ellen O'Hare, information specialist for the Perdido Key Area Chamber of Commerce, has received the Better Business Bureau Foundation of Northwest Florida's 2013 Customer Service Excellence Award for Escambia and Santa Rosa counties. Local businesses honored with the BBB's Torch Award for Marketplace Ethics include: Tires Plus, Gulf Breeze; Cronin Construction Inc.; Connell and Manziek Realty Inc.; United Way of Escambia County (nonprofit); and Doodlebuggers Service Network.
>> The Greater Pensacola Chamber recently received a national communications award from the American Chamber of Commerce Executives for a newly redesigned website.
>> The creative department of Edwin Watts Golf Shops has been honored for the second consecutive year by Graphic Design USA magazine's American Inhouse Design Awards, receiving eight Certificates of Excellence for outstanding creative campaigns.
>> WSRE, PBS for the Gulf Coast, has won a National Telly Award for its historical documentary "Baseball in Pensacola." The station's foundation recently announced its new board leadership: Sandy Sims, Gulf Power Company, serving a second term as chair; Michael Johnson, State Farm Insurance, vice-chair; and Stephen Holman, attorney, secretary.
New directors include: Gerald W. Adcox Jr., owner of luxury car dealership Adcox Imports; Tracy Andrews, Navy Federal assistant vice president for Pensacola Consumer/Credit Card Lending Operations; Rick Lambert, financial advisor with Edward Jones Investments; Peg Nickelsen, licensed mental health counselor in private practice for Gulf Breeze United Methodist Church; Mallory Studer, the Studer Group; and Tiffany Washington, certified county and commercial mediator.
>> Julian MacQueen, founder of Innisfree Hotels Inc., has been elected to the Gulf Power Company board of directors.
Appointed by Gov. Scott
>> Donald Brown and John Tolbert to the Florida Building Commission. Brown, 61, of DeFuniak Springs, is former president of First National Insurance Agency. Tolbert, 50, of Navarre, is the building official with Santa Rosa County School District.
>> Neil Davis, 75, of Pensacola, associate faculty at the University of West Florida, to the Department of Elder Affairs Advisory Council.
>> Jennifer L. Grove, 44, Pensacola, workforce development coordinator of Gulf Power Company, to the board of directors of Workforce Florida Inc.
>> Dr. Jonathan D. Miller, 43, Pensacola Beach, psychologist with the Florida Department of Veterans' Affairs, to the Board of Psychology.
>> Timothy S. Pyle, 46, Pensacola, owner of the Gideon Group, to the Board of Dentistry.
Bay
New Beginnings
>> Marta Rose has joined Panama City Beach Harley-Davidson to oversee marketing, promotions and special events.
>> Amanda W. Jowers, a private banker with Summit Bank since its opening in 2008, has joined the investment advisory team in the Panama City offices of Summit Investment Services.
>> Pamela Kidwell, a marketing consultant and small business owner, has been appointed as executive director of the Business Innovation Center at Florida State University Panama City.
Local Honors
>> The BBB Foundation serving Northwest Florida recently honored Eurasian Garages Inc. and Roussos Air Conditioning Inc. as recipients of the eighth annual Torch Award for Marketplace Ethics. The program recognizes business and charities that insist on exceptionally high standards of behavior.
>> Gulf Coast Medical Center in Panama City, owned by the Hospital Corporation of America, was recently ranked near the top of the list of Florida hospitals for surgery performance in elderly patients, according to a national report from Consumer Reports.
Appointed by Gov. Scott
>> Ray Dubuque, 63, of Panama City, a retiree who previously served as the regional director of external affairs for AT&T, to the Florida Housing Finance Corporation.
I-10
Local Honors
>> David Melvin, president of David H. Melvin Inc. Consulting Engineers, was recently honored by the Chipola Regional Workforce Development Board as the 2012-2013 Employer of the Year. Melvin was selected because of the company's work with economic development efforts that boost regional employment. The list of projects includes Green Circle, Ice River Springs, Family Dollar and HomeSource International.
>> Honored as Northwest Florida 2013 Agricultural Innovators of the Year by the University of Florida/IFAS Panhandle Agriculture Extension Team and Farm Credit of Northwest Florida: Miller Family Aquaponics, Escambia County; Killam Farm Inc., Santa Rosa County; Nixon Farms, Okaloosa County; R&R Ranch, Walton County; Barton Family Farm, Holmes County; Davidson Farms, Washington County; Dauphin Farms Inc., Bay County; Bar L Ranch, Jackson County; Oglesby Plants International, Calhoun County; JMAK Farms, Gadsden County; Turkey Hill Farm, Leon County; Wakulla Berries, Wakulla County; Stephen and Tracie Fulford, Jefferson County.
Forgotten Coast
New Beginnings
>> Sara Backus has joined Kerigan Marketing Associates Inc., a Port St. Joe-based marketing and advertising agency, as senior designer. She will lead all graphic design and art direction for the company's creative services, which include website design, corporate identity and multi-media advertising.