Business News Sound Bytes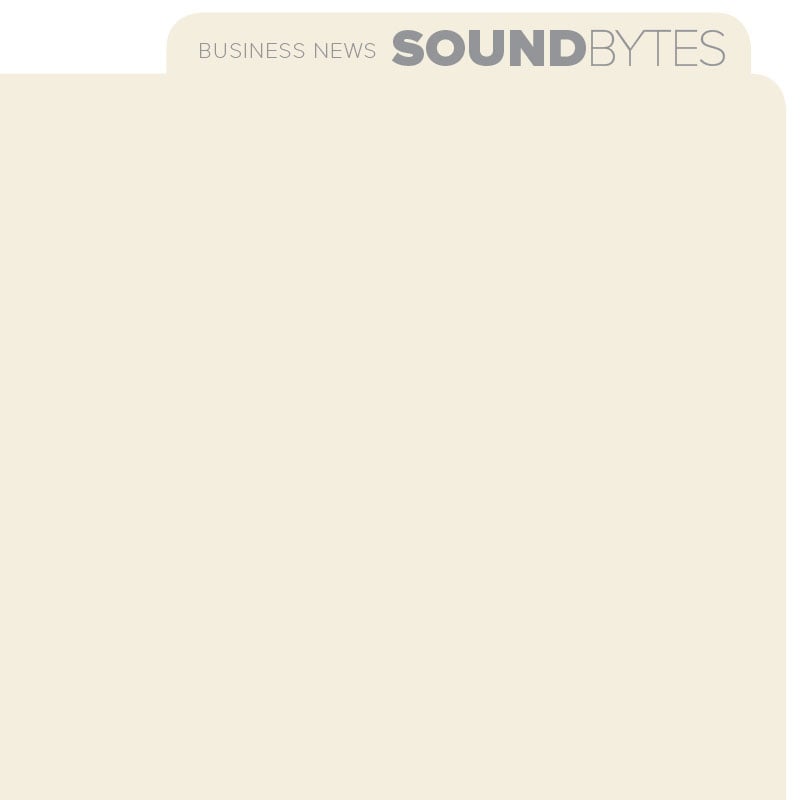 Capital
New Beginnings
Richard Reeves has joined the Capitol Insight government affairs firm. He was previously managing partner at SCG Governmental Affairs and had worked with U.S. Sen. Bill Nelson, D-Fla.
Dale Brill, Michelle Dennard, Stephanie Gibbons and Nancy Leikauf have launched Thinkspot Inc., an economic-development consulting firm. Brill formerly served as president of the Florida Chamber Foundation and as director of the Governor's Office of Tourism, Trade and Economic Development. Dennard and Gibbons most recently held positions in the state Department of Economic Opportunity, while Leikauf is a former executive vice president of the Florida Ports Council.
Wes Strickland has opened a solo law and regulatory consulting practice in Tallahassee. He worked with Foley & Lardner LLP for more than 14 years, most recently as a partner in the Insurance Industry Group, where he focused on insurance transactional and regulatory law.
Jim Rossica has been hired as the Tallahassee correspondent for the Tampa Tribune/TBO.com. He covered the 2013 legislative session, and two previous ones, for The Associated Press. He also is a former reporter for the Tallahassee Democrat, which he left to get a law degree at Drexel University.
Environmental and land use attorney Todd Sumner has been elected as president of the Northwest Florida Marine Industries Association for the 2013 term.
Holland & Knight has expanded its Florida Government Advocacy Team in Tallahassee with the addition of Mark Delegal and Josh Aubuchon. Delegal, who has joined as a partner, practices in the area of government affairs and represents some of the largest insurance companies in the nation. Aubuchon, who has specific experience in the areas of alcohol beverage law and real property and housing law, has joined as an associate. Both were previously with Pennington P.A.
Frank P. Rainer has joined the Florida-based law firm Broad and Cassel's Tallahassee office in the Commercial Litigation and Real Estate Practice Groups.
Moore Communications Group has acquired White Dog Design Group. White Dog Design Group President Darren Allen will become director of Digital Design.
Hubert "Bo" Bohannon has been selected chairman of the Florida Association of Professional Lobbyists. Bohannon is principal and managing director of the Tallahassee office of The Fiorentino Group.
Sachs Media Group has promoted veteran communications professional Jon Peck to the new position of vice president of public relations.
Sandi Copes Poreda has joined marketing firm Taproot Creative. Copes Poreda has worked in government communications jobs for nearly a decade, including most recently as communications director at the Department of Business and Professional Regulation.
Shawn C. Kalbli has been promoted to principal at Wood+Partners Inc., a land planning and landscape architecture firm with offices in Tallahassee and Hilton Head Island, S.C.
Former Florida House Speaker Dean Cannon has joined the ReputationChanger.com Board of Advisors. Cannon is founder of the Tallahassee-based lobbying firm Capitol Insight.
Chris Barry has been named director of publications for Florida TaxWatch. This new position will maintain a focus on the presentation of TaxWatch research. To take over the media and taxpayer outreach responsibilities, Morgan L. McCord has joined the TaxWatch team in the role of communications coordinator.
West Marine has opened a new store in Tallahassee that is nearly double the size of the previous location. Located at 2110 Apalachee Parkway #2 (in Governor's Point Center), it is the largest West Marine store in the Big Bend.
Local Honors
Joseph F. Kikta, Tallahassee auctioneer and founder of Aaron Joseph & Company, was recently appointed to the board of directors for the Florida Auctioneers Association.
The Small Business Administration has recognized Florida First Capital Finance Corporation as the top SBA lender by dollar volume for FY 2012 in its North Florida District, which covers 43 counties and stretches from Orlando to Jacksonville and west through the Florida Panhandle. The statewide non-profit certified development company produced 113 loans totaling $77,397,000.
The Goodwill Industries International board of directors has elected Fred G. Shelfer Jr. from Tallahassee to serve a three-year term as a member of the Goodwill Industries International Board of Directors and Executive Board. Shelfer is the CEO/president of Goodwill Industries — Big Bend Inc.
Elizabeth Ricci, managing partner of immigration law firm Rambana & Ricci in Tallahassee, was named 2012–2013 Zontian of the year by the Zonta Club of Tallahassee. Zonta International is a worldwide advocacy group for the promotion of the status of women and children.
Communications agency Salter Mitchell won a Gold Award of Excellence from the International Academy of the Visual Arts during the 19th Annual Communicator Awards, taking home top honors in the Integrated Campaign category for its Find the Fun initiative to help the Pinellas County Health Department's efforts to reduce obesity rates.
Marybeth W. Colón has earned an AV Preeminent® rating by Martindale-Hubbell, the highest rating for legal ability and professional ethics. Colón practices bankruptcy and real estate law with Smith, Thompson, Shaw, Minacci and Colón in Tallahassee.
Ajax Building Corporation has received a SHARP award from the Occupational Safety and Health Administration and USF SafetyFlorida for the fourth time. The recognition is given to small to medium-sized employers with exemplary safety and health management practices.
Cindy Lavoie, owner/administrator of Interim Healthcare of Northwest Florida, has been elected to the Home Care Association of Florida's Board of Directors. She represents home care agencies located in Holmes, Washington, Bay, Jackson, Calhoun, Gulf, Gadsden, Liberty, Franklin, Leon, Wakulla, Jefferson, Madison and Taylor counties.
Select Specialty Hospital – Tallahassee won five awards at the 2013 Select Medical Long-Term Acute Care Hospital Division's annual conference. Select – Tallahassee won the Employee Engagement Award, the Quality Achievement Award, the ICare Award and the Hospital of Excellence Award. CEO Lora Davis took home the Leadership Award.
Tallahassee developer Hunter+Harp has been recognized for its use of digital marketing and social media, winning the 2013 S.M.A.R.T.E.R. Award at the Tallahassee Technology (TalTech) Alliance's TechExpo.
Taproot Creative was a Bronze winner in the 34th Annual Telly Awards for a video that delivered an internal message to employees of The Mosaic Company.
The 2013 edition of prominent legal guide Chambers USA: A Guide to America's Leading Business Lawyers highlights 23 Broad and Cassel attorneys as leaders in their respective fields. Tallahassee based attorneys winning recognition were Douglas L. Mannheimer and Douglas Rillstone.
Local Happenings
Florida State University College of Medicine's Tallahassee Regional Campus will celebrate its 10th anniversary on Aug. 29 at the Golden Eagle Country Club.
Appointed by Gov. Scott
Kathryn Ballard, 48, of Tallahassee, to the Florida State University Board of Trustees.
Owen McCaul, 48, of Tallahassee, assistant state attorney for the second judicial circuit of Florida, to the Florida School for the Deaf and the Blind Board of Trustees.
Tammy R. McKenzie and Heidi Roeck Simmons to the Board of Occupational Therapy Practice. McKenzie, of Crawfordville, is the owner of Progressive Pediatric Therapy and Developmental Center. Roeck-Simmons, of Tallahassee, is the vice president of operations at Health Connections Rehab Services.
Joseph D. Finnegan, of Tallahassee, a pastor of All Saints Catholic Community, to the Reemployment Assistance Appeals Commission.
Timothy M. Cerio, 43, of Tallahassee, an attorney and shareholder with Gray Robinson P.A., to the First District Court of Appeal Judicial Nominating Commission.
Chasity Hope O'Steen, 37, of Tallahassee, an attorney with Sniffen & Spellman P.A. to the Second Circuit Judicial Nominating Commission.
Emerald Coast
New Beginnings
Nathan Sparks is the new executive director of the Okaloosa County Economic Development Council. A Certified Economic Developer and 15-year veteran of the economic development industry, his previous positions include executive director of the Brunswick and Glynn County Development Authority in Georgia and manager of economic development for The St. Joe Company.
Tia Triplett was recently named as the new general manager of Seagar's Prime Steaks and Seafood, the AAA Four Diamond-rated restaurant located in the Hilton resort.
Ashley Vannoy has joined SunTrust Bank, North Florida, as vice president and commercial relationship manager, serving clients in Pensacola and surrounding markets. She is an alumni of the Leadership Walton Class of 2009, Leadership Okaloosa Class of 2006 and Leadership Santa Rosa Class of 2004.
Larry Strain, former executive director of the Small Business Development Center at the University of West Florida in Pensacola, has joined the Alabama-based United Bank as vice president and business banker. In Florida, United Bank serves Santa Rosa County in Jay, Milton and Pace.
Legendary Marine, Boating Industry magazine's No. 1 "Dealer of the Year" for North America, has made changes in its sales management team. Traci Polk, most recently sales manager of the Fort Walton Beach dealership location, is the new Consignment and Inventory manager at the Destin headquarters. Jeff Henley has assumed sales management duties at the Fort Walton Beach dealership.
Hilton Sandestin Beach Golf Resort & Spa has appointed Megan Harrison as the resort's new marketing manager.
Local Happenings
The U.S. Army Space and Missile Defense Command has awarded BAE Systems of Fort Walton Beach an $85 million, two-year contract extension to continue its support of the agency's Future Warfare Center. The company will provide research, engineering and technical services for developing and understanding missile defense methods and technologies.
Global Business Solutions Inc., an innovator in information technology services and technical training, has unveiled a five-year plan that includes expanding its corporate headquarters in the Pensacola area and hiring up to 120 full-time employees with a projected annual average salary of $54,000.
Local honors
Sacred Heart Hospital on the Emerald Coast received an "A" rating in Leapfrog Group's Spring 2013 Hospital Safety Score. Leapfrog is an independent national nonprofit run by employers and other large purchasers of health benefits.
WaterColor Inn & Resort in Santa Rosa Beach received a TripAdvisor® Certificate of Excellence award honoring hospitality excellence. The award is earned by about 10 percent of the establishments that consistently achieve outstanding traveler reviews on TripAdvisor.
Jon Fohrer, area administrative officer with Maxim Healthcare Services, has been elected to the Home Care Association of Florida's Board of Directors. He represents home care agencies located in Escambia, Santa Rosa, Okaloosa and Walton counties.
Hilton Sandestin Beach Golf Resort & Spa has received three prestigious recognitions for its meetings and convention business. The 2013 Meetings & Conventions Gold Tee, the ninth for the resort, goes to properties with outstanding golf facilities for meetings and conventions as selected by readers of the meeting trade magazine. The "Award of Excellence" from Corporate & Incentive Travel magazine was based on subscribers who voted for those that best served their corporate meetings and/or incentive travel programs during the past year. The Hilton was also chosen as one of Cvent's 100 most popular resorts in North America and the Caribbean, according to meeting and event booking activity in the Cvent Supplier Network.
Fort Walton Beach-based Edwin Watts Golf Shops, one of the world's largest specialty golf retailers, has earned a Google Trusted Stores badge for its e-commerce website, edwinwattsgolf.com. The program helps shoppers identify online merchants that consistently offer a positive shopping experience, while maintaining a strong track record for on-time shipping and customer service excellence.
The Greater Pensacola Chamber recognized SpectrumIT Inc. as its June Small Business of the Month. Formerly LANformation, the company has been providing IT services along the Gulf Coast for more than 16 years.
Appointed by Gov. Scott
Destin Mayor Sarah E. Seevers, owner of Life's A Beach Publications, to the Florida Commission on Community Service.
Forgotten Coast
Local honors
In a boost for local tourism marketing, St. George Island State Park moved up to the No. 3 spot in the 2013 listing of the Top 10 Beaches in the U.S. The list has been prepared for 23 years by Stephen P. Leatherman, director of Florida International University's Laboratory for Coastal Research, who is also known as Dr. Beach. St. George was listed at No. 4 in 2012.
I-10
Appointed by Gov. Scott
To the Chipola College District Board of Trustees:
Nolan Baker, 48, of Ponce de Leon, an engineer with CDG Engineers & Associates. He is a board member of the Walton County Economic Development Alliance and the Holmes County Development Commission.
Hannah Causseaux, 28, of Bristol, former director of appointments in the Executive Office of the Governor.
Thomas "Tommy" Lassmann, 41, of Marianna, a commercial banker with Superior Bank who has served on the Jackson County Chamber of Commerce.
Gary Clark, 45, of Chipley, vice president of West Florida Electric Cooperative. He served on the Washington County school board for 12 years.
John Padgett, 82, of Marianna, retired. He is a former Jackson County commissioner.