Behind-the-Scenes of Florida Governor Rick Scott's Photo Shoot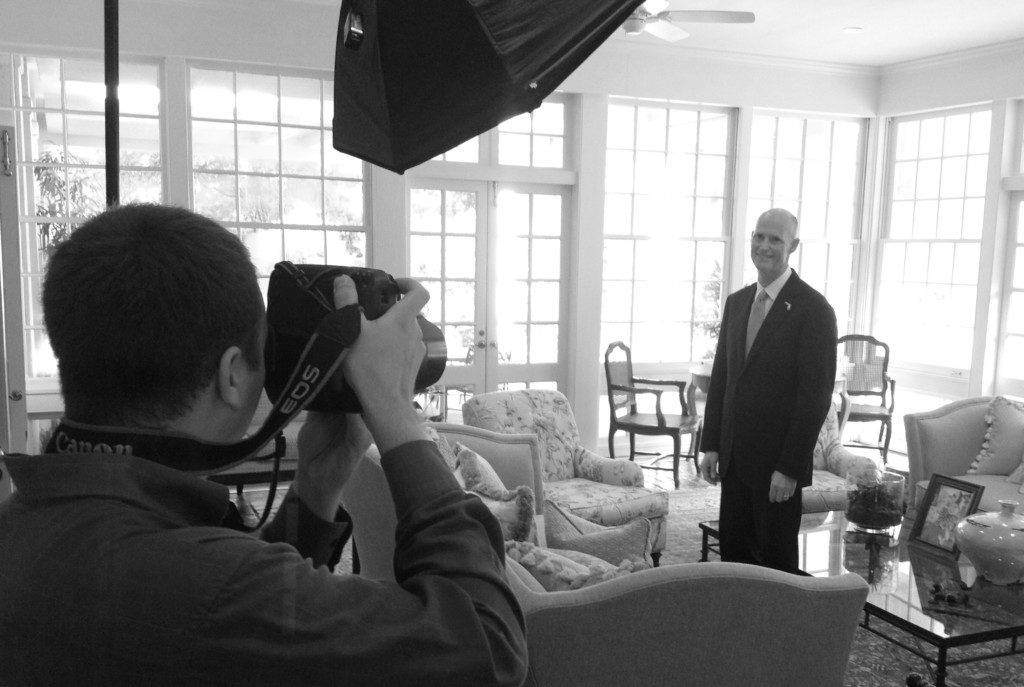 850 Business Magazine staff photographer, Scott Holstein, recently blogged about his experience photographing Governor Rick Scott for the Oct/Nov 2013 cover and cover story. Below is an exerpt from his blog.
When 850 Business Magazine was launched in 2008, I photographed then-Florida Governor Charlie Crist in his office at the Capitol in Tallahassee for the cover of the inaugural issue. As the magazine recently celebrated its fifth anniversary, I had the opportunity to photograph current Florida Gov. Rick Scott on location at the Governor's Mansion for the cover story of that issue of 850.
The best way to photograph portraits of a politician or celebrity who has little time to pose for photography is to get each shot set up in advance in order to be efficient with their time. That way, the subject simply has to walk onto one set for a few minutes and then move onto the next set. That was my plan with Governor Rick Scott, as I needed to create a cover and an inside spread with two different setups, one of which was slated to be a studio portrait against a backdrop. Due to his schedule and the magazine's approaching deadline, we were piggy-backing the photo shoot at the same time as the interview, which had already been scheduled. So we secured permission with the governor's people to arrive early.
However, when we arrived the morning of the shoot, we were not granted early access by security, who only had us down for the official appointment time. Since I wouldn't have time to get setup beforehand, I had to change my game plan; now both setups would be environmental portraits and I would do one before the interview and one after. Doing the interview between shots would buy me time to scout a new location and get setup.
For the rest of the article, check out Scott's blog here.