An Economic Driver
Summit highlights importance of military spending to Florida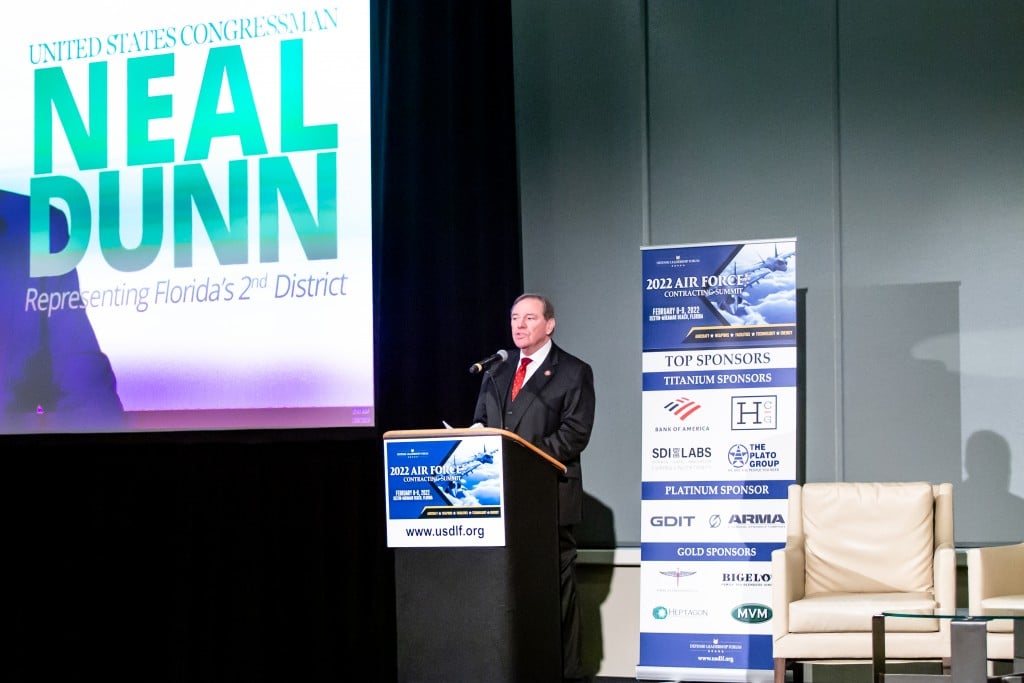 The ninth annual Air Force Contracting Summit, presented by the Defense Leadership Forum, attracted more than 700 people interested in learning about defense spending trends and in taking advantage of the meeting's networking sessions.
U.S. Rep. Neal Dunn (R-Panama City) served as the keynote speaker for the conference, held at the Hilton Sandestin Beach Golf Resort & Spa. Dunn described Florida's strategic significance to the U.S. military and the impact of military spending on the state's economy.
Florida is home to 20 military installations that combine for $95 billion in economic impact annually. Many of them relate to the Eastern Gulf of Mexico Testing Range, headquartered at Eglin Air Force Base and seen by Dunn as an "irreplaceable national asset."
Because the range is used to develop and maintain readiness for varied combat forces, it is critical to the national defense strategy, emphasized Dunn, who surprised some summit attendees by noting that the Navy uses the range more often than the Air Force does.
"They just don't attract as much attention because many of their operations are underwater," Dunn observed, and added, "A large part of my mission in Congress is protecting the testing range."
Generally, Dunn said, Florida is blessed with a great geopolitical location — balmy climate, strong economic and tech growth, an outstanding system of universities and colleges and a low cost of living.
"Military families find Florida an easy place to put down roots, and that's just as true of civilian contractors," Dunn said.
Dunn credited state government with working to incentivize aerospace sector activity — with good reason. Following tourism and agriculture, defense is the third largest economic driver in the state, accounting for 914,000 jobs. Florida is in the top five among states in the number of DOD contracts landed.
Defense budget analyst Todd Harrison addressed the conference remotely from Washington, D.C., and noted that over the past 20 years, the Army among branches of the military got the largest share of the DOD budget by far, given operations in Iraq and Afghanistan.
Now, given the U.S. withdrawal from Afghanistan and only a small presence remaining in Iraq, "The Army's budget has come way down and the Navy's and the Air Force's shares of the budget have been creeping up," said Harrison, who is a project director for the Center for Strategic and International Studies. "We will see that trend continue as we move away from ground operations and focus on the threats posed by Russia and especially China."
Citing a report from the Department of Defense's Office of Local Defense Community Cooperation, Dunn said the U.S. military's fiscal year 2021 contract obligations and payrolls totaled $594 billion or about 2.8 percent of gross domestic product.
Of that amount, 74 percent was spent on contracts for products and services. Said Dunn, turning to his audience, "That's you."
Some 70 percent of federal spending goes to non-discretionary social welfare entitlement programs. The DOD budget equates to roughly half of the discretionary spending.
The Biden administration's recommended FY '22 military defense annual appropriation of $715 billion reserves $213 billion for the Air Force and Space Force, an increase of 4.3 percent. That request contemplates development of enhanced rapid strike capabilities and the first generation of hypersonic weapons.
"China and Russia are developing new weapons and defenses, and we have to modify and develop our capabilities in order to maintain a competitive edge and hopefully deterrence," Dunn said. "We need to be able to negotiate from a position of strength."
Dunn counts his participation in a successful bipartisan effort to secure five years of funding totaling $5.3 billion for the reconstruction of Tyndall Air Force Base as his "biggest win" as a congressman.
"At Tyndall, we have a unique opportunity to build the 'Base of the Future' with truly modern capabilities, flexibility and resilience," Dunn said. The project entails construction of more than 100 new buildings.
The five-year appropriation was something, Dunn said, that doesn't often happen. Instead, military spending proceeds one year at time, at best. Frustratingly, he said, failures to arrive at annual appropriations result in continuing resolutions, which limit the military to spending a previous year's funding amount without redirecting any funds.
"That makes our military far less nimble," Dunn said. "Because annual appropriations are held hostage by political considerations having nothing to do with the military, we have lost eight to 10 years in technological advances.
"We know we need new airframes and more of them. We need timely appropriations. We need to listen to the Air Force and let them tell us the kind of airplanes they need."
Dunn concluded his remarks ominously, saying, "It's a lot cheaper to deter than to actually defend. I am terribly afraid that we are about to learn that lesson again."
As he spoke, Russian troops were massing on the Ukrainian border.