Soundbytes Fall 2023
Business updates from around the 850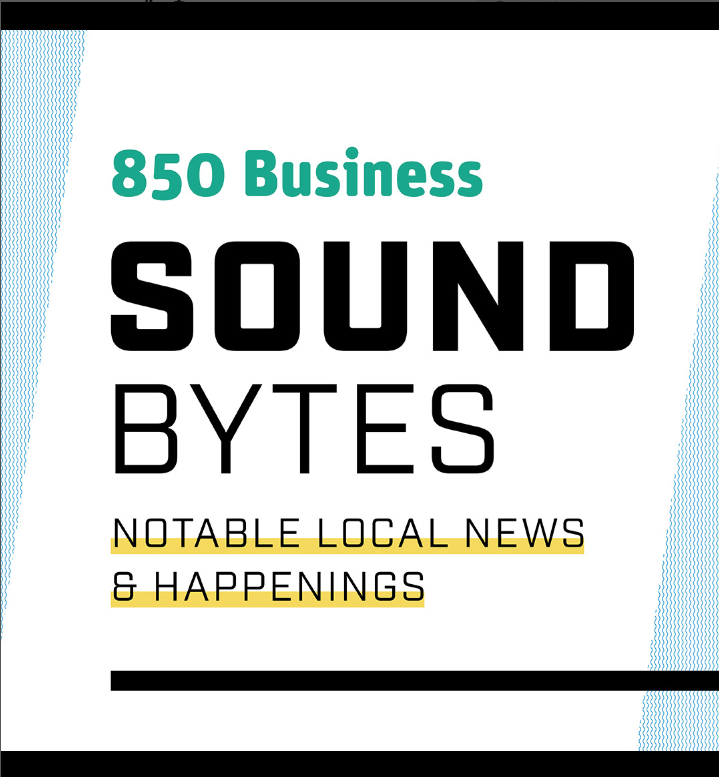 ---
Compiled by Rebecca Padgett Frett
---
Capital // Local Honors
SKATE PARK PARTNERS WIN STATEWIDE AWARD
Blueprint Intergovernmental Agency, Leon County Government and the City of Tallahassee earned the statewide 2023 Project of the Year Award from the Florida Chapter of the American Public Works Association (APWA) for the Skateable Art Park, located off of FAMU Way. The project represents a $1.2 million investment in the south side and has expanded recreational opportunities in the Tallahassee-Leon County community. The skate park features artistic elements to provide an optimal riding experience for skaters of all skill levels and a visually stimulating space for spectators. The park's centerpiece is the 225-foot-long snake run, inspired by Florida A&M University's mascot.
---
Capital // Local Honors
» Tallahassee Community College president Jim Murdaugh was awarded the Shirley B. Gordon Award of Distinction by Phi Theta Kappa (PTK) Honor Society. The award was presented at PTK Catalyst 2023, the society's annual convention in Columbus, Ohio. The award recognizes college presidents who have shown support for student success initiatives leading to stronger pathways to completion, transfer and employment and who have taken an active interest in developing student leaders on campus. Recipients are nominated by students on their campus.
» Leon County Emergency Medical Services (LCEMS) deputy chief Darryl Hall was recognized as a recipient of the 2023 Lifetime Achievement Award during the Tallahassee Community College (TCC) Heroes in Public Safety Banquet. This award celebrates Hall's 36-year career dedicated to serving the people of Leon County and recognizes his unwavering commitment to public safety and first responders. A native of Jefferson County, Florida, Hall spent four years in the U.S. Army before pursuing a career in the health care profession. After years as a paramedic and nurse, Hall joined Leon County EMS in 2005. In 2015, Hall was promoted to his current role as deputy chief of operations. He oversees the daily operations of LCEMS, including ambulance operations, dispatch, logistics and special operations.
NEW & NOTABLE
» Tallahassee Community College formally announced three new bachelor's degree programs that started this fall — Bachelor of Applied Science in Business Administration, Bachelor of Science in Elementary Education, and Bachelor of Science in Exceptional Student Education. The TCC Foundation also announced donations totaling $150,000 that will provide scholarships for the programs.
---
Capital // Local Honors
PR EXCELLENCE
Leon County Government recently received three Image Awards from the Florida Public Relations Association (FPRA) Capital Chapter for outstanding public relations efforts. The FPRA's annual Image Awards recognize the top communication teams in the region and celebrate public relations excellence in Florida. The county's award-winning projects will advance to the state-level competition later this year. The Leon County Annual Report Video won an Image Award, and its "Tackling Poverty and Inequities in 32304 Neighborhoods and Beyond" campaign won an Award of Distinction and a Judges' Award in the brochure category.
---
Capital // Local Honors
OUTSTANDING PRESENTATION
Leon County Government is proud to announce it has received the Distinguished Budget Presentation Award for Fiscal Year (FY) 2023 from the Government Finance Officers Association (GFOA). This is the 33rd consecutive year Leon County has received this award from GFOA. The GFOA's Distinguished Budget Presentation Awards Program is the only national awards program in governmental budgeting. This year, Leon County also received special recognition in the Strategic Goals and Strategies category, which signifies that all GFOA reviewers rated the County FY 2023 budget as "outstanding."
---
Capital // New & Notable
CELEBRATING GROWTH
↑ Erica Thaler, chief marketing officer; Catherine Register, chief strategy officer; and Heather Johnson, chief experience officer
RB Oppenheim Associates (RBOA) has announced the appointment of a new leadership team and refreshed branding to signal a new era of growth and excellence for the agency. The new leadership team includes Erica Thaler, chief marketing officer; Catherine Register, chief strategy officer; and Heather Johnson, chief experience officer. Together, they bring extensive experience in leadership, marketing, strategic communications and a digital community-engagement approach.
---
Capital


Appointments
» Gov. Ron DeSantis announced the appointment of Jonathon Manalo to the State Retirement Commission. Manalo, of Tallahassee, is the assistant deputy commissioner for the Florida Department of Education. Previously, he served as assistant vice chancellor for the Florida Department of Education, the deputy secretary of operations for the Agency for Health Care Administration, and the chief financial officer for the Department of Elder Affairs. Manalo earned his bachelor's degrees in finance and accounting from Florida State University.
---
Emerald Coast
Local Happenings
» More than 1,200 babies have been born prematurely in Walton and Okaloosa counties in the past three years. Families depend on access to critical services close to home. Ascension Sacred Heart Emerald Coast's nationally recognized Family Birth Place is home to the only neonatal intensive care unit (NICU) serving Walton and Okaloosa county families. Ascension Sacred Heart Emerald Coast has added five new neonatal specialists to provide 24/7 coverage for sick and well newborns. The hospital has also established a team to care for premature infants born 10 weeks pre-term and who weigh slightly under 3 pounds.
» Emerald Coast Theatre Company (ECTC) has announced the appointment of Heath Carroll as its new education and outreach director. With his extensive experience and passion for arts education, Carroll will lead ECTC's efforts in enriching the community through innovative educational programs and outreach initiatives. He will oversee ECTC's diverse educational programs, including classes, workshops, and summer camps and collaborate with local schools, community organizations and artists to expand the reach of ECTC's educational offerings.
Local Honors
» HCA Florida Fort Walton-Destin Hospital received an "A" Hospital Safety Grade from The Leapfrog Group, a national nonprofit upholding standards of patient safety in hospitals and ambulatory surgery centers. This national distinction celebrates HCA Florida Fort Walton-Destin Hospital's achievements in prioritizing patient safety by protecting patients from preventable harm and errors. The new grades reflect performance primarily during the height of the pandemic. This is the third consecutive "A" Hospital Safety Grade awarded to the facility.
» Hotel Effie, a new luxury property at Sandestin Golf and Beach Resort, has received the AAA Four- Diamond designation. This is the first time the property has attained this prestigious honor since its opening in 2021. Hotel Effie is part of a select group representing the top tier of the hospitality industry in North America. To earn the impressive AAA
Four-Diamond designation, hotels and restaurants must pass a rigorous evaluation that includes unannounced, in-person evaluations by AAA's expert inspectors. Only
1,752 hotels and
561 restaurants earned the AAA Four-Diamond designation in 2023. Hotels at this level, which include just 7% of the more than 25,000 AAA Diamond lodgings, are noted
for their upscale style and amenities enhanced with outstanding service.
» The Hidden Dunes Tennis and Pickleball Center located in Miramar Beach has earned the title of No. 1 in the United States of America for Best Game Arranging for the second consecutive year. It is part of a resort that has been named a Silver Medal Resort for 11 consecutive years. While maintaining a successful tennis program, the resort also added pickleball, which earned the Silver Medal ranking as well.
NEW & NOTABLE
» The Pensacola Beach Resort opened in the summer of 2023 offering 162 guest rooms, including 24 executive rooms with wraparound balconies. The hotel overlooks more than 800 feet of Gulf-front property. An additional 800 feet overlooks the bay. The hotel also features a private restaurant, full-service bar and a poolside tiki bar, as well as a beach bar and restaurant, which is open to the public.
---
FIRM IS RE-ENGINEERED
Anderson Engineering has changed its name to OWN. The rebranding builds upon the firm's significant growth over the past few years, with staff expanding from 70 to 230 employees across 10 offices in Missouri, Arkansas and Florida, including 33 total employees in its Destin, Milton and Pensacola offices. Other changes include a culture built on 100% employee ownership and its share price doubling twice. OWN serves the commercial, health care, education, residential, industrial, hospitality, sports and entertainment sectors, as well as the federal/military, state, county, municipal, transportation and utility sectors. The Northwest Florida offices have supported numerous projects including the new Destin High School and the Navarre Town Center in Navarre.