2022 Pinnacle Award: Judge Tiffany Baker-Carper, Tallahassee
She has been buoyed by a belief in her unstoppability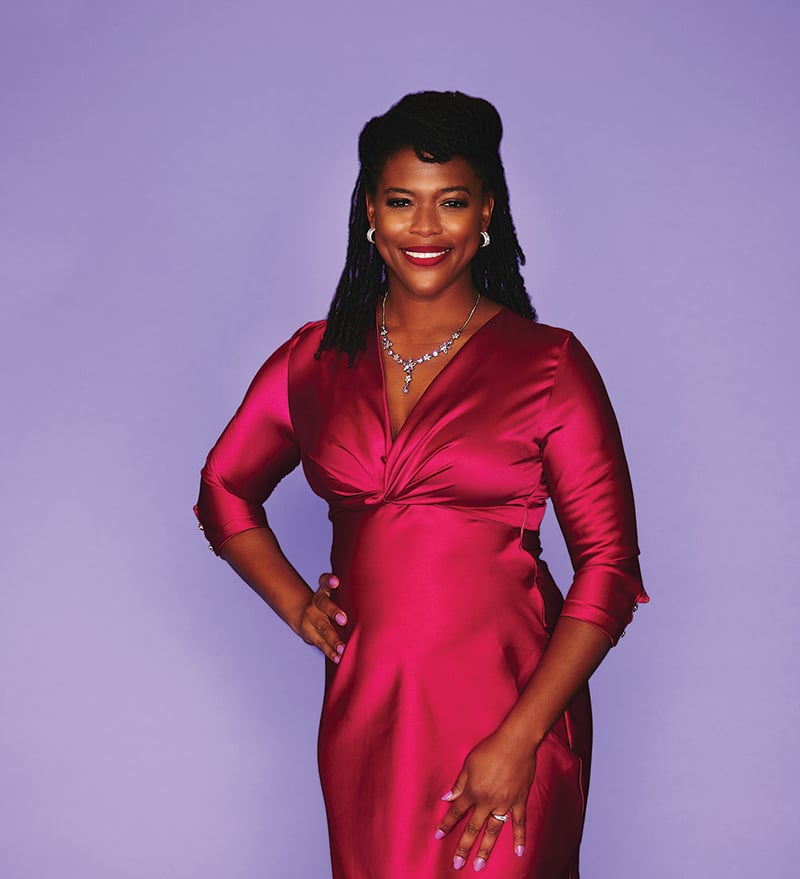 Circuit Judge, 2nd Judicial Circuit
Describe two or three women who served you as important role models and mentors. What did you learn from them?
Throughout my life, I've been blessed to have been positively impacted by several remarkable women. Two of the women who have made an indelible mark on the woman I am today are my mother Susie Grimsley and one of my former high school teachers, Lisa Mitchell. My mother has always been an intelligent, charming, firebrand of a personality who loves music and is a social butterfly. As a kid, I had a front-row seat to her building a loving, God-fearing home, while earning a master's degree and working full time as a licensed social worker. She fostered a sense of independence by showing me how to earn a psychology degree while maintaining a loving family. Her hard work and creativity were equally matched by her electric style and notable grace. She instilled in me from an early age that I was special, smart and unstoppable when I put my all into any effort. Mrs. Mitchell was also incredibly supportive. A God-fearing woman who loves her family unconditionally, she shared that unconditional love with me, and it buoyed me through some emotionally challenging high school years. Her positive perspective of who I was reinforced my confidence and other positive aspects of my character. Through her eyes, I could see that I possessed an even greater potential than I had considered. This experience shaped how vital I see the role of mentors for troubled youth. One person truly can make a generational difference.
Tell us about a lesson you learned the hard way. 
It's undoubtedly an age-old lesson but one of the hardest ones I've had to learn — always be your authentic self. When you try to be someone you're not, it's always a recipe for disaster! When I was preparing my investiture speech, I tried to shape a speech similar to the one that Supreme Court Associate Justice Ketanji Brown Jackson had given during a ceremony celebrating her historic confirmation to the United States Supreme Court. I remember being moved to tears by her sheer brilliance, grace and reverence for her cultural upbringing. She was someone who understood the gravity of her appointment. Who wouldn't want to move people in that way? I sure did, and so I crafted a speech that I believed would seize the moment by inspiring the masses. You'll have to ask those in attendance what they thought of the speech, but from that experience, I learned that we all have special ways and by using them as tools, we have the power needed to move people in unique ways that only we can do.
What unfinished business, personal or professional, is uppermost in your mind? 
I've always looked at my election to the 2nd Judicial Circuit as a journey to something greater than me but focused around serving the people who elected me to this position. Professionally, I can continue in that aim by working with Phi Alpha Delta Law Fraternity to establish a circuit-wide mock trial tournament for high school students. I dream to see our students compete at the statewide and national level. I'm studying French and hoping to master the language just enough to enjoy a trip to Paris soon!
As it contemplates its future, what should Northwest Florida aspire to be? 
Northwest Florida should aspire to be what any place aspires for its communities: a beacon of diversity, where all communities have the space to freely express thoughts without the fear of retaliation. Northwest Florida is home to the state capitol — a lighthouse, if you will, for the entire state. My hope is that Northwest Florida can continue to work to be a place where the intelligence and reason of its residents can carry the day instead of emotional reactions to clickbait.
What advice do you have for young women pursuing their careers? 
The lyrics of a well-known anthem that's been reprised over the years says, "I'm every woman, it's all in me… ." This song has always reminded me that most of what we need is already inside of us. So, my advice to young women pursuing their specific careers is to always remain your authentic self. Pursue a career that reflects your morals and values. Stay grounded so that you'll never lose focus on why you set out to accomplish your goals. Finally, don't allow yourself to be silenced. Ever. Don't doubt yourself. Speak up because your voice is necessary.
---