Pinnacle Awards 2022
Ninth annual event recognizes 12 remarkable women in business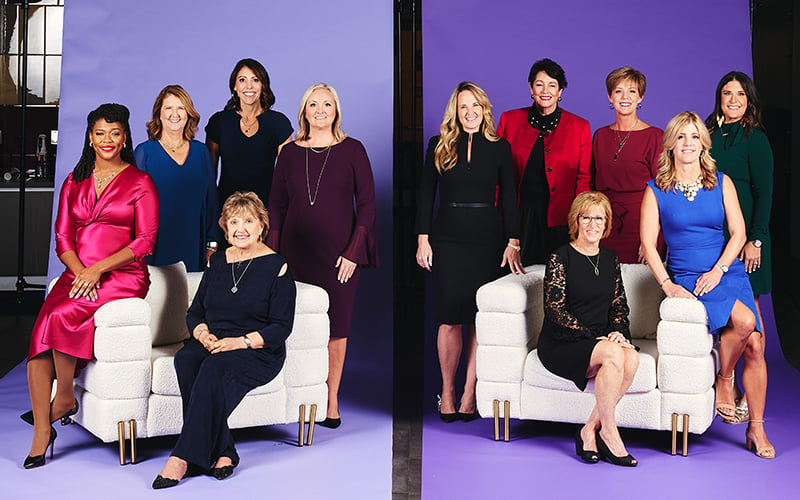 Video Production by Live in Tallahassee/Silver Productions
---
The FSU Dunlap Champions Club was charged with anticipation and good feeling, but on Bobby Bowden Field, outside the club's windows, not a linebacker was stirring, not even a punter.
Rather, friends, family, co-workers and sponsors had gathered for the ninth annual Pinnacle Awards ceremony, held to celebrate honorees for their outstanding professional accomplishments and their contributions to community. After two years of virtual and hybrid events, the welcome return to a fully in-person banquet made it possible for attendees to greet old friends and make new connections.
Many past Pinnacle Award recipients attended this year's event to support the latest inductees into the Pinnacle "sisterhood," a growing group that Steve Bornhoft, the executive editor of 850 Business Magazine, noted in his remarks, but not before humorously pointing out the flaws of men.
"The great byproduct of the Pinnacle Awards has been a sisterhood," Bornhoft said. "Pinnacle honorees, once brought together, tend to stay together. Even pioneers enjoy company. Each honoree is a difference maker in her own right, and we are only beginning to understand what the sisters might do collectively."
Presented by 850 Business Magazine, the 2022 Pinnacle Awards ceremony was held on Oct. 5 after a one-week postponement due to concerns about Hurricane Ian. Associate publisher McKenzie Burleigh thanked the event's sponsors:
"Nine years into our Pinnacle Awards experience, we at Rowland Publishing and 850 Business Magazine have learned that when you go looking for consequential women of character and vision, there are a lot of them out there," Bornhoft said. "They just don't get celebrated enough, and that is what today and the Pinnacle Awards program is all about." 
One such woman is Jennifer Conoley, a 2017 Pinnacle Award recipient and this year's keynote speaker. Conoley was introduced by Ashley Rousseau, the Tallahassee Center director at Florida Blue, who spoke to Conoley's dedication to promoting regional economic growth and diversification as the president/CEO at Florida's Great Northwest.
"(Conoley) started this role in March of 2020, a time that was very challenging and filled with uncertainty due to the rising threat of COVID-19," Rousseau said. "She led her team, however, through those times to victories and notable business attraction efforts. Because of her, Central Maloney and Probes Unlimited, two high quality manufacturers, are now calling our region home and adding 250 jobs with benefits to our community."
Conoley began her address by sharing a question that had been posed to her by Bornhoft: 
How does a papermill worker's daughter become a regional economic development executive?
That journey, she said, involved tough decisions, inspiring mentors and leaps of faith. At this stage in her career, Conoley said, she has learned to focus on who she wants to be rather than what she wants to accomplish.
"I want you to think about these Pinnacle Award winners," Conoley said. "In meeting these wonderful women this morning, it's clear to me who they are and who they wish to become. Now I ask you the same thing. Who do you wish to become?
After Conoley and Bornhoft spoke, Burleigh introduced videos that celebrated the honorees. Colleagues, mentors, friends and loved ones spoke to the virtues and accomplishments of each Pinnacle Award winner as publisher Brian Rowland and Burleigh presented them with their awards.
This year's 12 Pinnacle Awards winners are:
Leon County Judge Tiffany Baker-Carper

Autumn Beck Blackledge, Autumn Beck Blackledge, PLLC

Helen Costa, Costa Enterprises

Kelli Godwin, Gulf County Tourist Development Council

Allison Hill, Lifeview Group

Anna Johnson-Riedel, Riedel & Associates

Diane McCain, State University System of Florida- Board of Governors

Cristina Paredes, VisionFirst Advisors

Maria Toledo, M.D., Ascension Sacred Heart

Karen Vogter, Tallahassee Tennis Challenger
Turnbull Award (reserved for a woman of demonstrated success who is less than 40 years old)
Jessica Proffitt Bracken, Proffitt PR
Posthumous Award
Iris Pittman Fellows McMillan, publisher, Homes and Land
---
Profiles of all of the honorees will appear in the Winter 2022 edition of 850 Business Magazine.
Check out all the fun photos taken in the Smile in Style Events photobooth here.
Do you know a remarkable woman that deserves to be nominated for her outstanding achievements in her field of business? If so, nominate her here.
---
---
Watch the full 2022 Pinnacle Luncheon Program
Video Production by Live in Tallahassee/Silver Productions